Podcast: Play in new window | Download
Subscribe: Apple Podcasts | RSS | More
Only Harry Statham, Pat Summit and Mike Krzyzewski have won more college basketball games than Danny Miles at 1,040.  On the road to coaching immortality, Coach Miles won 3 National Championships in 43 years at Oregon Tech.  His love for his players and the game earned him Coach John Wooden's "Keys to Life" Award in 2015.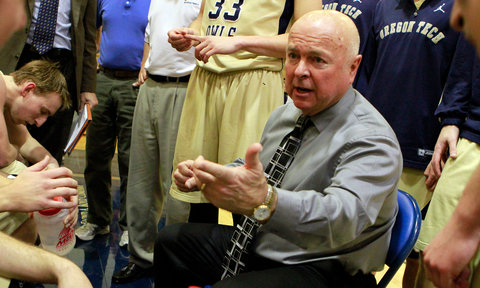 In this Jim Huber Podcast, an in depth conversation on coaching, leading and loving with one of the games greatest servant leaders, Coach Danny Miles.
Enjoy this episode of The Jim Huber Show!
What You will Hear In This Podcast
0:27- Who is Danny Miles?
1:25- How Coach Miles made big time with limited resources at Oregon Tech
3:08- The successful traits that Coach Miles looked for in a recruit
4:25- How to identify the right kids for your program
6:06- What Coach Miles would tell a young 25 year old coach just staring out
7:58- The unique game day environment that was created at Oregon Tech
9:28- Strategies that Coach Miles implemented to get his teams to give great effort
12:15- The Value Point System that was a staple of the Oregon Tech program
18:37- The gift that Coach Miles received for winning his 900th game
19:38- How to communicate with your team after a difficult loss
21:54- The importance of developing relationship and trust with your players
23:41- The impact that "Super Fan Stevie" had on Oregon Tech
27:03- Danny Miles talks about who actually shot JFK
28:31- The letters that Coach Miles received from former Presidents of the United States
29:55- The main reason why San Antonio Spurs and New England Patriots are successful
31:32- The recruitment of Dirk Nowitzki
You can reach Danny Miles at dmiles@gracechristian.org
Learn more about the Value Point System that helped Coach Miles win a 1,040 games https://www.breakthroughbasketball.com/pr/value-point-system.html
Please leave a reply if you have any suggestions or comments about the "Win At All Cost" mentality or hit me up at @jimhubershow