Site Search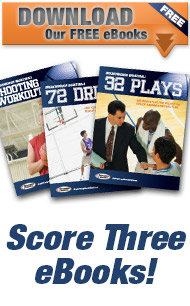 Free Newsletter
Get our free monthly newsletter with new drills, plays, scoring tips & coaching strategies... Signup for our newsletter
Q & A Forum
Experienced coaches are ready to answer your basketball questions! Visit our forum


Subscribe for FREE and Get 3 eBooks…
Just for subscribing to our free newsletter you'll get these 3 eBooks for free…
72 Basketball Drills & Coaching Tips – 136 page eBook.
21 Basketball Tips & Tricks for Players – 20 page eBook.
32 Winning Basketball Plays – 96 page eBook.
Plus you'll get ALL updates to this website delivered to your inbox for free. Over 100,000 other coaches, players, & parents have already subscribed.
We will never send you spam or share your email address, guaranteed!
Close
Sample Youth Practice - PDF Download
Sample Youth Practice as a PDF
Running a youth practice can be a lot more work than one may think. Usually a youth practice has skill levels of all shapes and sizes, so running an effective practice will help everybody involved.
In this free PDF, we cover:
What the structure of a youth practice should look like
Teaching skills and using fun drills
Sample drills that you can use
And much more!
To download this PDF, fill out the form below and your PDF will be on its way!
We
guarantee
that we will
never
send you spam or share your email address. We HATE spam too!
Sincerely,
Jeff and Joe Haefner