Site Search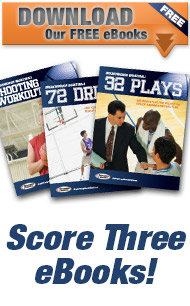 Q & A Forum
Experienced coaches are ready to answer your basketball questions! Visit our forum
Sample Youth Practice Schedule (Ages 7 to 10)
Here is a sample structure of a practice schedule for a youth team. It may not be exactly what you would do every practice. For example, some days you may spend more work on athletic skill work and spend 15 minutes at the beginning of practice to do so. Some days, you may play games to teach skills half of the practice (which I highly recommend).
Here is a template of the basic structure of every practice:
Dynamic Warm Up & Athletic Development Work - 10 to 15 minutes

This is probably the #1 thing missing from most youth practices. It helps prevent injury, improves performance, and improves athletic ability. What good is a basketball player who is injured or is not athletic enough to utilize the basketball skills developed? The better the player moves, the better the player performs. Why not spend time on it?

There are a lot of players who have tremendous SKILLS, but lacked the ATHLETIC ability to make it to the next level.

However, with this age group, they are NOT mentally capable to take much technical instruction, so it is great to incorporate games to get the players warmed up.


Teaching Skills and Using Fun Drills to Improve Skills - 25 to 30 minutes

The #1 reason kids quit sports is because it's not fun anymore. Youth coaches' primary focus should be to teach skills and make it an enjoyable experience! This isn't high school, college, or even PRO basketball, so don't treat your practices like it.

Try the skill-fun drill technique. This means that you teach a skill, then follow up that skill with a fun game or drill to work on the skill. It helps break up the monotony of practice.


Games to Practice Offense and Defense (Plenty of 2 on 2 & 3 on 3 work to teach skills)- 20 to 25 minutes

You'll notice in the sample practice that I did not include any 5 on 5 games. If it were up to me, I would only have kids under the age of 10 play 3 on 3 tournaments. It gets them more touches and gives them enough space to utilize skills.

If you are in a 5 on 5 league, you can incorporate some 5 on 5 time. Although, I would not recommend to do it every practice. Skill work is much more important at this age level.


Cool Down - 5 minutes

AVOID STATIC (held) stretching & YOGA with kids under the age of 10. At this age, the child's nervous system has not developed to the extent that they can properly use static stretching. As a result, this will decrease safety and effectiveness of the stretch. Yoga can also negatively affect a child's movement patterns and coordination. Yoga is not bad for everybody. It's just bad for this AGE GROUP. Instead, use dynamic flexibility and full range of motion exercises.

.
Sample Practice Schedule
Dynamic Warm Up & Athletic Work - 10 minutes
Dribble Tag - You could also alternate days with regular tag.


Races From Different Positions - This is great to improve athletic ability and it's a fun way to for the kids to work on first step quickness. On your command whether it's a verbal or a visual cue, the kids race to a spot (3-point line, free throw line).

You can alternate starting positions between standing, on your belly, on your back, facing the opposite direction, or anything else you can think of.


Coach Says - This is a fun game to get the players to practice movements. Coach says a particular movement. Then, the child does what you say. It's kind of like Simon Says. Coach says "Do a push up."

You can do this with many different types of movements & directions, such as skips, backward skips, lateral skips, push ups, partner pulls, crawls, lunge, squat, jump, hop, bound, lateral shuffle, and lateral crossover.
Teaching Skills & Fun Drills - 25 minutes
Fun Games to Practice Offense and Defense - 20 minutes
Cool down - 5 minutes
Some teams do this after practice. You could do some dynamic flexibility exercises. Avoid static stretching & yoga under the age of 10 for development purposes. Reasons are mentioned at the beginning of the article.
Other Notes
You can also reference
Bob Bigelow's Youth Basketball Drills & Coaching Videos
,
What to Teach 7 to 10 Year Olds
, and
Skills & Fundamentals
.
And we
HIGHLY recommend
the DVD
Coaching Youth Basketball the RIGHT Way
(By Bob Bigelow).
Do you have any questions or suggestions? Let us know by leaving your comments...
Comments
Most Likes First
Oldest First
Newest First
---
Joey Cook says:
11/23/2008 at 8:43:14 AM


this is gonna be really helpful. I have known about all of these but I forgot to include them into my kids warm ups. also I'm gonna use these for other sports that I am starting to teach. thank you.

Like
---
Teresa Gibbons says:
12/9/2008 at 12:28:31 PM


Thanks! This is very helpful. I am new to coaching.

Like
---
Trey says:
12/12/2008 at 5:31:28 PM


Thanks A Lot!

Like
---
Ricky Thomas says:
12/13/2008 at 8:16:02 PM


thank you I have only two ball players out of 12 that have played aau basketball or any basketball at all

Like
---
David Morrow says:
1/22/2009 at 10:22:11 AM


Great tips. I am new coach and need some tips to get the kids going.

Thank you
thank you

Like
---
rene ilogon says:
9/23/2009 at 9:32:39 AM


thanks a lot!its a great help to my team.again,thank you and GODBLESS!

Like
---
Mark P. says:
10/14/2009 at 12:22:31 PM


Thanks a million. I'm teaching middle school girls for the first time ever, and this was a HUGE help. Keep the site up please!!!!

Like
---
Jeff M says:
11/30/2009 at 9:32:55 AM


Very helpful for new coaches. Thanks for the info!

Like
---
Laurie C says:
12/9/2009 at 12:50:10 AM


Thanks for this great information. I haven't played since high school and have just been drafted to coach both a 2nd/3rd grade (7-9 yo) and a 4th through 6th (9-12 yo) Upward team.

Appreciate all the time and effort you put into this!

Like
---
Karl Good says:
12/19/2009 at 9:43:32 PM


Thanks alot! I have been coaching for years, just needed some new ideas.

Like
---
Dusty Sargent says:
1/8/2010 at 11:22:31 AM


This site is great. I am a volunteer church dad coaching for the first time. You have helped so much, I am very greatful!

Like
---
Coach Chris says:
6/29/2010 at 2:39:55 AM


Awesome! Just saved me hours of what to do tommorrow! First time Basketball Coach...

Like
---
peter marino says:
8/1/2010 at 8:07:37 PM


dear coach.-
help'''''''''''''''''''''''''''

i have 2 grups of 40 taechers- students .send me please the topics
for this semester .
group. 20 4 times a week
grpou 18 4 times a week

thank you for your help
phd . peter marino

Like
---
peter marino says:
8/8/2010 at 5:18:24 PM


dear coach.-
help'''''''''''''''''''''''''''

i have 2 grups of 40 taechers- students .send me please the topics
for this semester .
group. 20 4 times a week
group 18 4 times a week

thank you for your help
phd . peter marino


Like
---
jason julius says:
10/11/2010 at 7:16:39 PM


I have 7-9 years olds for 3 hours every saturday. How am I suppose to keep them excited and still coach? I can't think of 3 hours worth of drills....help!!!!!

Like
---
Joe Haefner says:
10/12/2010 at 7:32:56 PM


Jason,

My advice would be to play lots of small side games like 1v1, 2v2, 3v3. You can also turn your drills/activities into fun games. We have a lot of drills on youth basketball coaching page: http://www.breakthroughbasketball.com/coaching/youthbasketball.html

We also have a lot of drills in 60 Fun Drills ebook: http://www.breakthroughbasketball.com/pr/fun-youth-drills.html


Like
---
Maurice Mitchell says:
1/15/2011 at 1:16:45 PM


Big help, first time coaching B-Ball, good info.

Like
---
Grace says:
1/20/2011 at 1:22:18 PM


This helps alot....first year coaching 10U boys team and I think this would be a great start to get them interested and excited about the game.


Like
---
Charlie says:
11/18/2011 at 11:15:32 AM


Thanks a bunch for the tips. On my first go with 1st and 2nd graders and this is exactly what I was looking for.

Like
---
Beau says:
3/29/2012 at 1:08:48 PM


Thanks for this! I have forwarded this article to a colleague who coaches youth basketball

Like
---
russ says:
11/4/2012 at 8:00:27 AM


please help its my first time coaching basketball for 9yr olds dont know much about it


Like
---
Ken says:
11/4/2012 at 6:40:34 PM


Russ -

This is what Joe wrote... great ideas here..

Joe Haefner says:
10/12/2010 at 7:32:56 PM

Jason,

My advice would be to play lots of small side games like 1v1, 2v2, 3v3. You can also turn your drills/activities into fun games. We have a lot of drills on youth basketball coaching page: http://www.breakthroughbasketball.com/coaching/youthbasketball.html

We also have a lot of drills in 60 Fun Drills ebook: http://www.breakthroughbasketball.com/pr/fun-youth-drills.html


Read more: http://www.breakthroughbasketball.com/coaching/samplepractice1.html#ixzz2BIgL88th

Like
---
Mark says:
11/15/2012 at 4:55:06 PM


Hey guys I am loving this site. I never played formal basketball, just in my yard with friends but got signed up to coach my sons 8 yr old team this year. This site has saved me!

I have a good mixture of skill levels on my team, with one kid who is an obvious point guard and can dribble with both hands, and a couple who can barely hold a ball without dropping it.

They have all responded well to the various drills I've used, but how do I teach them what to do in games? Transitions, inbounding, lining up for free throws, etc.?

We only have a half court to use and 4balls for 8 kids. The gym has 3 other teams practicing at the same time, so I have to yell instructions to them and they can barely hear me.
getting nervous about our first game this Saturday.
Thanks



time

Like
---
Pam says:
11/29/2012 at 12:50:10 PM


I am a first time coach and only have a half hour before games to practice with our 3rd and 4th graders. Any advice on how to schedule the time? I imagine the first session we need to cover rules and a few ball handling basics, but not sure.

thank you! Pam

Like
---
Zack says:
1/2/2015 at 6:16:20 AM


Tremendous. I played from the time I was three through college and at a level high enough that second place in conference was my worst year. I've always studied the game and thought I had a pretty high basketball IQ..........until I had a child and coaches youh basketball. HUMBLING. We're always good but I struggle to feel satisfied that they're having fun and getting a good foundation to carry with them to maximize their given abilities. This is an INCREDIBLE. PLEASE KEEP THESE TIPS COMING.

Like
---
Stephanie Gibson says:
11/23/2015 at 3:43:02 PM


Hi I am new to coaching and wanted to say thank you to start this site has been a tremendous help! My question is I only have 1 hr for practice and am completely clueless how to set up the first practice I saw all the recommendations on the site and think it will help for the rest of the season but as far as the first practice what would you suggest? I appreciate the help as I'm completely lost!

Like
---
Richard Dablin says:
1/23/2016 at 12:41:35 AM


Thanks for getting my team motivated!

Like
---