Site Search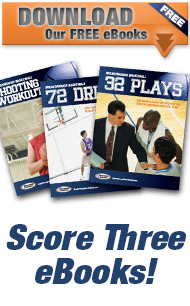 Q & A Forum
Experienced coaches are ready to answer your basketball questions! Visit our forum
Questions From Subscribers...
Topic: Basic Youth Basketball Drills for 7, 8, 9 Year Old Boys
Question:
I like a lot of the drills but my team is a group of 7,8,9 year old little boys.I have used a couple of the drills but most of them are to hard. If you ever make a youth book please let me know.
Answer:
First of all, you can check out our free and newly organized version of the
Winning Drills eBook
. It includes some drills for very young players. The drills are now organized so you can easily find them by skill level.
Next, we released a new eBook with
Fun Basketball Drills and Games for Youth Coaches
. You should definitly check that out.
In addition, here are a few drills that are very important for young basketball players...
Form Shooting - Good shooting habits are the most important thing for young players to learn because so many kids have bad shooting form and it's the most difficult thing to fix when they get older.


Jump Stops - This is a critical drill for all youth players. It improves balance, footwork, reduces travels, and improves confidence.


Basic lay up drill (with left and right hand) - For the standard lay up drill, simply form two lines on each side of the basket about 20 feet back. One line rebounds, the other drives in with the ball and shoots. The rebounder passes to the next person in the shooting line and goes to the end of the shooting line. The shooter goes to the end of the rebounding line. After a few minutes, stop the drill and put the ball on the other side for left hand lay ups. Left hand lay ups will be nearly impossible for youngsters who have not tried them. But this is a critical skill to learn. It will take time and is a must by middle school. Be sure to show your players the correct form -- they should jump off the left leg when shooting a right hand lay up. And shoot off their right leg when shooting a left hand lay up. It will be difficult but work on it. They should also dribble with their left hand when shooting left hand lay ups.


Cone or Chair Dribbling - Simply set up some cones or chairs about 10 feet apart. Instruct your players to weave in and out of the cones, changing directions each time they reach a cone. They can start with a basic cross over, switching hands when they reach each cone. Then you can progress to spin moves and behind the back. This is a really simple yet fun drill that helps young players improve their dribbling skills.


Basic partner passing - Have your players partner up, each group should have a ball. Have them pass back and forth, starting with chest passes, progressing to bounce and over head passes. Make sure they are making accurate passes and using proper form. As a variation, you can have them run up and down the court passing back and forth.


Triple threat drills - Simply form two lines around the 3 point arc. One line is for passing line and the other is for catching, pivoting, and driving to the basket. Once the receiver catches the pass, they should pivot with their knees bent facing the basket. Require them to pause in a triple threat position. They should be ready to pass, shoot, or drive. Knees should be bent and feet square to the basket. Once you say go, they should drive to the basket.


Basic defensive slides - This is the first defensive concept youngsters should learn. They are a variety of sliding drills you can use. You can try the zig zag drill or some of the sliding drills listed below. Just be sure to focus on proper form (wide base, butt down, knees bent, arms extended to he side, etc).


You can also take a look at some of these youth drills from the
Winning Drills ebook
that you already have.
Very basic drills you can probably use now:
Partner Shooting - Page 18
King of the Court (dribbling) - Page 72
Four Corners Passing - Page 83
Machine Gun Passing - Page 88
Musical Slide (defense) - Page 95
Defensive Slide - Page 96
Lane Slides - page 98
More challenging youth drills you can work towards:
Half Moon Shooting - Page 6
Knock out (fun drill) - Page 16
Above ground - Page 26
1-on-1 Rebounding - Page 33
The Rebound Game - Page 37
Post Moves - Page 50
Drop Step - Page 60
Jump Hook - Page 61
Round the Block - Page 62
Pass and Zigzag - Page 68
Dribble Relays - Page 70
Dribble Mania - Page 77
Partner Passing with 1 Defender - Page 86
Close Out - Page 105
Most of the drills above should help you with the important skills. But there are many other good drills out there. Just keep in mind, that if you can teach your young players the following skills, then you should feel good that about what you accomplished and know that you're teaching your player the right things (that they need to be successful)! Your young players should be able to:
- Dribble with their left and right hands equally well.
- Make lay ups with their left and right hands equally well -- and jump off the proper foot (left foot when shooting with right hand, and vice-versa)
- Perform a jump stop without traveling.
- Pivot on their left and right foot without traveling.
- Perform accurate chest, bounce, and overhead passes.
- Perform a defensive slide (feet wide, good balance, staying between the offensive player and the basket).
These simple skills should be your number priority and your goal should be to help your players master these skills.
Also, here are a couple resource we think are good.
Coaching Basketball Successfully by Morgan Wooten
- One of the best basketball coaching books ever written. We highly recommend it for all coaching levels.
Coaching Youth Basketball: A Baffled Parent's Guide
- A great book for youth basketball coaches.
We don't have any affiliation with these products, we just think they are good.
Hope this helps.
If you have any comments, questions, or suggestions then please leave your comments below.
Joe Haefner
Answers and Comments
---
Nicko says:
6/2/2007 at 10:21:41 PM


This is a great source for basketball drills. My Under 9 boys have now won 5 in a row and scored more than 25 points every games.
---
victor says:
6/29/2007 at 8:29:17 AM


coach
and
player
basketball
in
liga

---
efraim zak says:
10/6/2007 at 7:49:44 AM


hi already purchase winning basketball but can not find this book
---
Kelvin says:
12/1/2007 at 4:12:08 PM


Whatpassing drill helps a youth team's offense from bunching together?
---
mervin says:
2/3/2008 at 8:40:05 PM


i would like to no how to start drill with 7-12yr old and make it fun to lean
---
Len Piazza says:
3/26/2009 at 11:43:34 AM


Question: I found your narrative on basic youth basketball drills very helpful. I am coaching a 7 and 8 year old team and liked the drills. My question is at this age what can be done to improve the player's focus? My first practice was chaos and I ended it 10 minutes early. The players were consistently paying me no attention when I was explaining basic fundamentals. Any advice is appreciated.

Thanks,

Len Piazza
---
Joe Haefner says:
3/26/2009 at 2:39:05 PM


Hi Len,

You are experiencing a common thing among kids that age. Kids have short attention spans so keep things short and sweet. That goes for lectures and drills.

Here is an article we recently wrote that should help: http://www.breakthroughbasketball.com/blog/index.php/four-great-ways-to-keep-your-teams-attention/


---
peter marinp says:
3/3/2010 at 10:02:30 PM


i need to start a basketball book how?
---
Jorge says:
3/6/2010 at 1:52:16 PM


For my drill I have players dribble and catch cheeze curls at the same time.

One time a cheeze curl got enloged in someones throgt so I had to rush them to the ER on my tricicle
---
Ben Louis says:
2/17/2011 at 10:31:40 AM


Our boys basketball coach runs a full-court layup drill in which players are expected to make a left-handed layup from the left side, using only their left hand to shoot. If the boys miss their shot, they are ordered to do pushups. If the coach thinks they used their right hand on the shot to any degree, the pushups are doubled.

There was no instruction given on how to make the left-handed layup. Our boys are eight years old, and nobody can make this shot. So the drill compels them to fail, with the consequence being pushups.

Would you please comment on this drill? Thanks.
---
Richard says:
1/2/2012 at 3:25:11 PM


Thanks for the drills it helps :-)
---
Ken says:
1/2/2012 at 3:33:06 PM


I would suggest that he starts out a little closer - maybe from the top of the key... but before I would do that I would run what we called an X out drill.... player starts at the end line and dribbles out diaganally to the oppoiste L with the outside hand.... goes back out to the other side, opposite hand and returns with the outside hand again... shooting lay ups with the proper hand and foot.

Thinking about this I would step back and run a mikan drill.... using the proper footwork and correct hand... one step up and shoot on one side, take the ball out of the net or rebound and go to the other side and do the same thing - one side will be the right hand and right foot up.... and the other side willl be the left hand and foot


They are 8 years old, use the kis method ...
One step at a time.
---
Tammy Jones says:
3/11/2013 at 10:46:08 AM


As I keep coaching my older son's team (we just finished our 2nd grade season), I have depended on Breakthrough Basketball's resources to coach these boys correctly. We do drills to work on the basics and have, at the player's insistence, given them harder plays (Greece play) to run. They work so hard and enjoy the drills we give them. This last season, they went 12-0 (we were 6-6 the season before) including beating what was considered the toughest team twice. This team had three players that were at least a good head and a half taller than our tallest boy. The first game our team pulled it out in the last 30 seconds to win by 1. The second game, they controlled the entire game and won by 8. I have utilized not only the drills and plays but also the tips on dealing with players and coaching philosophies. EVERY player scored this season and I made sure in our last game that ALL of the other team's players had also scored. My boys understood exactly why this was so important and never once questioned why were doing it. Our boys acted when class when they won and never once displayed poor sportsmanship. Our motto is "Act like you've won before and that you'll win again." Thank you for EVERYTHING you provide on your website and we'll continue to utilize what you provide. It really helps out inexperienced coaches and is an awesome resource.
---
alyssa hadley says:
9/30/2013 at 11:49:42 PM


i'm a new coach and i am 14. i'm teaching 1st through 3rd grade how can i get them to concentrate?
---
Jeff Haefner says:
10/1/2013 at 7:40:06 AM


Give them simple rules and enforce the rules:

1. When a coach is talking, all eyes on coach and listen carefully. No dribbling, looking down, etc.
2. Give you best effort... always hustle.
3. Don't worry about mistakes. Just try your best and never give up.

I make it pretty clear from the beginning that rule #1 will be enforced. If they don't follow the rule you can immediately make them sit on the ground without a ball or maybe do 5 push ups. You don't want to mean about it or raise your voice. You just want to be CONSISTENT. Basketball should be FUN! If you are consistent with the first rule, and not mean at all, it is still a lot of fun and they listen much better.

You can find more ideas here:
http://www.breakthroughbasketball.com/coaching/player_motivation_and_mentality.html
---
Ken Sartini says:
10/1/2013 at 7:41:49 PM


Tough gig for someone of any age.... they have very little in the way of an attention span.

Be patient with them and YOURSELF. Forget about the wins or losses..... try to teach them some simple fundamentals... and everything that Jeff said is SPOT ON!

Remember, make sure that they are having FUN and yourself too.

Good luck
---