Site Search
Q & A Forum
Experienced coaches are ready to answer your basketball questions! Visit our forum
Man in the Middle Passing
Categories:
Passing Press Breaker
Ages:
All Ages Youth Middle School High School+
Purpose of the Drill:
Improves players passing and ability to pass under pressure. This is a particularly important drill if you face any type of defensive pressure (whether it's full court, half court, traps, or aggressive M2M). That's because when you face pressure, players are constantly running at you to trap, disrupt, and cause turnovers. This drills helps players handle those situations more effectively.
Instructions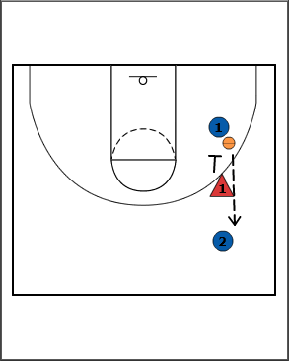 You have two offensive players facing each other. Have them spaced around 10 feet apart. You can position the players anywhere on the court.
The defensive player in the middle runs towards the ball, mirrors the ball, and tries to deflect it.
The offensive player's use pivots and pass fakes to make an accurate pass. In this instance, Player 1 passes to Player 2.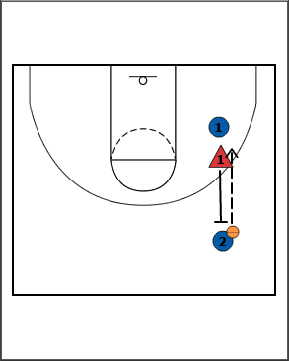 The defensive player now runs at Player 2 and tries to deflect the ball. Player 2 should wait for the defensive player to get close before they pass the ball.
They continue this process passing the ball back and forth until the defensive player gets a deflection. Then they change places.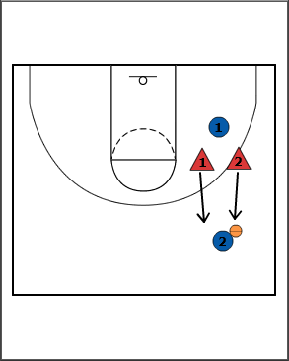 VARIATION

As a variation, you can add another defensive player to add difficulty and simulate a trap. The drill works the exact same way except now you have two defensive players trying to deflect the ball instead of one.
Points of Emphasis:
You can optionally allow the offensive players to take one dribble to improve their passing angle.
Be sure players use good footwork to create space and good passing angles.
Be sure players use pass fakes to move the defense.
Be sure offensive players stay low and stay strong with the ball. In other words, don't let them be loose with the ball or bring the ball behind their head. The defense can easily smother them if they bring the ball behind their head.
Comments
---
Rusty May says:
8/12/2010 at 10:22:18 AM


Thank you, I've been working on passing out of the double team for 2 weeks and this is a good drill for that.
---
jimbiggs says:
8/25/2010 at 8:09:10 PM


I used the double team variation with my kids last year. If you get trapped and you want to split the double team so you can pass or shoot, then you must back pivot. The defender will move up towards the ball. Then front pivot. Then front pivot again and rip the ball through and past the defender. So you're pulling the ball side defender up, so you can pivot past him. At this point you should be free for a second to pass off or even take a shot if your within range.
---