Site Search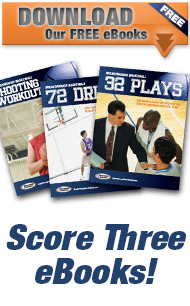 Q & A Forum
Experienced coaches are ready to answer your basketball questions! Visit our forum
Recommended Basketball Shooting Aids, Resources, and DVD Reviews
What type of basketball shooting aids and resources do we recommend?
We'll start by pointing out some shooting aids that we
DO NOT RECOMMEND
.
We believe (and almost all the shooting experts that we talk to agree) that you should NOT invest your money into gimmicks and shooting aids like shooting gloves, arm straps, finger straps, or similar gear for developing shooters.
When you get in the game you won't be able to use those devices. If you get used to those shooting aids, what happens when you take them away? We believe you need to practice shooting without those devices and that they provide little or no benefit.
With that said, there are some very good shooting resources that we highly recommend. Below you will find our list of recommended shooting aids, DVDs, and devices.
Basketball Shooting DVD Reviews
We highly recommend that all serious basketball players and coaches utilize shooting DVDs. You just can't replace the value of a great video that shows you the exact mechanics and step-by-step details of a great shot.
You will benefit by simply watching great shooters stroke the ball. Their mechanics will soak into your brain and help you improve your shooting.
We have personally reviewed TWELVE different basketball shooting DVDs.
Many of them were excellent, but here's what we believe are the best DVDs: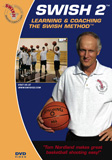 The
Swish shooting videos
of Coach Tom Nordland provide comprehensive and strategically sequenced instruction for developing a shooting motion that is accurate, consistent, and repeatable.
Our Thorough Review of Swish 2
More Information on Swish 2
ORDER Swish 2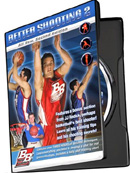 Rick Torbett's Better Shooting 2 DVD
is a three hour long video broken down into 12 chapters.
This DVD is filled with practical tips, ideas, shooting technique, and strategies. In fact, there is so much that one criticism is that the DVD is slightly overwhelming. However, they do a great job of overcoming that problem by breaking things down into chapters. You gotta love that they poured in a ton of material, but it's something you will need to digest in chunks.
Our Thorough Review of Better Shooting 2
More Information on Better Shooting 2
ORDER Better Shooting 2
Final Suggestions for DVDs
Of those two DVDs, it's tough to pick clear winner. In fact, we suggest picking up both DVDs above because they provide you with a different philosophy and different tips that we think all coaches and players should consider. We then recommend that you utilize the shooting philosophy that is most comfortable for you. When it comes to shooting, there is no one-size-fits-all-solution.
Even though each style is different, both DVDs are excellent and they do a great job of teaching you how become a better shooter. They also both provide you with unique material.
We didn't take the time to write up reviews for all the other DVDs that we watched. But if you'd like to ask about specific products,
send us a message
and we'll answer your question. We've reviewed tons of products and would be happy to tell you about them.
Basketball Rebounding and Retrieval Systems
We HIGHLY recommend that you consider a basketball retrieval system because one of the most important keys to becoming a great shooter is to get LOTS OF REPETITIONS.
When you shoot around, how much time do you spend chasing the ball?
You spend at least 75% of your time chasing the ball and maybe 25% of your time shooting.
You can literally shoot twice as many shots with a good retrieval system.
These devices range from about $200 for simple ones with a netting component, to $4,500 for systems that have netting and a device that passes to shooters.
Here are the devices that we recommend:
Rapid Fire Rebounder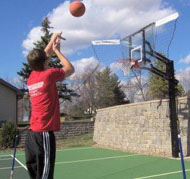 This is our #1 recommendation for players because it's very affordable yet highly effective. You'll notice other more sophisticated retrieval systems are very expensive (well over $1000). These systems are great for coaches that use them all the time. But they're just not practical for players that want a basketball rebounder.
The
Rapid Fire Rebounder
does a great job for the money. It's a simple device you can pick up for around $100. We highly recommend the Rapid Fire Rebounder to players.
Visit
this link
for more details.
The Gun and Dr. Dish
The Gun and Dr. Dish are more advanced and more expensive basketball rebounding devices that coaches should consider. The Gun is a great device that has been very popular but Dr. Dish has gained popularity and lately appears to be the favorite.
We recommend that coaches consider these devices because they work wonders and can help you get in tons of shots. If your budget allows, the
Gun
and
Dr. Dish
will provide your players with a tool that allows them to get in a great shooting workout in far less time than they could any other way. Dr. Dish also gives you the ability to simulate shots and passes for other drills. You can see video demonstrations on their site.
Visit
www.shootaway.com
and
www.drdishbasketball.com
for more information.
Noah System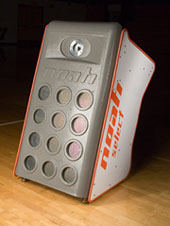 This is another expensive shooting device that's certainly not for everyone. However, for coaches with a budget, it can be a POWERFUL tool.
This tool gives players instant feedback on the arc of their shot. If you're a coach, we suggest that you consider the Noah System.
It is a computerized arc analysis/feedback system that sets up on a sideline and charts the arc of shots, providing audible feedback instantaneously to the shooter as well as print outs of all the shot arcs for a given workout. This system runs about $5,000. Visit
http://noahbasketball.com
for more information and helpful videos about shooting.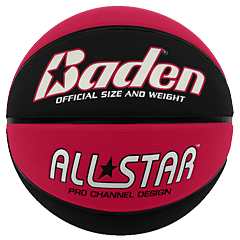 Colored Ball With Markings
When developing and refining your form, we think it's a good idea to occasionally use a
basketball with colored panels
.
This allows you to see your backspin and straightness of your shot.
Basketball Shooting Camps
Shooting camps can serve as a great opportunity for you to get some one on one time with shooting experts and coaches. Here are some good shooting camps for you to consider:
http://www.swish22.com/clinicsetc.html
- Tom Nordland puts on great shooting camps all over the country. He also offers private coaching.
http://www.onemotionbasketball.com/clinics.html
- Rick Penny has a great understanding of shooting and offers various shooting products and services.
http://www.cascadesportscamp.com
- Barry Adams puts on some excellent basketball camps in Oregon. It's an all around skills camp that incorporates shooting.
https://www.breakthroughbasketball.com/cr/
- Shooting clinics, camps, and private training in the Cedar Rapids, Iowa area.
https://www.breakthroughbasketball.com/kc/
- Shooting clinics, camps, and private training in the Kansas City, Kansas area.
Breakthrough Basketball Camps
If you've been to a shooting camp that you thought was really good,
drop us a note
and tell us about it.
Oversized / Heavy Balls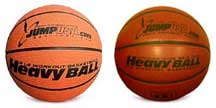 There are
over-sized
and
extra-heavy balls
that require shooters to be extra-accurate and to use extra strength. Players find shooting with a regulation-size ball much easier after working with these special balls. These special balls run about $40 or $50.
NOTE: ONLY experienced players with great fundamentals should use oversized and heavy balls. Younger players still learning form should NOT use these devices. They in fact should use
smaller basketballs
.
Summary
Those are the shooting products that we recommend. If you have questions or comments about any of these products,
let us know
.