Site Search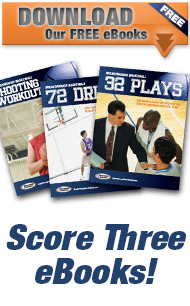 Q & A Forum
Experienced coaches are ready to answer your basketball questions! Visit our forum
5 Things You Need To Know To Be
a Great Ball Handler
- By Jeff Haefner
You can be an extremely effective ball handler by knowing and practicing 5 things. Most players and coaches make things too complicated. But dribbling effectively is simple. You don't need lots of moves. You just need EFFECTIVE moves.
Here's all you need to know to be effective at any level.
1 - You need to develop a feel for the basketball.
Developing a feel for the ball consists of drills that are stationary and slow moving. You will improve your hand-eye coordination, hand quickness, ambidexterity, throwing, catching and other important aspects of ball handling.
These drills consists of the Maravich series, one-ball dribbling, one-ball dribbling through cones, two-ball dribbling, two-ball dribbling through cones, tennis ball dribbling, and the Steve Nash passing series.
These drills are also great to put at the beginning of your warm up as a stepping stone to more intense drills.
A
huge mistake that many players and coaches make is that they spend too much time on this
. While it is important, especially for beginners, limit yourself to 5 to 6 minutes of each practice. The reasoning is that you can get very good at these drills, but you neglect the components below, you won't have the ability to handle game situations. If you can dribble 3 basketballs while juggling 5 tennis balls at the same time, it looks cool and it is a neat circus trick that is great for marketing, but it is a circus trick. It is not going to make you a better basketball player. The majority of your ball handling should be functional which means that they simulate game-like situations. Can you get down the court in 3 to 4 dribbles with either hand? Can you stop on a dime? Can you change speed and change directions like Chris Paul?
If you are able to dribble 3 balls and juggle 5 tennis balls at the same time, I would say that your hand-eye coordination, dexterity, and hand quickness are extremely good and you probably don't need to focus on them any more. You probably should spend more time on shooting, footwork, athleticism, and functional ball handling.
2 - You must be able to dribble the ball down the court at any speed (all the way from walking up to sprinting) with both hands with your head up.
Pretty simple, right? You can simply dribble up and down the court at different speeds.
3 - You must be able to change your pace.
It's good to incorporate change of pace in your dribbling drills.
Chris Paul is the expert at changing speeds (pace)
. That allows him to get the defender off balance.
Practice changing the pace from walking, slow, medium, fast, and full speed. You can change the pace from slow to fast, medium to full speed, and any other combinations you can imagine.
4 - You must be able to dribble while moving backwards.
So now instead of going forward, you need to be able to back out of traffic and so on. That's where the
back up dribble
comes into play. Simply, get in a position where you are protecting the ball and shuffle forwards and backwards up and down the court.
Next, you can practice running forward at a faster speed, come to hockey stop, and shuffle a couple of steps backwards.
Mix it up so you can handle any situation.
5 - You must have a primary dribble move and a counter dribble move.
If you perfect a go-to move that's very difficult to stop, good defenders will adjust to stop it. That's when you add your counter move to completely keep the defender guessing.
I prefer the cross over as the primary move and the inside out as the counter move. You might use the hesitation move and the crossover.
That's it! Perfect those five things and when it comes to dribbling, you'll have the dribbling ability to handle almost any situation. Should you also practice other things for ball handling? Sure. Now do you need apply the technical skills to practice competitive drills to handle game situations like transition, ball screens, handling traps, etc.? Yes. Do you need to improve your athleticism to make you a better player in every aspect of your game? Yes. But I'm telling you, that these are five extremely effective methods to give you the technical skill to handle any situation.
You can use the back up dribble all the time -- you use it when approaching a trap, when approaching defensive traffic, when getting cut off in the lane, when breaking the press, when breaking a player down one on one, etc.
You can then incorporate the cross over in lots of situations. If you advance the ball and get cut off you can back up dribble and then cross over to break down your man and blow by him. You can cross over to change directions and bring the ball to the other side of the court. You can cross over to the passing angle to your teammate. You can cross over to split a ball screen. You can cross over on the fast break to get by the defender. You can cross over to eventually set up your counter move (the inside out). So next time instead of crossing over, fake out the defender by giving the inside out move and then blow by the defender.
You still need to practice a lot, but I think this will simplify your life greatly by focusing on really effective dribbling techniques instead of trying to practice all kinds of moves and techniques that don't really help. The techniques above are the the most effective dribbling moves that I know.
What do you think? Please leave your thoughts and comments below.
Comments
---
Thomas A. McCinton Jr says:
6/3/2010 at 4:57:46 AM


GREAT STUFF!
---
Dan Rabinowitz says:
6/3/2010 at 7:42:55 AM


What exactly do you mean by ''''ínside out'''' move? Step-back?
---
Antowand Harris says:
6/3/2010 at 8:46:54 AM


inside out is nothing more than a fake crossover. Act as if your going to cross the ball to the other hand only to keep it in the same hand continuesly moving in the same direction.
---
Greg Peterson says:
6/3/2010 at 9:23:28 AM


Excellent instruction. Simple yet effective.
---
william union says:
6/3/2010 at 9:36:14 AM


no comments
---
Andy says:
6/3/2010 at 10:11:33 AM


Cool
---
Bud lynd says:
6/3/2010 at 11:54:55 AM


Keeping it simple is the best, the players learn the tricks on there own or from family. I have some look up to get the idea of not looking at the ball while dribbling,walking, works for some.
---
sarath salgado says:
6/3/2010 at 1:39:25 PM


VERY USEFUL STUFF. THANKS
---
alex says:
6/3/2010 at 1:47:21 PM


this things really work!!
---
Joe Walker says:
6/4/2010 at 12:13:37 AM


Very informative! I will send this along to my
players and get feedback.
Thanks!
---
Coach JR Wylie Elite Basketball says:
6/4/2010 at 12:55:39 PM


This is good and basic. My guards are judged by this standard. I also recommend dribbling goggles to get your players use to not looking down at the ball while dribbling. Post players and Guards alike.


Keep up the great work!

Coach JR
Wylie Elite Basketball AAU
Wylie, Texas
---
Coach PAS says:
6/6/2010 at 9:04:26 AM


This is great stuff, I coach High school F/S. I always get the left overs that no one wants, (girls that have never played or have played very little) New incoming freshman start during the summer league program every year. We get our butts handed to us during summer. I use the dribbling skill before practice everyday,(control dribble R-L, power dribble R-L, speed Dribble R-L, Crossover dribble, between the legs, and behind the back, takes 15 minute with 15 to 20 girls) at first they can't even get the ball down the court, if there is pressure. by the end of the league season, most of them are better ball handlers then the girls that moved straight to JV. It really work.
---
Joe Haefner says:
6/6/2010 at 11:11:31 AM


Thank you for your helpful comments & suggestions, coaches!

We're glad you found the article helpful.
---
Tony Brubaker says:
6/6/2010 at 8:00:49 PM


Thanks for all the great info.
---
James Veal says:
6/7/2010 at 9:10:14 AM


Hello,

Can you send me some drills on ball handling.
---
Marquion H. says:
6/7/2010 at 9:14:55 AM


These drills are great, they work even better with the dribble goggles. By the way the dribble goggles help with a lot of other things as well. My kids were them for the entire practice, it's helping them to keep their heads up at all times!
---
MR7 says:
6/7/2010 at 6:28:03 PM


These are great tips. What other areas of one's game are important to players for improvement? i.e. defensive skills, 3-point shooting, rebounding, etc?
---
Joe Haefner says:
6/8/2010 at 8:25:57 AM


James, check out this link: http://www.breakthroughbasketball.com/drills/basketballdrills.html#ballhandlingdrills

MR7, if you go to the left-hand menu, you can see the "Player Tips & Development" menu. You can also use this link: http://www.breakthroughbasketball.com/fundamentals/basketballfundamentals.html

---
Doug James. says:
6/23/2010 at 7:19:40 AM


Great stuff, you've made the whole thing simple. I shall be implementing this soon.
---
court housemorm says:
6/30/2010 at 10:19:50 AM


this prob will NOT work
just sayin
---
Ilaisa says:
9/8/2010 at 11:28:06 PM


Thanks, I'll use these moves
---
Coach Daniel says:
10/15/2010 at 12:11:42 AM


Great drill i run it with all age groups from 17 to 8 years old
---
tapiwa says:
10/21/2010 at 3:28:23 AM


i like the backwards move
---
Michael Sanchez says:
11/11/2010 at 9:01:31 AM


Very useful information, will have my boys drill this repetitively.
---
Coach eric Pullen says:
11/18/2010 at 4:58:35 PM


Good info. Keeps us coaches grounded and not overteaching the youngsters. Thnx.
---
Anthony says:
11/30/2010 at 10:10:01 PM


Great drill for my 9-10 boys team I''''ll use this every practice.
---
gaye says:
12/2/2010 at 4:03:05 AM


i will use them for my players and i''m sure that i will get feedback.thank you for all drills.
---
Brick says:
10/16/2011 at 12:48:51 AM


I think you missed a couple of things. 1) MUST be able to dribble without watching the ball (strong & weak hand). 2) The importance of keeping the dribble low and under control. Beginners tend to want to dribble high, and can't change directions quick. Other than that... very good stuff.
---
Coach Mo says:
4/26/2012 at 9:13:04 AM


We start every practice and every off-season workout with one and two ball stationary and on the move ball-handling drills. Takes about 10 minutes. Have done this for quite a number of years now. It works very well. We don't get pressed a lot because our girls can handle the ball.
---
bug says:
4/26/2012 at 10:11:27 AM


Dude thats a carry
---
Madi says:
4/26/2012 at 12:06:09 PM


Do you have any tips for moves at the top of the key? I get in a Position where I don''t have a player open and am getting pressured. Im in 8th grade and play on an aau boys elite team. I can handle the ball but I need to get them off of me. Thanks
---
Coach William says:
4/26/2012 at 3:31:58 PM


Madi: ( the following is based on the assumption that you''re right handed; if you''re a lefty, switch pivot foot accordingly.) Get down in tripple threat position - ball just about shoulder high (not on the hip); ball should be held with shooting hand behind and balance hand on the side; make a 6" quick and sharp jab with your right foot at the "D" - make your shoe squeek; the vast majority of your body weight should remain on your pivot (left) foot for balance and explosion power to hoop. If the "D" responds by taking a step back, rise up for the "J" without moving your jab foot back (this will require you to evenly distribute your body weight over both feet); if the "D" stays tight, read how he''s playing you and react by exploding to the hoop - if he''s overplaying you to the right, x-over and explode to the hoop; if he''s overplaying you to the left, extend the jab foot toward the basket and blow by him. On drives to the hoop be sure to slice (avoid banana cuts) and don''t be afraid to bump shoulders (any foul will be called on the "D"). All drives should take one dribble to get to the rim, and should terminate with a two foot power lay-in (unless you''re dunking it).
---
me says:
4/29/2012 at 2:01:06 PM


is really helpful?
---
Ken says:
4/29/2012 at 2:20:52 PM


me -

Any time you can do something to help you handle the ball better, the better player you will be.

.http://www.youtube.com/watch?v=bJ9LAZRikWc&feature=related
---
Ken says:
4/29/2012 at 2:29:00 PM


Check this site out.. the other link didn't work?

http://www.youtube.com/watch?v=bJ9LAZRikWc&feature=related

Or do a search on you tube for this -

12-year old Jordan McCabe basketball prodigy and phenom on KOMO News Seattle Little Heroes - YouTube

---
narendra de silva says:
5/3/2012 at 3:09:44 AM


thats good sent me some extra ball handling drills thanks
---
Ken says:
5/3/2012 at 9:39:45 AM


Check out this page, there are several different sites with drills that should be able to help you.

Good luck.

http://search.aol.com/aol/search?query=ball+handling+drills&s_it=keyword_rollover
---
ty says:
6/15/2012 at 7:28:10 PM


My problem has always been "how low do I dribble?" And "how many steps am I suppose to take when driving?" Can you give me advice on that?
---
Ken says:
6/16/2012 at 3:41:06 PM


Ty -

I always told my players this - as a rule of thumb, the CLOSER the defender, the lower the dribble. (to prevent you from being picked)

I'm not so sure what you mean by "how many steps" - but you are only allowed a step and a half after your dribble... then you must shoot it or pass it.

Hope this helps


---
ty says:
6/16/2012 at 6:56:24 PM


What I mean is, when I'm driving to the basket I take too many small steps and the defender stops me. But when I take big steps, I end up missing the layup. Do you know any drills that help with footwork when driving?
---
Ken says:
6/16/2012 at 7:37:42 PM



Ty -

Its too bad you couldn't have gone to Don Kelbicks camp in Illinois... he is great with footwork.

Don talks about attacking the defender, for example, IF you are going to your right, IF you can get your lead foot along side of his, you have him beat. He will be chasing you, so its the first step that is important, take the ball to the basket. The rest takes a lot of practice and gaining some confidence.

You can use a chair, put the ball in the chair, pick it up, square up and attack according to your strengths.

I don't know if this helps you because this is hard to explain without showing you.



http://www.breakthroughbasketball.com/fundamentals/individual_offense.html
---
maria says:
12/24/2012 at 1:17:02 PM


hi,

im in 6th grade and um i want to know how you can make a great shot and to win im going to start basketball really soon so if you can leave a queation that would be cool hope we win
---
kuda Mwakutuya says:
6/30/2013 at 9:17:37 PM


So my primary move could be a hesitation crossover then my 2nd move an in out? Which would you say would be the most efficient moves of them all. Please reply to my email address thanks
---
Joe Haefner says:
7/7/2013 at 12:11:48 PM


Kuda,

If the hesitation crossover is a move that you execute really well, the counter move would be the hesitation in-and-out move. I think that's what you meant.

I usually like to take what a player does well and add counters to that. For example, maybe you have a great hesitation move. Why not use that move until the defense stops you?

When they do stop you, have a counter to the hesitation move. The likely counter would be some sort of change of direction dribble. Since the defense usually have to be close to you to stop you from executing the hesitation move, I like to use a move that changes direction while protecting the ball from the defense. A crossover or between the legs dribble may work but you are risking placing the ball in a place where it's easier for the defense to steal. That's why I prefer the behind the back or the wrap around the back dribble as a counter to the hesitation move. That's just my preference. That doesn't mean you can't do a hesitation crossover.

Personally, I think the hesitation or change of speed variations are the best moves that a player can use. When you get really good ONE hesitation or change of speed move, add a change of direction counter to it.
---
jean matuzak says:
10/15/2013 at 4:10:45 PM


thank you good ideas

---
sammy says:
11/27/2013 at 12:51:43 PM


totally stunk. not helpful.
---
sammy says:
11/27/2013 at 12:52:50 PM


Not helpful. At all.
---
john says:
3/3/2014 at 10:14:22 PM


Dudes if u need any defending drills oru do anything.QUIT THEM!!! just look at players belly button so u can guard and always do a triangle with defensebor try to it helps with open players but if u open in paint no stopping them


Im John and im 10 years old u pro think im very young but i learn a lot of stuff i have been playing basketball since i was 3 and i have been studying basketball since i was 6


one more thing,on offense dont shoot like kobe
---
Ken Sartini says:
3/4/2014 at 11:11:00 AM


John -

While you have been playing the game for several years now, you can never know to much about the game and how to play it.

Keep an open mind about things and you will only get better. There is more to playing defense than defending your man.

I coached this game for well over 40+ years and I listened to other coaches, watched them practice and I got better too. When you stop learning, thats the time to stop playing.

I'm not a Kobe fan or even LeBron, but they are great players. I am a Bulls fan and even Michael Jordon got better every year

Good luck, have fun playing this great game and keep an open mind. :-)
---
Ken Sartini says:
3/4/2014 at 6:24:56 PM


John -

This is a video from one of the greatest coaches of all times... Johnny Wooden, he coached at UCLA He even taught his players how to tie their shoes.... he took nothing by chance...

"It's what you learn after you know it all that counts."

"It's the little details that are vital. Little things make big things happen."


One thing that I always told my players and students was this.... " Take care of the little things and the big things will take care of themselves."

IF you can, get the issue of Sports Illustrated ... the article to read is -

"The Education of Jabari Parker"

Coach K talks to him about where he has his hands ( in the wrong spot ) same thing about his feet.

I know that you are young but set some goals for yourself... write them down and then start to work on them. Now its up to you, the ball is in your court.

---
chris says:
4/30/2014 at 9:35:58 AM


good stuff!!!
---
DaZion says:
5/13/2014 at 10:28:58 PM


Great stuff. I could really use this in my basketball career!
---
sarah grimsley says:
8/26/2014 at 12:29:51 PM


this is really good advice and i will strive for these things when try outs jump upon me!
---