Site Search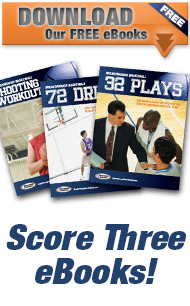 Q & A Forum
Experienced coaches are ready to answer your basketball questions! Visit our forum
Step by Step Instructions to Great Jumping Form
- By Joe Haefner
As a coach, I believe it is important to teach our players proper jumping form. Not only can this help them jump higher and perform better on the basketball court, it prevents injuries. It's also very important to teach your players how to jump, because of the lack of phsyical education today. Many kids do not learn proper running or jumping form anymore.
Here's some tips for great jumping form:
Feet should be about shoulder-width apart or slightly wider.


Players want to be on the balls (front) of his feet.


Players want a nice fluid bending of the knees. When jumping, it's important to keep an erect torso.


When players bend forward too far prior to jumping, this will cause the player use lower-back muscles which have slow-twitch muscle fibers. As a result, the player will not be as explosive in their jump. This can also cause immediate or long-term lower back problems.


When staying upright, it forces players to use their abdominal muscles which are much stronger and more explosive than the lower-back muscles.


When jumping, it's important to explode your hips upwards.


The arms are also very important with jumping. When bending the knees into the jump, the player should have their hands near their pockets. When jumping, they should swing the arms upward to propel the jump even higher.


It's important to also have a soft landing. Players should not allow their ankles to collapse or their knees to bend more than 15 degrees.
It is
VERY IMPORTANT
for players to avoid jumping workouts on cement or any other hard surfaces. It is best to do this indoors on a wood floor or another surface that has some give to it.
What do you think? Let us know by leaving your comments, suggestions, and questions...
Comments
---
Wim Cluytens says:
5/1/2007 at 4:20:40 AM


Tips: excellent and clear

Missing: pushing off 1 or 2 feet - when?
---
T Andersson says:
5/1/2007 at 4:42:08 AM


Make sure that your knee is straight over your middle toe. You should be able to draw a vertical line from middle toe to the knee.
---
Enist Parris says:
5/1/2007 at 7:34:59 AM


thanks for tese plays they r very useful. but can u tell me how to motivate a group of 17-20 yeasr old. they dont like practising they only wnat to come out and play. they don't wnat to learn the fundamentals of the game nor even do penalties like push up, sit up or laps.
---
Enist Parris says:
5/1/2007 at 7:36:18 AM


i also need some post up drills and dribbling drills skils. also some tips on better shooting.

---
Joe Haefner says:
5/1/2007 at 8:23:29 AM


Great comments! In addition to T Anderson's comment, you never want to have your knees cave in or flare out while jumping.

In response to Wim Cluytens, these tips are for a basic jump off of two feet. You still want to apply some of the same principles when jumping off of one foot.
---
Marcus Gatara says:
5/1/2007 at 2:48:01 PM


In reply to Enist Parris above I found that in order to motivate 17-20 year olds you need to make practice challenging yet fun. A bit of tough love thrown in doesnt hurt either. Kids naturally want to scrimmage but need to learn the fundamentals of the game first then use those skills practiced in a game situation. Heck I usually sit the unmotivated ones out and show them what they are missing by focussing on the excited and sometimes less talented kids. We have lots of fun but stress the importantance of executing fundamentals correctly.
---
Georege P says:
5/1/2007 at 8:46:58 PM


I want to thankyou for your insight.I was teaching my son how to jump properly just yesterday and this helps alot!
---
quobero qoubero II says:
5/3/2007 at 9:19:13 AM


Fantastic advice,mind helpin me out with a drill that you perhaps know that helps my players talk on the pitch. It's as though they can't talk and this costs the team... no communication...
---
Mark Bay says:
5/4/2007 at 10:49:51 PM


Outstanding tips for coaching also good running backward drills helps keep body in proper position over feet if they don't have there head over feet down to the floor they go,they will learn quick for body control.
---
Ali Naseer says:
5/5/2007 at 4:26:36 AM


Very complete!
What are the jumping exercises appropriate for Under 14.
---
Ariel Rabe says:
5/7/2007 at 4:45:39 AM


The erect torso prior to the jump is indeed effective and good and hands pocket level. Thanks a lot.

Re input to Mr. Enist Parris: What I did recently in discipling a 12-year old who came to practice in slippers and not in practice uniform (athletic type and tall but still fair fundamentally) is to request him to write a letter of apology addressed to the team as a whole; that is,if he still interested in joining.
---
wilson says:
5/8/2007 at 3:49:05 AM


What insightful material! The material on jump drills is so great and i will surely teach my boys.
---
aj says:
6/28/2007 at 8:18:32 PM


i need more tips
---
stephen says:
6/28/2007 at 8:19:34 PM


give me fire
---
Patrick says:
11/24/2008 at 8:10:04 AM


Can really dunk with my 1.8m height?
---
thankyousr says:
1/13/2009 at 12:17:41 AM


thank you very mooch!
---
Eric says:
4/13/2009 at 7:04:51 PM


My daughter just turned 13 and is 5 feet 10 inches tall. She is playing for the first time in AAU league against 15 & 16 year olds and has noticed she needs to become stronger and faster. Do you have any sources to create a conditioning program to help her acheive her desire to get faster and stronger?
---
Kevin Friend says:
5/12/2009 at 2:35:25 PM


I was wondering if I am six foot two, should i be able to dunk it by now... i am a junior in high school and i was just wondering?
---
javar says:
6/23/2009 at 1:44:47 AM


hi my name is javar im 4'8 i want to dunk and be explosive how can i?
---
sam says:
7/9/2009 at 6:14:35 PM


every should try this it really works/helps
---
Jason Fry says:
8/20/2009 at 9:44:05 AM


Eric,
You need to find a performance training facility in your neck of the woods that you can trust and come highly recommended. There are many variables for girls and depending on size, leg strength, gait, and maturity, individualized programs must be implemented
---
jose says:
1/8/2010 at 12:39:40 PM


nope?
---
Rich says:
3/31/2010 at 3:20:58 PM


For improving jumping or explosiveness (the ability to stop and start quickly or to change directions quickly) you must combine a solid strength and conditioning program and on court drills to improve technique and efficiency of movement. the team i worked with recently had always used the weight room but followed borrowed programs until they asked me for help. Upon implementing a strength and condition (it was my first strength and conditioning job) program they got almost double their average gains in vertical jump, improved speed in EVERY player on the team and their strength gains improved by 75%. And trust me, it was no genius on my part just pretty basic plyometric and strength drills. If your team does not have a well developed basketball specific training program consider hiring a strength coach to come in and look over your program and give some help, it may make huge gains for you.

rich
---
STEVEN says:
9/4/2010 at 1:36:18 AM


when i jump and land my left knee get injured...i go to physiotheray and he said i should not play for a few months....

aftr 2 months i try to jump but it's only a little and i still have a difficult to bent my knee..

is ther any tratment or sugeestion for me??

thanks
---
Tom says:
9/22/2010 at 11:22:07 AM


What are your thoughts on "The Jump Manual" and any other programs to increase your vertical leap?
---
Adam says:
12/3/2010 at 4:30:47 PM


To Kevin Friend,

I am not a strength and conditioning coach but I would suggest that you find one. Dunking a basketball is as much about conditioning as it is height. I was a 5'9" highschool junior and was grabbing the rim with two hands. On a side note, dunking is also related to the question about where to jump from off one foot and hand strength for palming the ball off the dribble.

I do not know if this is an acceptable form of conditioning, but as a Freshman I had several issues with jamming my fingers. I started doing pushups on my fingertips everyday (5) and never jammed my fingers again and I was able to palm the ball with undersized hands; however, you should not do this without first consulting a professional because I am not aware as to whether there unhealthy side affects.
---
sharad nagane says:
2/14/2011 at 2:53:29 AM


useful tips, thanks, i want to know that, how can i improve players jumping ability by using his own weight as well as weights...
---
vinayak says:
2/24/2011 at 6:03:03 AM


I nee dmore tips. for increesing basketball . thank you very much.
---
vinayak Salokhe says:
2/24/2011 at 6:09:11 AM


I need basketball coaching tips for coaching kids and young players.
---
Ed Parker says:
3/23/2011 at 12:48:01 PM


How do you get a kid to jump higher, what type of work outs would he or she need to do.
---
Gaye says:
6/14/2011 at 5:44:28 PM


How can I get some new practice about jumping or plyometric exercises? Can you advice any magazine,book,ebook or website for it? but I live in Turkey and I lack of many welthy resources such as sport magazines and books
---
Steven says:
8/1/2011 at 10:40:14 PM


Hey there, I am a assistant coach for my high school basketball team. We just came off our best season going 27-1, and we have many coming back. I have just recently seen though, that the majority of our players are playing football this year. Football starts in about a week and ends a couple days before basketball season starts. In your opinion, does playing football help or hurt your basketball game at the high school level. I know it has its up and downs (Conditioning, weight lifting) and its downs (fatigue, heavy on the legs). Do you think it helps or hurts? Thanks so much for your time!
---
Donald says:
8/2/2011 at 1:45:55 PM


Hey there, I am with my local high school basketball team, we just came off our best year in school history going 27-1 and winning state. This year though, I see a lot of our players that are returning are playing football (they will also be playing basketball later on this year). I was wondering if playing football, in your mind, helps or hurts someones basketball game? I know it has its fair shares of ups (strengh, conditioning, running, teaching to be physical) and downs (heavy on legs, risk of injury, fatigue). Football season ends three days before basketball season begins. Is it a good choice to play both? Thanks so much!
---
Joe Haefner says:
8/2/2011 at 1:52:18 PM


There are so many factors that go into this for a team and also an individual that it's hard to fully understand the situation and give a good answer.

I think if players enjoy football and want to play, you should support it. However, if a player wants to prepare for basketball season, there are better ways to do so other than playing football.
---
Ken says:
8/10/2011 at 3:31:17 PM


its great. thanks
---
Jon2k11 says:
12/24/2011 at 6:29:59 AM


Why it important not to do jumping exercises on hard surfaces? I do mine on the local outdoor basketball court because I have no where else to do it.
---
Ken Sartini says:
12/24/2011 at 7:21:02 AM


Very hard surfaces can cause shin splints.. so I have been told ... I had them when I was younger and they are painful...... do a search on the net and see what they come up with regarding shin splints.

To Kevin and Javar,
While everyone wants to dunk, I think thats the last thing that you should be worrying about. Think more about your overall game, ball handling - passing - shooting and playing great defense. In all the years I coached I never chose a player because he could dunk. NOW, if he could shoot lights out and was pretty good from the arc ( 3 ball ) that would open my eyes. ( along with someone who would dive on loose balls and be willing to take a charge - THOSE ARE GAME CHANGERS ) One shot you don''t see a lot of today is the mid range jumper... so many kids want to shoot the 3 or take it to the hole... none of those are bad .... but work on a complete game

As for the coaches that have some football / basketball players... I would leave that up to the players.... they only go through high school one time... they should enjoy it and experience as many things as possible.
Is that the best way to improve your bball game, probably not, but it can make them a better all around person/athlete. One thing about football players, they do come in ready to be a little more physical and if they come off a winning season, they have a winning attitude. Just some thoughts on that.
---
Tyka says:
6/18/2013 at 1:43:40 PM


I am trying to compete with a girl on my team that is Quite a few inches taller than me for a starting A team position for post. I need to learn to jump higher than her so I can play the position because I have got the rebounding and defense down way better than her. I need to jump and shoot better, any good drills I could try.
---
harsh says:
2/14/2014 at 6:54:08 AM


hi i'm harsh i'm 4'9 can i dunk?
---
Ken Sartini says:
2/14/2014 at 10:01:39 AM


Harsh -

I don't know how old you are but..................

I wouldn't worry about dunking right now... If I were you I would be working on ball handling skills, passing and shooting.

Be patient, your time will come. AND, if its to be (dunking) it will happen.
---
calin says:
7/28/2014 at 2:13:38 PM


Hy. I''''d love to see some more threads in the conditioning section. It would help a lot. Thanks
---
Joe Haefner says:
7/28/2014 at 4:17:12 PM


Thanks, Calin. We will look to add more.
---
Jay says:
10/5/2014 at 5:48:48 AM


Thanks
---