Site Search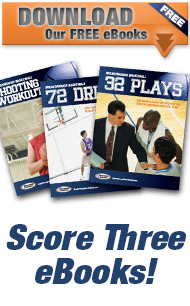 Q & A Forum
Experienced coaches are ready to answer your basketball questions! Visit our forum
6 Tips to Improve Passing and Reduce Turnovers
- By Jeff Haefner
1. Do overload drills to build speed and strength.
Using 2-ball passing drills such as
Machine Gun Passing
,
Middle Man Passing
,
Pass & Switch
, and
Partner Passing
with 2 balls where each partner passes simultaneously will build speed and accuracy. Using drills that force players to use one hand to pass, (such as
Pound Passing
) especially with their weak hand, will build strength and confidence. (It is important to explain to your players that the one-hand passing drills are DRILLS to build specific skills, not techniques to use in games.)
2. Teach spacing.
This is the most overlooked and possibly the most important aspect of offensive play. Teach your players what is the optimum distance they can effectively pass.
3. Teach players to shorten the pass.
As an aspect of spacing, taking a dribble toward a receiver will, in certain instances, improve spacing.
4. Make the easy pass.
There is no need for great passes when ordinary passes will do. Pass to an open teammate, in an area he can catch it, away from the defense. If you cannot do that, don't throw the pass.
5. Emphasize the catch.
While we would all like every pass to be perfect, we all know that will not be the case. The receiver must go where he needs to go to catch the ball. This may seem unrelated, but, to draw a parallel, baseball players know that a great defensive 1st baseman makes great infielders. He covers up for bad throws and can make a shortstop a star. By emphasizing the catch, passers will become more confident and receivers more aggressive.
6. Scrimmage without dribbles.
Nothing will teach players more about spacing, passing angles, getting open, and making effective passes than not allowing them to dribble. Be prepared for some initial frustration.
Remember, your players will take on your values. If you do not value passing in your practices, they will not value passing in their games.
If you have any questions or comments about passing, please post them below...
Comments
---
coach clarke says:
8/15/2007 at 11:16:15 AM


COACH HAEFNER IT IS REFRESHING TO SEE YOUR TIPS ON PASSING. I HOPE EVERYONE WHO SUBSCRIBES TO THIS SITE TAKES ADVANTAGE OF THOSE TIPS I SURE WILL.

THANKS.
---
Scott Hillen says:
8/15/2007 at 3:10:54 PM


I tell players too come meet the pass in stead of waiting for passes step to the pass. That will limit turnovers
---
Max Salazar says:
8/28/2007 at 12:03:54 AM


Hi Coach Haefner, you really help me to improve my coaching skills. Am looking forward to learn from you more. God Bless
---
William says:
11/5/2007 at 4:09:45 PM


It is a great feeling to go through the drills and instruction and see that things that are in my mind are confirmed through this web page. I am youth coach and this website has enabled me to take a last place team to a 3rd place team in a matter of months. Thank you
---
elder binga says:
3/27/2008 at 12:00:11 PM


passe como faço
---
Salman says:
5/9/2008 at 4:26:31 AM


I tried hard to improve my passing.But everytime i pass the ball it slips from my player or it goes in a u direction.now i have a tournament comin up and i just wanna improve my passing.
---
Joe Haefner says:
5/9/2008 at 7:45:37 AM


Hi Salman,

Keep running the drills and using the tips mentioned above. Be persistent and you will improve.

Joe Haefner
www.breakthroughbasketball.com

---
Rusty says:
6/20/2008 at 5:30:15 PM


YO DUDE THNX FOR THESE PASSING DRILLS WE WON DISTRICT AND REAGONAL BECAUSE OF YOU THNX
---
sharon says:
10/21/2008 at 11:36:57 AM


i am not very good at basketball and i always get nervous when someone misses my pass or when i enter the court during matches...
---
Renee' says:
1/8/2009 at 3:07:07 PM


I grew up playing basketball and have love for the game. I am now coaching my two boys this year. They are 6 & 7. I know the fundamentals of the game. However after reading the tips on passing and different things I realized that I had not focused on that as much as I should. Thank you for refreshing my memory. Wish us luck, please! Thanks for everything!
---
Joe Haefner says:
1/8/2009 at 6:51:07 PM


Hi Renee,

If you are coaching 6 & 7 year olds, it's good to teach fundamentals, but it may be more important to teach kids how to move, because very few kids know how to move properly. We expect kids to be able to run and dribble when they barely know how to run. You have to be able to move without a basketball before you can move with a basketball.

Also, it's very important to keep things fun. too many kids quit sports, because it's not fun anymore. I believe a study said that 80% of kids quit sports by age 13.
---
Mark says:
3/10/2009 at 10:31:18 AM


I've never played organized basketball at any level - but when my 6 year old son wanted to play - he asked me to help coach his team. I'm having a blast and this site has helped a ton.

One thing that has worked wonders for us on spacing/moving without the ball is a drill we call "1-2." It kind of evolved in the following way: In the first game, everyone was yelling for the kids to move without the ball - but that's WAY too ambiguous for 6 years olds. Move where? So, in the next practice, I found four spots on the floor - the post blocks under the basket, and 2 spots out near the wing, where two lines on the court intersect. One kid stood on each of the four spots. I asked them to count to 2 and run to the next spot - all rotating in the same direction (at this age, our league doesn't allow screens/picks anyway.) As you can imagine, each kid counted at a different rate - ran at a different speed, etc --they were quickly running over each other. We changed it so that the man with the ball could yell "1-2!" and everyone on the court moved. At first, we did it without a ball on the court at all (coach yelling 1-2), then we added keeping your eye on the man with the ball and keeping your hands ready (coach had the ball at first and passed it in now and then) - finally, we let the kids take turns yelling "1-2!" and passing it in.

It was fantastic -
1: the kids moved without the ball
2: they kept good spacing by using the spots on the floor
3: there was no ambiguity - they knew where to move and moved with purpose
4: whoever brought the ball up felt empowered - that the team moved on his command

The other coaches thought we were running plays with 6 year olds! "1-2" really just became a buzzword for move to your spots!

Sorry for the long post - or if some of the terminology is off. I've gotten so much out of this site I thought I'd share something age specific that worked for me!

Thanks again!
---
Jill B says:
3/10/2009 at 4:19:16 PM


WOW!! Mark that is something I need!! I just found this site. My son (6''''2") has been playing basket ball since he was 2yr. HE is just awesome. This is my third year watching him in High School!! He will graduate next year. But the community thought it was me who taught him. Now they are making me coach of for 2nd & 3rd Graders. I let my son coach last year, because I had no clue. Now he is not wanting to help me and I am on my own. I am very excited to help more kids with this game and now enjoying it alot more learning all the terminology of post, lay-ups and all. Thank you
---
Christ says:
5/10/2009 at 10:30:06 PM


I have a question, is there any drills for you to help practice recognizing open man in the court. I'm a point guard, but I can't see everything that happens in the court, and I want to practice on that. I just want to practice assisting the open man to get an easy basket.
---
Joe Haefner says:
5/11/2009 at 1:52:19 PM


I would advise to do tons of ball handling drills with your head up. The more comfortable you are with the ball, the easier it will be locate the open player, because you won't be worrying about handling the ball.
---
Sam says:
7/5/2010 at 10:13:32 PM


I am just starting basketball in the 7th grade as my second year of middle school. I love playing and watching but was always to nervous to go on a team. I have the summer to get ready, thanks for the awesome website but i have a question.. Im trying to remember the rules and play but is it better to focus on one part of the sport (like on center players since im tall) or to try to be Okay at everything?
---
bagan says:
7/22/2010 at 6:47:58 AM


please send me the basic rules to teach the new players to play basketball.
---
yeah..!! says:
10/20/2010 at 6:39:34 AM


This is awesome
---
David H says:
12/23/2010 at 7:28:12 PM


I thank you guys for all the great work you've done for basketball at all levels. I really enjoy learning new skills, drills, techniques, etc. I was going over your basic and advance passes! Could you please add the "no look pass" for advance passes of course.( a la Magic Johnson) thanks guys :)
---
ashiishh says:
8/15/2012 at 4:29:52 AM


superb tips which have improved my gane
---
Coach M says:
1/7/2013 at 6:11:02 PM


Coach-

Love this site. Lots of great info here. I am an 8th grade coach in Michigan.

I used to be an old school, pass first kind of coach that did a lot of drills where my players could not dribble. I found that my players were not as aggressive attacking the basket as I would like. I now use predominantly a dribble drive motion offense and spend a lot of time teaching my players to attack the basket hard and kick when stopped. There is a system to it. We work on a lot of one on one skills and ways to finish at the basket, and we spend a lot of time on shooting. We press a lot and run the floor.

I have found my players enjoy this style and it motivates them greatly. I teach that the spacing is important for the purpose of allowing players to have driving lanes. I avoid drills where we are not allowed to dribble because it can encourage my players to not attack the basket.

I do see the value in it, though, for cutting and screening offenses.
---
Late bloomer says:
11/7/2013 at 4:13:37 AM


Hi coach joe,

I'm 43 years old and new to basketball. I play basketball to become fit and lose my belly. But when I started to play the game I've learned to love it. How can I improve my skills despite my age and late learning? Thanks.
---
Ken Sartini says:
11/7/2013 at 12:04:21 PM


The first thing you need to do is to get yourself in some semblance of good shape... the last thing you want is some cheap injury.... there goes your love.

So, start working your way slowly into the game, you've waited this long another year wont hurt you.,

If you look at the top left side of this page under HOME... you will see a lot of drills that you can use to help you...... and then its practice, practice, practice and playing.

Good luck, I hope this works out for you.
---
ray says:
12/8/2013 at 10:54:01 AM


I am a basketball coach with some very good players but the better players often use passes that spin too much and are too fast for the other players to catch and shoot quickly off them. What is the advantage of spinning the ball when you have a easy pass??
---
Shawn Pischke says:
1/7/2014 at 6:03:06 PM


Hey Coach,

I'm coaching a 13-14 boys rec team and we're having trouble with turn overs due to poor passing. We have some skilled players, but not the best ball handlers...

I'll give the tips above some reps in practice and hope it helps out. We run a 3-2 motion and we seem to get on top of each other. I stress spacing, but we seem to fall apart when the ball is pressured..Any tips or ideas on how we can drill to help this?

Thanks
---
Ken Sartini says:
1/7/2014 at 7:25:58 PM


Work on the drills above and you might add this one to the list.

http://www.breakthroughbasketball.com/playcreator/view.asp?id=167&type=drill
---
Djeudo Kiran says:
4/8/2014 at 8:31:59 AM


Thanks guys for the remarkable passing drills,they don't only work but the excecise is very exciting.I have thought some to my team mates and they are improving alot...
Thanks again.
---