Every year of my coaching life it's a new battle to get a group of kids to learn the playbook.  It is rarely easy, although some teams I have had were easier than others.  It's incredibly frustrating to call out a play and watch it break down in a critical situation because someone didn't know what they were supposed to be doing.  It can be frustrating to have a terrific playbook, and a team that doesn't know how to execute those plays.  Coaches have nightmares about this stuff, we awaken in the dead of night dreaming of missed assignments, blown screens and games thrown away.
In the Jim Huber Podcast #15, we went to one of the smartest human beings on Earth for answers on creating a smarter team.  Jim Kwik is renowned memory expert that folks like Bill Gates, Bill Clinton and the team that created Google have hired to maximize their brain's learning potential.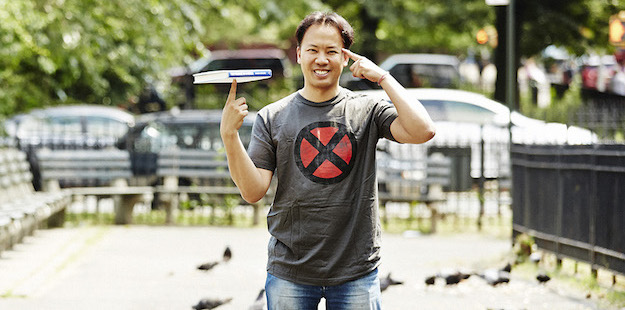 Quick story on Mr. Kwik, he was a child that had suffered a traumatic head injury as a boy that impaired his learning.  After struggling mightily and falling behind in school, he literally began ignoring traditional methods of learning in school and began instead to focus on mastering the process of learning itself.  He decided he had to "learn to learn" all over again, and the results were astounding.  Jim can now meet an audience of a hundred people, have them tell him their names and 2 numbers, and then recite it all back to them in any order they would like.  His mind, once labeled as "slow" is amazing.
Most of us rely on traditional teaching methods in practice to master our plays. Repetition. Repetition. Repetition.  The thing is, repetition takes time, and as you know with a limited practice schedule time is of the essence.
We asked Jim about his FAST method and how it might apply to learning and mastering a playbook and teaching a team to execute what they have learned on the hardwood.  The method also applies to learning skills, say shooting or footwork as well.
The F in FAST is Forget.  To learn something new, we need to empty our cup (all that we think we know), and accept the new information.  If I want to learn shooting from Steph Curry, I have to be willing to let go what I think I know and truly take in the information he might give me.  Jim says, "If you want to learn something brand new you have to forget what you already know about the subject temporarily.  You can't learn what I have to teach you if you don't empty your cup.   People need to forget what they know and have an open mind."
A is for Active in FAST.  Kwik's research says that the way we traditionally learn, passively sitting or standing around being lectured to and hoping something sticks is a poor way to learn.  Active means getting your players to participate, ask questions, roll their sleeves up and get involved in the process by teaching others. Fantastic quote from Jim, "Learning is not a spectator sport, you have to get off the bench, because what you put in is what you get out.  You need to be active with your learning."
S is for State in FAST.  Kwik describes "state" as a fancy word for the mood or feelings of your mind and body and says all learning is state dependent.  If your players are bored as you explain say a new offensive or defensive scheme, that boredom will become "attached" to the information and much of it won't stick. Attaching meaning to the information, "guys, this is the scheme that will help us beat our hated rival this year", might change the player's state as they learn the information.  Thinking of beating that rival makes the information relevant to the emotional core of the mind as it learns, it gives it a reason to learn and absorb the info more fully.  Another way to change state is through physical movement as you learn.  Kwik quote, "Another way of changing your state is by changing your physiology or your body.  As your body moves, your brain grooves.  The people that are physically more active will remember more because you create certain hormones in your body and brain.  It allows you to retain things."
T is Teach in the FAST method.  I suggested to Jim that it might be a good idea to have members of my team teach certain plays to the rest of the team.  He LOVED that idea.  "Teaching something to someone else will assist you in learning it quicker.  When that player learns a play in order to teach it to others, he or she will by necessity have to learn it at a higher level.  They will approach the play with an entirely different method and mindset than if they just stared at a playbook." When you teach something, you learn it twice, and therefore teaching can be one of the highest forms of learning.
The amount of great info Jim Kwik shared in episode 15 of the Jim Huber Podcast was tremendous. In 18 minutes I became a better coach and teacher and it's my hope that you will too.
Find information on Jim Kwik, receive a free gift and view his learning resources at  www.kwiklearning.com/jimhuber