When I look back, I'm amazed I'm here.
As a teenager, I have trouble counting all the occasions I could have gotten myself killed. I had more than one, "my whole life flashed before my eyes!" moments in those years. I drove too fast and cornered too hard, among other transgressions.
As I look back to how I behaved as a teen, I am alarmed as a Parent to think about the possibilities when my baby boys become teenagers.
When we spoke with former Boston Celtic Chris Herren, on #14 of the JHS Podcast, about his fall from grace, his battles with cocaine, alcohol and heroin (among many other drugs), we tried to dig down to what might have been done to change his path.
Chris told us how his Parents, his Coaches and his Teammates got on him about his behavior, "Chris if you fail another drug test you are going to be suspended. Scouts will know and your draft stock will go down.  But nobody asked me why I was willing to lose it. Nobody wanted to sit down and get to the root of it and ask what is going on that you would take a chance of it.  Why is powerful, it is emotion, why is the reason and we have to figure out the why.  If you get that answer you can work with it.  I tell kids it is ok to share with what you struggle with we can build off of that and move forward."
Why is powerful. When our kids mess up, and they all mess up, our reaction is shock and anger. How could they have been so stupid in their actions? The tendency is to want to yell, punish, and then maybe yell some more. There is a place for punishment, and for consequences, but after talking to Chris, I'm seeing that there is a place for grace, and there is great power in "Why?"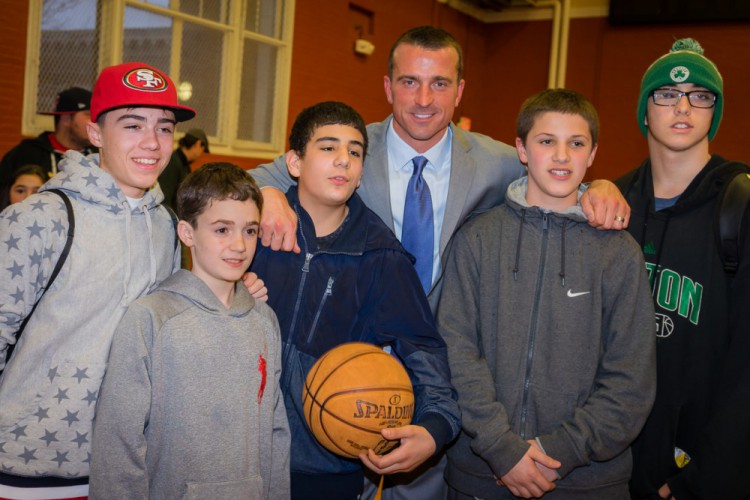 As a parent, I know a day could come when one of my sweet baby boys will do something that will endanger their lives as teens. I pray that this will not happen or if it does that they will survive their transgression and that I'm able to put aside my anger, show a little grace, and have the courage to ask them "Why?"
Chris was a kid that torn up over his parent's divorce (alcohol played a role), and a kid feeling tremendous pressure from the game of basketball. He was a brilliant basketball player. He felt the eyes of all the coaches in the stands watching his every move as a 15 year old. He felt the weight of expectations from his entire community, that he would be as good as his older brother Mike, that he would lead the team to a State Title, that he would make the NBA. All that weight was on a 15 year old's shoulders, and he wanted to escape.
So he rebelled. He smoked. He drank. He partied, and he got busted. He was lectured, he was yelled at, people told him they were disappointed in him because he had all this talent and was throwing it away. But nobody got right down to it and asked him, Chris, "Why?" Why are you doing the things that you are doing?
In an upcoming JHS Podcast, we will be talking with Steve and Lorri Zeller, the parents of Luke, Tyler, and Cody Zeller. All three kids are in the NBA. All three were nearly perfect academically in high school and college. All three nearly died in high school because of crazy, irrational actions. In reading their book, the way they handled those situations involved incredible acts of grace.
It's not just "bad" kids that get into trouble in high school and do things that risk their lives. It's most kids. It happens, and it's part of life and it could happen to me someday as a parent. I'm so grateful for the honesty and wisdom that people like Chris Herren and the Zellers are sharing with me on the podcast. For me, I'm still scared about getting that phone call, but I feel more prepared about handling it.
When my kids mess up, I'm going to swallow that anger and I'm going to sit down and look them in the eye and I'm going to ask them, "why?" And I'm not getting up, or giving up until I get a good answer, because as Chris said, "Once we know why, we can work with that!"
I hope you'll keep listening and together, let's make the world a better place through sports.
Click Here to Listen to the Entire Chris Herren Interview