Podcast: Play in new window | Download
Subscribe: Apple Podcasts | RSS | More
Why You Should Listen?
Greg Brown worked for two of the greatest servant leaders in the history of college basketball, Hall of Famers Pat Summit and Don Meyer.  They combined with 2,021 wins and won 84 percent of their games!  The priceless gifts that both Pat and Don so selflessly passed to Coach Brown inspired him to "pay it forward" and share the gifts with others in the form of this book "The Best Things I've Seen In Coaching"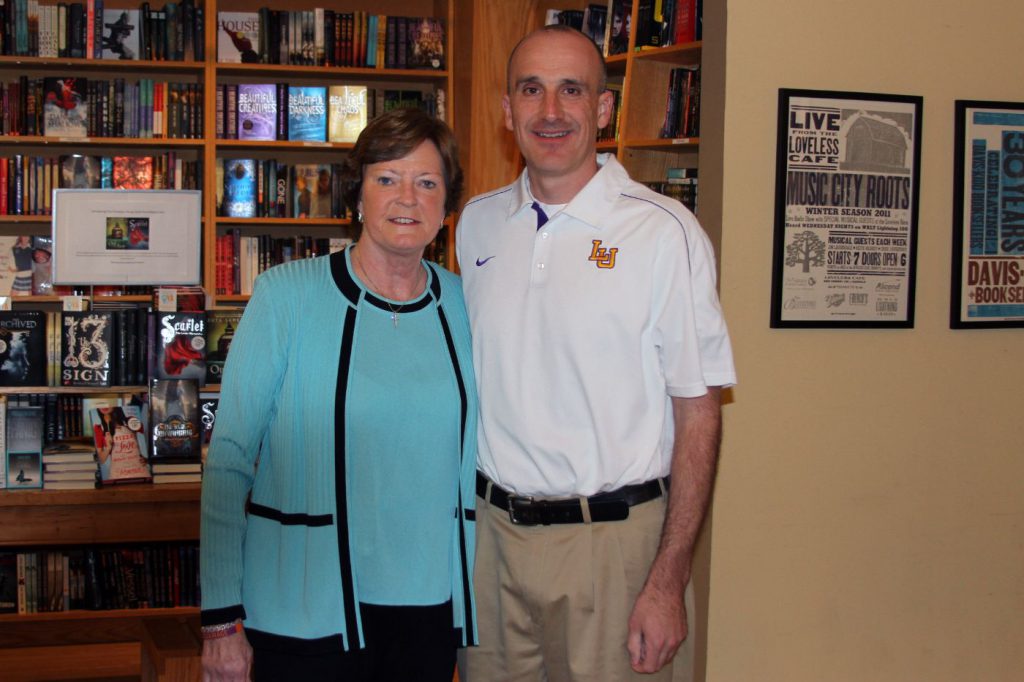 The title comes from a session of Coach Meyer's Coaching Academy, which would discuss a very wide variety of topics.  The book follows the Cornell note taking system that Coach Meyer emphasized.  Coach Meyer always talked about the concept of a "thought pad" and Coach Brown wanted the ideas from the book to lead to more ideas and thoughts and plans of action.
After 19 years of coaching the college and high school level, Coach Brown was named the fourth head coach in the history of Lipscomb women's basketball team in May of 2012.
In this Jim Huber Podcast, Coach Brown goes over the "1 Minute Assessment" that will help you communicate effectively with your student-athletes, 5 ways that Coach Meyer and Coach Summitt maintained success,  getting maximum effort at your practices, and much more…
Enjoy this episode of The Jim Huber Show!
What You will Hear In This Podcast
0:32- Who is Greg Brown?
1:02- Pat Summitt and Don Meyer's memorial services shows the impact that they had globally
3:17- How Don Meyer taught his players through the "Cornell Note Taking System"
4:49- Don Meyer's strategy in retrieving information and doing something productive with it
6:02- Importance of coaches being honest with yourself and your student-athletes
7:00- The "1 Minute Assessment" is an efficient strategy to communicate effectively with people you supervise
8:08- Don't praise the result, but encourage the process!
9:22- 5 Ways to Maintain Success
10:33- Effective ways to get your players to communicate
12:00- Obstacles you face to get kids to communicate effectively
12:50- Getting your players to give great effort in practices
14:02- Importance of kids not looking at mistakes as failures, but more as learning opportunities
15:13- Don Meyer's importance of the NBA (Next Best Action)
16:02- The "Servant Leadership" that made Pat Summitt and Don Meyer great leaders
18:06- Coaches need to model what they are expecting from their players
19:23- The benefits of having someone not involved to evaluate you and your program
20:19- "The Things I Wish An Older Coach Would Have Told Me When I Was Younger"
21:33- A great lesson Greg Brown learned is "Adapt vs Adopt"
22:43- Ways to communicate and connect with Greg Brown
Follow coach Greg Brown on Twitter: @LUCoachBrown 
Find information on coach Greg Brown and to purchase his book "The Best Things I've Seen In Coaching" go to: http://www.coachgregbrown.com/
Please leave a reply if you have any comments about the Coach Brown's experiences coaching for Coach Summitt and Coach Meyer or hit me up at @jimhubershow
Remember: "Let's Make The World Better Through Sports"