Podcast: Play in new window | Download
Subscribe: Apple Podcasts | RSS | More
Todd Johnson has always radiated a fierce energy on the sidelines as a Coach in the college and pro ranks, as well as with Nike sponsored MOKAN teams.  This is a guy who was "working" the sidelines, moving, gesturing, pleading, leading and loving.  You knew TJ was in the gym.  He was a fiery presence.  And then, he wasn't.
The rare form of cancer Todd was diagnosed with, poems syndrome, ravaged his body quickly, causing unbearable pain in his hands and feet.  His body faded away in front of his fellow MOKAN coaches and his players, me included.  It was hard to watch my friend go from that crazy Tom Creen energy, bouncing up and down that sideline, to a man sitting in a wheelchair, often in agony with what felt like razor blades in his feet.
I'm happy to say I watched my friend and fellow coach walk in on his own and up and down a flight of stairs to record this podcast.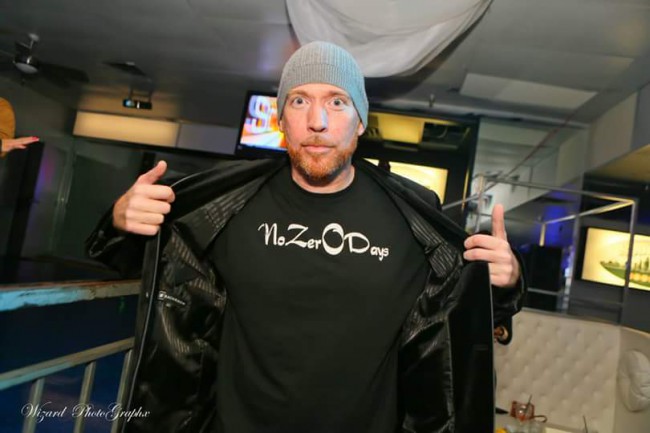 I truly believe we are defined by our responses to adversity in our lives.  When TJ found out he had cancer he took it on with the same ferocity he had as a player.  We competed with one another since we were 13.  He was one of those cocky, confident tough guys that you start off hating when you play them.  TJ was always jawing, talking, and he could play.  He had preached toughness to his MOKAN players.  When cancer struck, it was time to show them.
From the darkness, his one man movement, No Zer0 Days, was born.  His daily focus to regain his health, his hard nosed approach to his physical therapy, his toughness and ability to grind inspired his MOKAN players.  In the midst of his recovery, he began speaking about the lessons cancer taught him, and the lessons he taught cancer, when it was "game on," as he says.
We covered a lot of topics in our interview, from dealing with unknowns, developing a successful daily focus, importance of toughness and the value in leading yourself.  I want everyone to hear it.  Please listen up!
Enjoy this episode of The Jim Huber Show!
What You will Hear In This Podcast
1:22- Who is TJ?
2:00- What is #NoZer0Days?
2:25- TJ and Jim's early childhood days
3:25- How TJ is motivated to inspire others to live each day with mental toughness
5:10- The challenges that TJ has had to overcome to become pain free
7:35- TJ's advice in how to deal with all the unknowns in your life
9:07- The daily focus that TJ has taken to help him reach his goals
11:12- If he could go back in time advice TJ would give to himself at 13
12:57- The importance of parents to not enable their children
13:45- The negative impact of living through your kids
15:02 – Strategies that coaches can take to connect with their players
21:36- What kids need to do to lead themselves to a positive change
23:31- You can't lead until you can lead yourself
24:50 – The impact that No Zer0 Days has had on people
25:52 – Ways to communicate and book TJ as a speaker
Follow on Twitter: @coachtjjohnson
Follow on Facebook: https://www.facebook.com/hashtag/nozer0days
Find information about No Zero Days at www.nozerodays.org (Site will be up in early April, 2016)
Communicate or book TJ for speaking at coachtjjohnson@gmail.com
Hit me up @jimhubershow or reply back to this email
Remember: "Let's Make The World Better Through Sports"