How To Defend Out Of Bounds Situations and Plays


It is something that few teams practice, feeling it does not deserve much attention. It is one of those little details that go unnoticed yet it can decide not only the outcome of a game...




New Box Set Play - Greece


Here is a simple, yet very effective play from a box set that Greece has used in International competition to get an easy basket down low.




Fastbreak Shooting Drill - 12 Players, 1 Hoop


This is a great drill that works on transition shooting, passing, conditioning, teamwork, and communication while managing a lot of players at one basket.




The 10 Commandments of Youth Sports for Parents (with apologies to the Bible)


Here is great article from Jim Bado on 10 great guidelines that all adults should follow pertaining to youth sports.




Free Throws .... What Can I Do To Make Those Free Thows


Interesting forum discussion on making free throws and if it really is worth your practice time.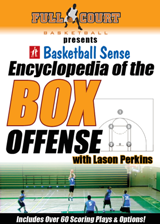 FEATURED PRODUCT



Encyclopedia of the Box Offense With Lason Perkins



If you are looking for some of the best actions and plays hand-picked out of the box set, then this will be a great addition to your DVD collection. You will find 60 scoring options from coaching legends such as Dean Smith, Coach K, Roy Williams, Coach Calipari, Del Harris, Chuck Daly, Jeff Van Gundy, Herb Brown, Pat Riley, Tom Izzo, and Thad Matta.

>>More