Site Search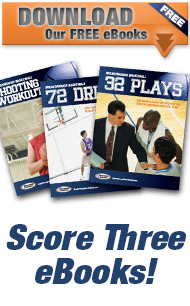 Q & A Forum
Experienced coaches are ready to answer your basketball questions! Visit our forum
Understanding the Law of Attraction and How It Can Improve Your Game & Your Life
- By Joe Haefner
The Law of Attraction is an extremely powerful tool that can be applied to coaching and playing basketball. It also can be applied to LIFE.
First of all, what is the Law of Attraction? To simplify it, it means you become what you think. You could also say you ATTRACT what you think about.
So if you think about bad things, you'll attract bad things. If you think about positive things and what you're going to do to attain them, positive results will most likely follow.
You could also relate the Law of Attraction to a magnet. Every thought, every emotion will come back to you.
To really make this work…
You need to involve both halves of your brain. That means not only do you say something positive, but you have to see it happening (visualization) and feel it happening. The more emotion (feeling) is involved, the more likely you are to succeed at something.
Now, let's apply this to basketball.
Jimmy pulls up for a 15 foot jump shot and misses long. He thinks, "Gosh, Dang it!!. I suck. Why can't I ever make anything? I always screw everything up." If your thought process goes anything like this or if you have any negative thoughts after a play, STOP NOW!
If you think, "that was a terrible shot" or "you suck", what do you think you're going to attract? More bad plays and more bad shots. This will only hurt your game and cause you to continue to play below your capabilities.
It's very important to replace these negative thoughts with POSITIVE THOUGHTS.
Let's go back to the example before now. Jimmy pulls up for a 15 foot jump shot and misses long. Instead Jimmy thinks, "Okay, that was long. I need a little more arc and higher release point next time. They better not give me that shot again. Otherwise, I'm gonna nail it every time." Jimmy is also visualizing a beautiful shot as he does this.
If you apply the law of attraction to this way of thinking, Jimmy is going to hit more shots and probably hit the next open shot the defense gives him.
Learn from your mistake and apply positive thinking & visualization!
MOST IMPORTANTLY….Apply this to the ALL facets of your LIFE!
To be completely honest, when I first watched a DVD on this called "The Secret", I was very skeptical. It sounded cool, but I mean come on. How can something as EASY as this actually work? I thought "Heck, might as well give it a shot. It's not going to hurt anything."
It was amazing. Soon as I started to apply this to all facets of my life, everything and I mean EVERYTHING just started going great. I truly believe that POSITIVE THINKING attracts POSITIVE THINGS.
In school, you should always think that you're going to do great on your next test. You're going to nail that ACT/SAT test.
At work, apply this to your next meeting. Instead of thinking, "I hope I don't choke in front of the boss again." Think, "I'm gonna nail this presentation!"
At home, if things are not going well, think "I know we're going to work this out and not only are things going to get better, they're going to be great."
Here's a little tip on how to get started with this:
Any time, a negative thought seeps into your head. Catch yourself. Completely stop what you're doing. And replace that negative thought with a positive one. Along with saying this positive affirmation, you have to feel it as well. You have to feel good about it and know it's going to happen.
Apply this to basketball and most importantly, your life, and you WILL see TREMENDOUS results.
What do you think? Let us know by leaving your comments, suggestions, and questions...
Comments
---
Dave Halvorson says:
5/8/2008 at 11:14:36 AM


This will be a great teaching tool to use. To many kids hang there heads and get real negative if things don't go their way.
Thanks, Dave
---
John Seabrook says:
5/8/2008 at 11:14:56 AM


I agree 100% and I try to instill positive thoughts in my players on a daily basis both in and out of season. Thanks for reinforcing this thought pattern.
---
Coach Miller says:
5/9/2008 at 6:25:09 AM


OUTSTANDING !!! It''''''''''''''''s amazing how such a simple truth can be overlooked searching for a more difficult answer to a simple problem.Everything starts in the form of a thought.
---
jose says:
5/9/2008 at 10:01:17 AM


ok its good!!!!! i try my self first! thanks again

---
krampy says:
5/13/2008 at 1:14:42 PM


can some one link me up with a coach ....
i am a young basket ball coach and i need to learn how to create a basketball team !!!
a championship team,
link me krampy@yahoo.com
---
Steven Mizell says:
5/14/2008 at 5:47:28 PM


this a great idea will read it to my team
---
Steven Mizell says:
5/14/2008 at 5:58:08 PM


This is a great idea. I will read it to my team.
We hate to miss a shot
---
Tommy Costello says:
10/2/2008 at 5:58:53 AM


if you say you can't, you won't but if you say you can, you will!!

This little saying has been something i've said for many years now to help me feel positive and it's worked many times. It is definitley beneficial to have a PMA (positive mental attitude) whatever it is your doing.
---
Rob Williams (UK) says:
10/3/2008 at 8:59:02 PM


Another one I use is to tell them,"If you think you can, you`re probably right and, if you think you can`t, you`re probably RIGHT!
Can also be applied to pre-game, winning and losing etc.
A great site, thanks!
---
phil says:
12/29/2008 at 7:21:02 PM


i must practice atleast tw hours a day on shooting. and whenever i miss a shot in a game i always think, "what is the point. i've been practicing all this time and i can't make a shot." now that i've read this i already feel more confident and relaxed for my game tomorow.
thanks!!
---
phil says:
12/29/2008 at 7:21:36 PM


*two
---
Michael says:
1/17/2009 at 11:04:11 PM


Well, what you said was right. If i could just be positive enough, i think everything will work out. Thanks dude
---
Ainyr says:
4/14/2009 at 9:54:47 PM


this is a very nice tips and advice to myself especially there will be a summer league to our village. My teammates believes in my shooting and driving ability but sometimes i misses a lot of shot. Thanks to the advice. This stuff really helps me.
---
Brittany Chambers says:
11/18/2009 at 9:39:05 PM


HEY THIS IS MY 2ND YEAR PLAYING BASKETBALL BUT THIS YEAR I AM BECOMING MORE SERIOUS. THIS IS MY SECOND WEEK PRACTICING AND TOMORROW IS A BIG GAME AND I KEEP TELLING MYSELF I HOPE I DON'T GET PUT IN THE GAME, WHICH I KNOW IS A BAD WAY TO THINK. DURING PRACTICE I MISS A COUPLE OF SHOTS AND SOMETIMES DON'T GET THE DRILLS AND THE TEAM SEEMS TO BE GETTING FRUSTRATED WITH ME SO I FEEL LIKE I'M WASTING THE TEAM'S TIME AND MINES, AND EVERY TIME WE DO A DRILL I TELL THE PERON BEHIND ME IN THE LINE TO GO UP NEXT. EVEN THOUGH IT GETS HARD AND IT SEEMS LIKE NO ONE CARES I STILL TEND TO PUSH MYSELF AND TELL MYSELF I AM GONNA MAKE IT!
---
Eric Milton says:
12/23/2009 at 6:19:09 AM


Great!
---
Bryson says:
11/11/2010 at 11:53:53 AM


This is my 3rd year playing jr high basketball last year i played alot but didnt really score. because if i missed a shot or got a foul i would hang my head for pretty much the rest of the game. but this year my dad is my coach and he found this site and we use alot of stuff of it and it is really usefull and when i read this i still thank thats how i was last year. but so far this year i have not hung my head at all beacause if this article. so it helps alot
---
Rose says:
4/1/2011 at 4:32:27 PM


That's so true. But the younger you start teaching your kids not to hang their head if things are not going the way they should go, the better they will understand. This means we as parents have to do the pre-job
for whatever sports our children will do later.
---
Rose says:
4/1/2011 at 4:41:30 PM


That''s so true. But the younger you start teaching your kids not to hang their head if things are not going the way they should go, the better they will understand later. This means we as parents have to do the pre-job
for whatever sports our children will do later.
---
chandrima says:
5/12/2011 at 11:38:20 AM


i'm gonna play basketball for the 1st time this year ................................ so i read this ..... it actually motivated me and i hope my 2morrow's team selections don't dissapoint me just as last year's did !!! i actually had no hope in me left but, i still will try and with practice will make it this time ..... thankyou for uploading this ..... pray for me plzzz

---
Chris B. says:
12/5/2011 at 9:32:45 PM


Absolutely right! I always tell my players that mistakes are OK.
Look at what happened and decide what will you do differently next time.

"To forget the mistakes of the past and press on to the greater achievements of the future." Part of the Optimist International creed.

Positive attitude:

"Finally, brothers, whatever is true, whatever is noble, whatever is right, whatever is pure, whatever is lovely, whatever is admirable--if anything is excellent or praiseworthy--think about such things." Philippians 4:8

Our greatest battles are in our minds against ourselves, not on the court or on the field.



---
chukwu kelvin says:
2/7/2012 at 10:27:14 AM


i love everything you guys said.
it will and will always keep me going.
thanks a lot...
---
Marlon says:
3/23/2012 at 4:49:16 AM


thank you very much for publishing this article. Now my mind is set in a positive thinking mode.
---
BENJAMIN says:
7/4/2012 at 6:16:53 AM


This is great, i now have the SECRET DVD and as i apply it in my basketball, i see great improvement & it works. This wesite as well has helped me to change the way i think about my self, the way i play in the court.

Guys have already started saying that i have improved much.
---
Joe Haefner says:
7/4/2012 at 10:09:22 AM


Glad that helped, Benjamin. Keep working hard!
---
Hanif Freeman says:
10/16/2012 at 7:21:33 PM


Next week is JV tryouts. All summer i worked hard. I think i have a good chance to make the team. Last year i wasnt nearly as good. All day i say, "I will make the team" "I will prove everyone wrong" "Coaches will see my hard work" and other positive things. I envision going to the list the day after tryouts and seeing my name, celebrating! Its the only thing on my mind. Any help? Any tips? I'm open to listen! Thanks in advance
---
Ken says:
10/16/2012 at 7:28:11 PM


Good luck this year, I hope all your hard work pays off.

Do some of the little things... get after loose balls, rebound, take a charge if you can. Not sure what position you play but do whatever it takes at that spot. Shooting well will always wake up a coach too.

Be positive on the floor and let the coach see that you are the HARDEST working kid on the floor.
---
Dan says:
12/18/2012 at 6:12:09 PM


This is a great web site. Thanks
---
Emanuel Cofield says:
3/9/2013 at 11:01:26 AM


That is exactly rite im still learing how to use this consept and Definiteness of Purpose. Basketball is my passion and Iam going all the way.
---
eddie says:
10/12/2013 at 12:09:25 AM


The Law of Attraction is an infinite spiritual technology that is available to everyone. It can be used by any person willing to learn about its characteristics and then follow a particular set of guidelines until the end result is accomplished. This is possible because the Law of Attraction is a reliable force that is set in motion through the power of human thoughts. We refer to this spiritual technology as a law because it is repeatable like the law of gravity, which is repeatable under specific conditions. According to the dictionary, a law is a statement or a fact in which a natural or scientific phenomenon always occurs if certain conditions are present. The Law of Attraction, or Universal Law, is a spiritual certainty because it can be demonstrated over and over as long as certain mental and emotional conditions are met. - Eddie Coronado, "Manifest Your Millions: A Lottery Winner Shares his Law of Attraction Secrets."

---