Site Search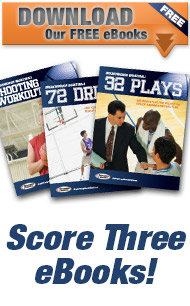 Q & A Forum
Experienced coaches are ready to answer your basketball questions! Visit our forum
Hubie Brown's Hawk Offense
- with Lason Perkins
Dear Basketball Coach,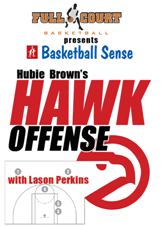 The Hawk Offense which was popularized by Hubie Brown has been used successfully at the high school, college, and NBA levels. It has a number of actions that can be used against man to man or zone defenses. Coaching greats like Chuck Daly, Rudy Tomjanovich, Flip Saunders have also utilized the Hawk Offense.
The basic alignment includes a two guard front, high post, and double low stack set. And a talented point guard is usually needed to run this set because the point guard needs to keep the ball on one side of the court, but this DVD includes alternative entries to make things easier if you do not have a talented point guard.
Why The Hawk Offense?
Versatility - easy post up strong guard.
Get the ball to the right players in the right spots - post players and perimeter players.
Easy to start running pick and roll action which is very hard to defend.
Hundreds of actions and possibilities.
In the DVD, you will find:
Chapter 1 - Introduction
Chapter 2 - Hawk Basics - Alignment, Initial Actions, Primary Attack, and Corner 3
Chapter 3 - Hawk Entries
Chapter 4 - 6 Hawk Plays For Shooters
Chapter 5 - 7 Hawk Post Plays
Chapter 6 - 5 Hawk Pick and Roll Plays
Chapter 7 - 4 Hawk Isolation Plays
Chapter 8 - Conclusion
Who is Lason Perkins?
Lason Perkins is recognized globally as one of basketball's brightest coaching minds. Having coached at every level of basketball from elementary school to the professional ranks, Coach Perkins is renowned for his creative schemes and grasp of Xs and Os, which have in constant contact with coaches from around the world looking to utilize his insight and teachings. Coach Perkins resides in Cary, North Carolina.
What some of the best coaches in the world have to say about Coach Perkins

"Any time I see that Lason Perkins has come out with something regarding basketball offense, I want to get a good look at it. He is a true student of the game and has a gift for teaching offense and keeping it simple for coaches and players."

- Don Meyer
All-time leader in coaching wins in NCCA men's basketball history. Retired in 2010 at Northern State University.


"When it comes to basketball on the offensive end of the court, Lason Perkins has great ideas and concepts. His DVDs should be part of your coaching library.

- Fran Fraschilla
Former men's basketball college coach and current ESPN broadcast analyst.


"Lason Perkins has been sharing excellent basketball ideas for years. If you are a teacher of basketball, you have to get your hands on his books and DVDs. You will not be disappointed."

- Kevin Eastman
Current assistant coach for the 2008 NBA Champion Boston Celtics.


Watch This Sample Video Snippet from the DVD
How Much Does it Cost?
The price for the 70 minute DVD is $29.95.
60 Day Money Back Guarantee
Just like any reputable bookstore or retail business, we have a 100% money back guarantee too.
If for any reason, your purchase is not what you expected, just
send us a message
and we'll give you a full refund. No questions asked.
"Claim Your Copy Now"
If you'd like to order by telephone, call us at 1-866-846-7892 (toll free).
If you have any questions, don't hesitate to
contact us
.
Sincerely,
Jeff Haefner
Joe Haefner
Breakthrough Basketball, LLC.