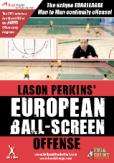 See All Reviews
Write a Review
Lason Perkins - European Ball Screen Offense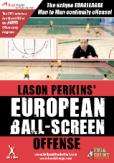 $29.95
Only 7 left in stock
60 Day Money-Back Guarantee
(DVD - 60 Minutes and FREE PDF Playbook)

European Ball Screen Offense - with Lason Perkins
Dear Basketball Coach,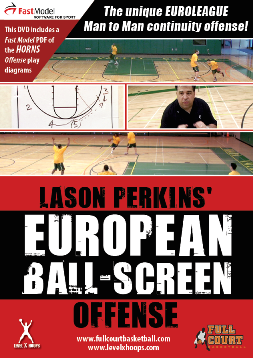 If you're interested in ball screen continuity offense for your team, this offense would be a great addition to your team.
As with all products on our website, we have personally selected and reviewed this DVD. We only offer a select few DVDs that we think are the best and we highly recommend this DVD to coaches.
Why Should You Consider This Offense?
Flexible - You can take advantage of whether you have a dominant guard or dominant post player.


Very hard to guard - The defense has to be very adept to fighting through screens.


Constant continuity - The offense has constant continuity with movement across the court which causes the defense to work harder. As a result, you'll be able to exploit gaps in their defense.


Constant cutting movement - In addition to guarding screens, the defense has to control the constant cuts by the offense.


Spreads floor - It spreads the floor and makes the defense work harder.


Use your quickness advantage - Smaller teams can take advantage of their quickness advantage over bigger teams.


Tweakable - The offense can be tweaked to work for your personnel.


What's in the DVD?
Chapter 1 - Introduction
History
Why use the European ball screen offense?
Chapter 2 - Basics
Alignment.
Initial Pick & Roll Options
Basic Continuity
Chapter 3 - Adjustments
Screen Rejection
Screen Slip
DHO
Backdoor
Chapter 4 - Special Actions
Running Slip
Flare Slip
Hook Post
Cross Screen
Back Screen
Chapter 5 - Pick & Roll Defense
Defender Goes Under
Defender Goes Over
Defender Anticipates
Defender Hedges
Defender Blitzes
Defender Switches
Defense Traps
Chapter 6 - On Court Teaching
Setting A Screen
Ways The Defender Can Respond
Ways The Help Can Respond
When A Ball Screen Is Trapped
Slipping The Screen
If The Defense Switches
When The Defender Goes Under
Downing The Screen
Chapter 7 - Entries
Transition Entry
Dead Ball Entry
A-Set/Horns Entry
A-Set/Horns Entry 2
A-Set/Horns Entry 3
A-Set/Horns Entry 4
A-Set/Horns Entry 5
A-Set/Horns Entry 6
A-Set/Horns Entry 7
Two Guard Entry
Two Guard Entry 2
Quick Hitter Post
Magic
Step Up
Spurs
Hoosier
Chapter 8 - Inbound Plays
Olympiakos
Box
Offset
Sideline
Sideline 2
Chapter 9 - Additional Ball Screen Continuity Offenses
Blazers
Corner Continuity
Chapter 10 - Drills
Post
Two Man
High Low
Ball Screen
The DVD is 60 minutes long.
Features:
On-court player demonstrations
Dynamic Whiteboard diagrams
Slow motion footage
Multiple camera angles
Instructional graphics
FREE Printable "Play Diagrams" PDF
Approx. 60 Minutes
Watch This Sample Video Snippet from the DVD
How Much Does it Cost?
The price for the 60 minute DVD is $29.95.



60 Day Money Back Guarantee
Just like any reputable bookstore or retail business, we have a 100% money back guarantee too.

If for any reason, your purchase is not what you expected, just send us a message and we'll give you a full refund. No questions asked.




"Claim Your Copy Now"



If you'd like to order by telephone, call us at 1-866-846-7892 (toll free).


If you have any questions, don't hesitate to contact us.

Sincerely,


Jeff Haefner
Joe Haefner
Breakthrough Basketball, LLC.



Customer Reviews
Most Helpful First
Newest First
---

BRIAN WHITMER from CUMMING, GA says:


2/24/2012

at 10:07:51 AM


THIS OFFENSE IS EASY TO UNDERSTAND. THE MORE I WATCH HIGH SCHOOL AND COLLEGE BASKETBALL THE MORE I AM ABLE TO IDENTIFY THAT THERE ARE SEVERAL TEAMS USING PARTS OF THIS OFFENSE AS SETS.

LIKE ANY TYPE OF OFFENSE YOU HAVE TO ADJUST TO THE TYPE OF PLAYERS THAT YOU HAVE.

This review is helpful
---

Coach Bynum from Kingsford Heights, IN says:


3/30/2012

at 2:54:52 PM


Lason Perkins did a great job of explaining this offense, from the basic set up to the multiple options and reads. On court demonstrations of the multiple entries was great also. This offense can be used at any level. I used it with my middle school teams as well as my high school varsity team. I would have liked to see on court demonstrations of the breakdown shooting drills, but the pdf was easy enough to understand.

This review is helpful
---

Bruce Aulabaugh from Maylands Western Australia, WA says:


3/30/2012

at 8:25:53 PM


Great DVD. I've taught my under 13 boys team this offence and used it effectively in games. Due to the reliance on perimeter passing, I find it best to incorporate back door cuts by pass receiver and also allow some 'dribble drive and kick' by ball handler - to deal with aggressive defenders overplaying the perimeter and/ or hassling the ball handler. I've also created a 4 out in 1 version of this which includes a 'back screen' by the post player for either top players (depending on which side the play is occurring).

This review is helpful
---

yoni from petah tikva, None says:


3/31/2012

at 12:08:56 PM


i am couching at israel , and i used the offense on the last 6 games. becouse of that i won 5 games. the player likes the offense and use it a lot.
it's one of the best dvd i own/


This review is helpful
---

Greg Tuchek from long beach, CA says:


4/1/2012

at 11:56:04 PM


Loved the video! I played on one of the best 3 on 3 teams in the country. You can use the plays for 3 on 3, but adding the 2 other players fo 5 on 5 makes it almost impossible to guard! I will teach these conepts to any level I coach or train.

This review is helpful
---

Daryl from Rotorua, None says:


3/13/2013

at 11:17:05 PM


Excellent resource. Probably the best one that I have seen in a while as Coach Lason gives you everything you need to break down man to man defense. Use it for 3 on 3 as well. A very potent offence when executed correctly.

This review is helpful
---

alex renchen from Bourbonnais, IL says:


6/3/2013

at 10:32:29 PM


Excellent DVD, one of the best I have bought in a long time. Basic offense is easy to understand with several entries & counters. Great DVD

This review is helpful
---