This post is for the 30 to 60 year old coaches and parents out there…

I'm a 43 year old parent and basketball coach. I stopped playing leagues and pick-up basketball 5-6 years ago (due to nagging injuries). Over time I slowly got out of shape, my energy levels went down, and I just didn't feel as good.
I didn't even realize my energy levels were down! It's a very slow process of decline.
Basketball used to keep me in shape and it was a fun way to stay in active! When that went away, I just didn't get enough cardio and high intensity exercise on a consistent basis.

I tried all kinds of workouts and fitness programs over the last 5 or so years. I just didn't stick with any of them on a consistent basis for a number of reasons.

About 6 months ago I stumbled onto Team Duwe Workouts that I finally do like clockwork, and I feel amazing!!!

I lost weight, my clarity and focus has improved, my energy levels have went up, I'm in a better mood, I feel healthier, and everything is just better.

It's incredible how just a little bit of the right kind of exercise on a consistent basis can benefit you in so many ways. I'm convinced that exercise is the single most beneficial thing you can do!
What else can lower the risk of numerous diseases, reduce anxiety, improve mood, increase energy, release endorphins, improve focus, and dozens of other benefits? I can't think of anything that helps you more than consistent exercise.
My problems and why I didn't exercise consistently?

Here were a few things stopping me from exercising consistently in the past:

Workouts were too long and hard.
I didn't have time to go to the gym.
Had to takes kids to soccer.
I didn't acknowledge I needed to make my health a priority.
I didn't consciously realize the countless benefits to exercise.
I didn't think my back, knees, and hips could handle some of these exercises.
Does any of that sound familiar? There's always an excuse.

Once I had a few epiphanies, all those excuses went away, and now I workout consistently every week. And I feel awesome!

My epiphanies and few key take-aways that might help you:
1) You only need to workout 3 days a week for 30-40 minutes.

If you workout smart and incorporate metabolic training… you can burn calories very fast, release endorphins and get amazing results. This is probably the most efficient way to train and doesn't take much time.

This was a game changer for me. Getting through workouts that are 45 to 90 minutes were hard. I could play basketball for 3-4 hours at a time because it was fun! But working out for 90 minutes is not fun… it hurts, burns and gets boring. But 30-40 minutes…. I can push through that. 30 minutes is nothing!

I had no idea you could get all those benefits in just 30-40 minutes and only 3 days a week. Once I realized that, everything changed for me.

2) You can workout at home with no equipment (just need a $30 kettlebell).

Personally, I workout every Monday, Wednesday, and Friday morning at 9am. This is perfect time for me. I workout in my basement…. I'm done in 40 minutes or less and I do not need to go to the gym. Being able to workout at home is great for me because it saves time and is super convenient.

On my off days I go for a walk, hike, or do some light cardio a couple days a week. I enjoy hiking and walking on trails… so I usually do that a couple times a week too.

3) You need to make your health a priority and put yourself first.

Too many people make the mistake of putting all kinds of kids activities and everything else above your exercise and health. But what is more important than your health? Nothing. Your kids want to you to be happy and healthy.

You also should set a good example for your children and your players!

You want them to be health and happy right? The best thing you can do is show them you are disciplined and take care of yourself. If you do, they will most likely follow your example when they get older.

4) Set your workout times in stone and plan everything else around your workouts.

A simple but effective idea.
If you set these times in stone, and work everything else around it, you will workout consistently. It's only 30-40 minutes a couple times a week, which is not a big time commitment at all. Yet the benefit and pay off is profound!

5) Realize that exercise is the single most beneficial thing you can do.

There is not a pill, a product, or a type of food that will give you more benefits than exercise…

Exercise lowers the risk of heart disease, cancer, stroke, and countless diseases.

Exercise releases endorphins that improves your mood, reduces anxiety, and fights depression.

Exercise increases your energy levels, improves clarity, and improves focus.

Exercise can reduce back pain, eliminate arthritis, and improve joint function.

And those are just a few benefits. Do some research and you'll find many more benefits.
Once you consciously realize the importance, this really motivates you to make exercise a priority and consistently integrate it into your life.

The Program I Use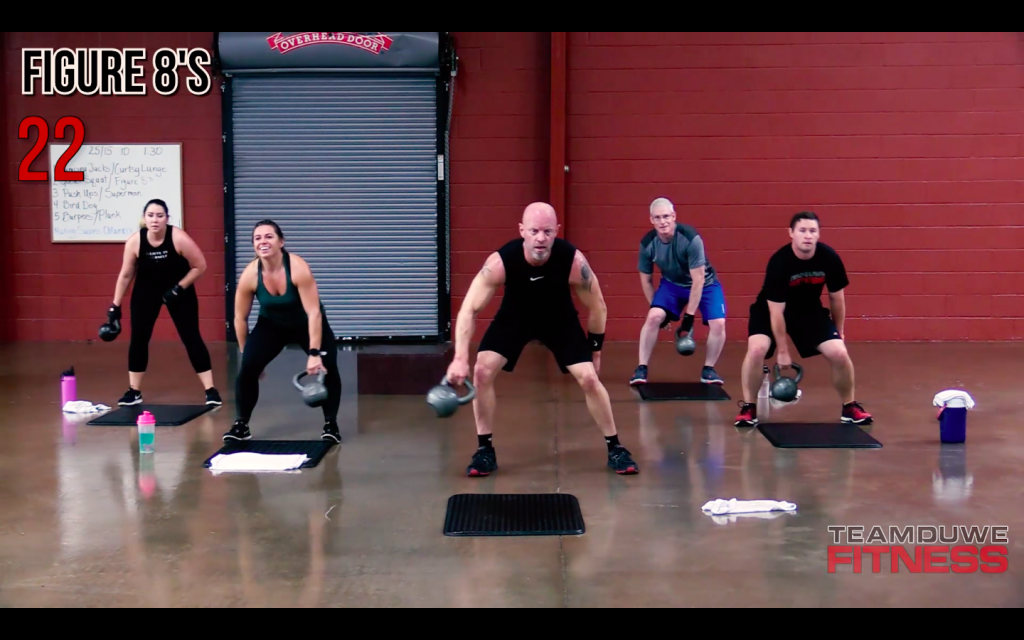 Personally, I follow the Team Duwe Fitness program. It's the first program I found that I do on a consistent basis and works awesome for me. You just follow the workouts 3 times a week at home — and find time for light cardio you enjoy a couple times a week. For me the light cardio is walking or hiking on trails… which I really enjoy.
I have to thank Mike Duwe, my basketball teammate from high school, that developed the program. I hadn't seen him in years. This summer he convinced me to give it a try and he taught me what it takes to get back in shape. At first I didn't think the program would work for me — and it took Mike several months of persistence to convince me to give it a try. I'm glad he did!
I hope I can do the same for others. I hope that the workout program or my "epiphanies" help someone else as much as they helped me.

If it helps just one person, then it was worth sharing and writing up this post!