Do you use different drills to give players variety?  Do you use the same set of drills all season?  How often should you change your drills to keep things fresh?
These are questions all coaches ask at some point.
Here's how we make our practices efficient and how often we change drills…
For our 6th graders, we're changing our drills NOW.  It's time.
We have been using most of the same drills since October.  It's not exactly the same every day — we mix things up and keep players engaged using a variety of tactics.
But we've been using the same "base drills" to work on shooting, finishing, ballhandling, and footwork for almost 3 months now.
Why You Should Consider Using the Same Drills Each Practice
Using the same drills can allow you to practice very efficiently because…
Players know the drill so you don't have to spend time explaining it.  You just call it out and they are working in a few seconds.
And not only do players know technically how to run the drill, they know how to run the drill VERY efficiently.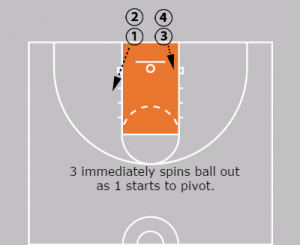 Early in the season we had to teach players "how to practice efficiently".  As an example, we have a baseline spin-out drill to work on footwork and scoring.  We had to teach players how to alternate and how to time the spin-outs to MAXIMIZE their repetitions at the basket.
We have some really good base drills that we use often.  Our practices have been very fast paced and efficient.  It has been great!
I believe that if you have a really great drill, that is extremely effective, it's ok to use it often — maybe as often as every practice.  But at the same time you want a balance to keep things fresh and you don't want practices to be exactly the same every day.
Time for New Drills
This is an instinctive decision.  But now I feel it's time to change a few of our drills.  Practices are still great.  But I sense that practices are starting to get a little stale for players.  So I'm going to be proactive and change a few of our drills.
We will be working on the same things (shooting, ballhandling, footwork, etc).  But the drills will feel new and different for our players.
Now we happen to be making a fairly significant change.  So our first couple practices will slow down a little so we can explain things.
But to avoid slowing down too much, you could introduce one new drill a week. One this week.  Then next week add one more.  And so on.  So the new drills will be introduced gradually.
How Often Do You Change?
After winter break (2-3 months into season) is when we change will be changing things up.
How often do you change your drills to keep practices fresh?
In years past, I changed drills almost daily to keep players engaged.  We still rotate our base drills and I think having variety is good.  But using new drills daily is way too much.  There's a balance.
If you have a great drill that is efficient, I think it's good to keep using it for several months or even the entire season.  If it ain't broke, don't fix it!
With all this in mind, here's an awesome article to help you choose great drills for your practices.  And gives you an idea of why I stick with certain drills that are really good.
Let me know your thoughts on the subject.  And if you have questions, or want to see certain content, please comment below.