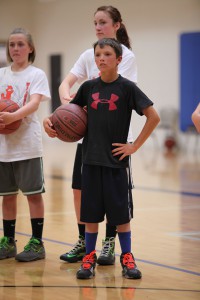 One of our team's core values is to "help others".
As a coach, you find lots of opportunities to reinforce this core value in practice and games…
You can help your teammates by passing the ball in games, you can hustle to get rebounds in drills so you partner gets more shots, you can rotate on "help" defense, and so on. It seems the teaching opportunities are endless on the basketball court.
However we also want to encourage players to help others outside of basketball.
One simple and effective way to encourage players came from Coach Ali's comment on this life lessons article. Here's Coach Ali's suggestion:
"I love that you wrote this. I've coached girls' basketball many years. I now have retired and I coach youth girls' basketball.
I give homework assignments every practice.
One week, their assignment is to make someone happy each day. Another assignments is to do something for someone without them asking. Another assignment is to do something for someone and not let that person know you did it. There are several like this.
Another is, give your Mom, Dad, or sibling a hug goodnight, each night. At the practices after that particular assignment, we have a short discussion about how it made them feel. To me, as a coach, it's very moving."
This is a great idea, which I utilize in our practices. However, I have run out of ideas for homework assignments.
What ideas do you have for "homework assignments" to help others?
Please share your ideas below. I will then organize compile the list for other coaches to use. Thank you!