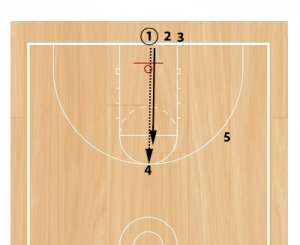 Here's another one of my favorite drills…. Triangle Pass and Cut.
We use this drill with our 4th grade girls team and our 10th grade boys team.
I like this drill because it takes a piece of our offense (pass and cut) and allows us to work on our skills (passing, timing, lay ups) at the same time. This is a very efficient way to practice.
We also use this drill to teach players "how to read the defense when one pass away".  Check it out here:
http://www.breakthroughbasketball.com/play.asp?id=70