Site Search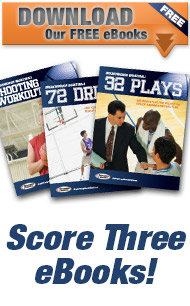 Free Newsletter
Get our free monthly newsletter with new drills, plays, scoring tips & coaching strategies... Signup for our newsletter
Q & A Forum
Experienced coaches are ready to answer your basketball questions! Visit our forum


Subscribe for FREE and Get 3 eBooks…
Just for subscribing to our free newsletter you'll get these 3 eBooks for free…
72 Basketball Drills & Coaching Tips – 136 page eBook.
21 Basketball Tips & Tricks for Players – 20 page eBook.
32 Winning Basketball Plays – 96 page eBook.
Plus you'll get ALL updates to this website delivered to your inbox for free. Over 100,000 other coaches, players, & parents have already subscribed.
We will never send you spam or share your email address, guaranteed!
Close
Contact Information
Mailing address for general inquiries:
Breakthrough Basketball, LLC.
5001 1st Ave. SE, Ste 105 #254
Cedar Rapids, IA 52402
Mailing address for making payments:
Breakthrough Basketball, LLC
PO Box 155
Jackson, MN 56143
Phone:
(866) 846-7892
Fax:
(877) 745-9725
To send us an email message, please fill out this form: