Site Search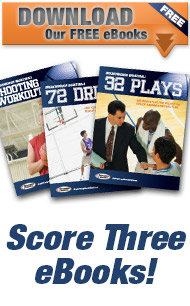 Q & A Forum
Experienced coaches are ready to answer your basketball questions! Visit our forum
Youth Ball Handling and Skills Camp in Indianapolis Indiana...
This youth ball handling and skills camp will occur on August 2-3, in Indianapolis, IN. We have arranged for Quentin Mitchell to conduct a 2 day basketball camp players and coaches will learn new ball handling skills and strategies that will increase any players confidence.
Improve Your Ballhandling
During the camp you'll receive both instruction and intense training to develop exceptional ballhandling skills and dribbling moves.
The camp will help you...
Reduce turnovers and handle any game situation.
Beat your defender off the dribble.
Create your own shot and scoring opportunities with the dribble.
Create space and separation from the defense.
Improve decision making and overall ballhandling skill.
No matter what your skill level, you'll be challenged and make tremendous improvement to your game.
If you already have some skill with the ball, this camp will take your ability to the next level making you very hard to guard off the bounce.
If you're a beginner that struggles with the ball, this camp will help you improve your confidence with the ball, help you reduce turnovers, and help you quickly take your ballhandling skills to the next level.
We will provide you with drills, training, instruction, and a logical program to improve based on your skill level.
Who is Quentin Mitchell?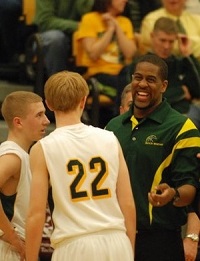 Quentin Mitchell has coached 30 youth players that went on to play at the Collegiate level, 22 of which played at the D1 level. Quentin was all conference in high school and a McDonald's All-American nominee. He went on to play at Western Illinois University where he holds the records still today for for most 3 point field goals in a game (9), most consecutive games with a 3 point field goal (6), and highest 3 point field goal percentage in a game going 9/11 for 82%. Quentin has played all over the world professionally, helping his teams make the playoffs and win championships.
Some of Coach Quentin Mitchell's coaching credentials include:
Assistant varsity coach at Redford Covenant High School in Detroit, Michigan. Responsibilities included practice planning, organizing game plans, scouting and team development.


Head JV Coach at Rock Bridge High School in Columbia, Missouri. Team records were as follows: 18-6 (2012-2013), 18-4 (2011-2012), 14-2 (2010-2011), 17-1 (2009-2010)


Assistant Coach MOKAN, in Kansas City, Missouri from 2009-2012 and their record was as follows: 36-5 (2012), 50-9 (2011), 56-9 (2010), 57-9 (2009)


Most recently, along with working with Breakthrough Basketball, he was the head coach for Tilton Elementary School in Chicago where they finished 8-1 and made the Chicago league playoffs for the first time in 4 years!


More Ballhandling and Scoring Topics Covered
Proper progressions for the dribble moves.

We will break down how to effectively progress through dribble moves. Learn these vital progressions that most trainers skip that result in poorly executed dribble moves.

6 things you need to know to be a great ball handler.

You can be an extremely effective ball handler by knowing and practicing six things. Most players and coaches make things too complicated. But dribbling effectively is simple. You don't need lots of moves. You just need EFFECTIVE moves.

How to be more effective with your dribble.

In today's game, so many players misuse the dribble. They use it and lose their advantage against the defense. We will teach them how to effectively use the dribble and cover more space with fewer dribbles at faster pace.

Develop an explosive first step.

Players usually don't work on this, but this is one of the most deadly weapons in the game of basketball. Due to our background in athletic development, we will incorporate speed drills that will make them faster and quicker with and without the ball.
Improve Your All Around Skill
The focus will be on ball handling. However, the clinic will also incorporate:
Footwork (pivoting, starting, stopping, offensive moves)
Passing skills
Coordination and gross motor skills
Strength and athleticism
Basic offensive moves that can be used in the post and the perimeter
Small sided games to practice skills in game situations
Who can attend?
Session 1 - Boys and girls 2nd to 4th grade
Session 2 - Boys and girls 5th to 8th grade
Coaches that want to learn and pick up new drills can also observe for a small fee (coaches can find more info below).
Camp Details
When
Saturday August 2nd, 2014
9:00 AM to 12:00 PM -- 2nd to 4th grade
1:00 PM to 4:00 PM -- 5th to 8th grade

Sunday August 3rd, 2014
9:00 AM to 12:00 PM -- 2nd to 4th grade
1:00 PM to 4:00 PM -- 5th to 8th grade
Spots Available
2nd to 4th grade -- 50 29 spots open
5th to 8th grade -- 50 20 spots open
The camp is limited to a maximum of 40 players to ensure high repetitions and improvement.
Where
Sports Zone
6601 Coffmann Road
Indianapolis, IN 46268
Travel and Accommodation Options
Camp attendees can get a 10-15% discount by using this link and booking any hotel owned by the Wyndham Hotel Group (Days Inn, Ramada, Baymont, Microtel, Super 8, Howard Johnson, Travelodge, Knights Inn and Wingate). Find a nearby Wyndham hotel and get the Breakthrough Basketball discount.
Price
$120
Players - Sign Up Now to Reserve Your Spot
Fill out this form to sign up and reserve your spot:
Observing Coaches
Coaches can attend for free by working the camp. Email us if you're interested in helping with the camp.
Otherwise there is a $97 fee to attend as an "observing coach". You will get to learn new drills and techniques from Quentin Mitchell, just like all the players and other coaches in attendance. Visit this link to reserve your spot as an observing coach.
If you have any questions, don't hesitate to email us or request a phone call.
Sincerely,

Jeff Haefner
Joe Haefner
Breakthrough Basketball, LLC.