Site Search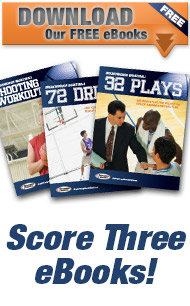 Q & A Forum
Experienced coaches are ready to answer your basketball questions! Visit our forum
2-Day Weekend Shooting Camp in Des Moines, Iowa -- October 5-6 2013
With NBA Development Coach, Don Kelbick!
Complete - Get Notified About the Next Camp
This camp has been completed. It was a big success and we plan to come back! Enter your email below to notified about our next camp in your area...
To get notified about new camps, clinics, and training opportunities in your area, enter your name and email address below:
More Camps in Other Regions
We're excited to announce that we have secured a gym in Des Moines, Iowa and have arranged for Don Kelbick to conduct a
2 day shooting camp
teaching players the same shooting skills and strategies that he uses with pro players like Joe Johnson, Raja Bell, Bruce Bowen, Carlos Arroyo, and dozens of other NBA and European players.
This is an incredible opportunity for both players and coaches to spend 2 days with Don Kelbick learning the same strategies that the pros use.
This camp is for serious players - both boys and girls.
What Will Players Get out of the Shooting Camp?
In the camp you will learn...
Shooting technique and fundamentals
How to improve your shooting accuracy
How to develop a QUICKER release (without sacrificing accuracy)
Improve your shooting mentality and confidence
How to workout on your own
Improve your footwork and develop a better shooting foundation
Improve your shooting off the dribble
Learn how to get open and score on the move
How to become a better shooter and score more points
Format of the Camp
Each day players will receive shooting instruction and then practice what they have learned. Players will take LOTS of shots!
By the end of the camp, each player should take close to a thousand shots.
This shooting camp will teach virtually all aspects of shooting... however a key emphasis will be technique, footwork, mentality, and high repetitions.
Significant time will be spent on improving mentality, confidence, and mental toughness. Mentality is a huge part of shooting and Don Kelbick is one of the best at improving mentality and developing great shooters.
Coach Kelbick has trained some of the all time best 3-pt shooters in the NBA.
What Will Coaches Learn?
You will learn the same things as the players. As an "observing coach" you can view the entire camp and take notes. You'll pick up lots of new drills, fundamentals, and strategies that will give you an edge over the competition. We guarantee you will learn lots of new things from Don Kelbick.
Who is Don Kelbick?
Don Kelbick is a long time contributor to BreakthroughBasketball.com developing dozens of articles, products, and providing ongoing consultation for the site.
Don Kelbick is also an NBA development coach that works with players like Joe Johnson, Bruce Bowen, Raja Bell, and many others. You can see more pictures of Don coaching all of these NBA players
here
.
Before Don got into individual skill development with NBA players in 2004, he coached at various levels for over 25 years. He was a college head coach for 14 years, Division I assistant for 10 years, and spent 2 years as a high school coach. In 2 years as a high school coach, his teams produced 6 Division I players and was ranked #1 in Florida 28 out of a possible 34 weeks.

Don currently resides in Miami, Florida but travels world-wide teaching the game of basketball. To learn more about Don, visit his website: http:/www.donkelbickbasketball.com



Don with Rob Hite of the New Jersey Nets,
Raja Bell of the Utah Jazz, and
Guillermo Diaz of the Las Angeles Clippers.



Who can attend?
The camp is for both boys and girls of the age 12 and UP.
This will be a high intensity and high repetition shooting camp that is intended for serious players that are willing to work hard.
Coaches that want to learn and pick up new drills can also observe. If you don't bring any players there is small fee (coaches can find more info below).
Camp Details
When?
Saturday October 5, 2013 from 9am - 4pm
Sunday October 6, 2013 from 9am - 3pm
* Lunch breaks will be taken on each day.
Where?
Kingdom Courts
6095 NE Industry Drive
Des Moines, IA 50313
Travel and Accommodation Options
Camp attendees can get a 10-15% discount by using
this link
and booking any hotel owned by the Wyndham Hotel Group (Days Inn, Ramada, Baymont, Microtel, Super 8, Howard Johnson, Travelodge, Knights Inn and Wingate).
Find a nearby Wyndham hotel and get the Breakthrough Basketball discount
.
Find other hotels nearby
Price
$195
Limited Availability
The camp is limited to 48 players.
(The camp is limited to a maximum of 6 players per basket to ensure high repetitions and improvement.)
The camp has
48
0 spots available for players.
This camp is FULL -- sign up below to get put on a waiting list and get notified about future camps.
Players - Sign Up Now to Reserve Your Spot
Fill out this form to sign up and reserve your spot:
Observing Coaches - Reserve Your Spot
If you bring your own child or at least one of your own players to the camp, you can watch for no additional charge.
Otherwise there is a $97 fee to attend as an "observing coach". You will get to learn new drills and techniques from Don Kelbick, just like all the players and other coaches in attendance. There is a limit to the number of coaches that can attend -- so sign up soon if you're interested. Visit this
link to reserve your spot as an observing coach
.
If you have any questions, don't hesitate to
email us
or request a phone call.
Sincerely,
Jeff Haefner
Joe Haefner
Breakthrough Basketball, LLC.
More Basketball Camps