Site Search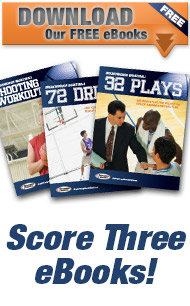 Q & A Forum
Experienced coaches are ready to answer your basketball questions! Visit our forum
October 2017 Breakthrough Basketball Small Group Shooting & Ball Handling Workouts
in Lee's Summit, Missouri!

Elite Skills Coach Adam Short!
This is a 5-week advanced skills training camp that will start Sunday, October 1st. This camp is designed to elevate your skills and prepare you for the upcoming basketball season. This is for very serious players who want to be pushed outside their comfort zone in order to take the next step in their development.

Every serious player wants to be pushed. Every serious player wants to develop their all-around game. That's the point of these trainings. To push and elevate every player's basketball ability.
You will be taught...
How to score from the perimeter.
How to score in the post.
Elite finishing moves in traffic.
Advanced two-ball ball handling drills.
The mentality needed to be a great scorer and team player.
Passing in game-like situations.
Advanced hand-eye coordination drills.
High-repetition competitive shooting drills.
Each practice session will be different so you can continue to challenge yourself. This will improve motivation and prevent things from getting stale. This will enable you to sign up for small-group camps throughout the entire year and have continuous improvement.

Are these sessions beneficial for everybody, regardless of position?
Yes! This training is meant to develop you into a multi-threat scorer.
Every coach wants 5 players who can handle the ball on the floor. Ideally, 5 point guards.
Every coach wants 5 players who can score in the post against a weaker defender.
Every coach wants 5 players who can pass.
Every coach wants 5 players who can finish in traffic.
Every coach wants 5 players who are confident and play well in a team setting.
That is the point of this camp! To develop great all-around players like the current greats LeBron James, Dwayne Wade, Steve Nash, and the past greats like Michael Jordan, Magic Johnson, Larry Bird, Oscar Robertson.
In addition, you will be improving your speed, agility, balance and leaping ability, using the latest cutting-edge training techniques and drills used by the nation's top basketball strength and conditioning coaches.

I have a really advanced skill set for my age. What if other players in the group aren't as advanced as me? Will this affect my development?
This type of training would still be great for you. As long as you push yourself outside your comfort zone, these drills are set up so you can improve as a player no matter who is around you.
We do have a few game-like 1v1 drills for every session, but you only need 1 other person out of the entire group with a similar skill set to be challenged. To ensure this, get your friends to sign up as well!
The trainers at Breakthrough Basketball have also had the privilege to be trained and educated by elite coaches like Jim Huber, who had worked out dozens of professional basketball players. You'll notice in his workouts that they do the same type of drills that we will be doing. They just do them better.

Are you ready for this level of training?
If you have attended our ball handling and shooting camps and feel you are ready to be challenged further, the small-group camp setting will be ideal for you.
If you have bad shooting mechanics, this will still help you. However, we don't spend a lot of time on the foundation of shooting, so our shooting camps would be much more useful for you. This camp is ideal for players who already have the basics and are ready for more advanced training.
Registration and Camp Info:
Who Can Participate?
This camp is for boys and girls entering 6th to 12th grade for the 2017-2018 school year.


When and Where

This camp will run on 5 consecutive Sunday's October 1st to October 29th in in Lee's Summit at the Harris Park Community Center.
Who is Adam Short?


Coach Adam Short is currently the Assistant Men's Basketball Coach at State Fair Community College in Sedalia, Missouri along with coaching for MOKAN where he has coached & mentored over 20 college players ranging from Division 1 to JUCO. Coach Short has also helped MOKAN win several national and regional tournaments. He also helps lead the youth side for MOKAN
Previously, he was the Assistant Men's Coach at Missouri State - West Plains and defeated two top ten teams in the country, and helped coach four all region players
Adam played his collegiate basketball at Avila University where he was team captain and a 1,000 point scorer. Additional credentials while playing were team MVP, 2nd team all conference, and honorable mention all conference honors
Coach Short has been working Breakthrough Basketball camps for the last three years and has been receiving GREAT reviews from parents & campers
Camp Details
When
6th to 8th grade
Sunday October 1, 2017 -- 4:00 PM to 5:15 PM
Sunday October 8, 2017 -- 4:00 PM to 5:15 PM
Sunday October 15, 2017 -- 4:00 PM to 5:15 PM
Sunday October 22, 2017 -- 4:00 PM to 5:15 PM
Sunday October 29, 2017 -- 4:00 PM to 5:15 PM

9th to 12th grade
Sunday October 1, 2017 -- 5:15 PM to 6:30 PM
Sunday October 8, 2017 -- 5:15 PM to 6:30 PM
Sunday October 15, 2017 -- 5:15 PM to 6:30 PM
Sunday October 22, 2017 -- 5:15 PM to 6:30 PM
Sunday October 29, 2017 -- 5:15 PM to 6:30 PM

Limited Availability
Each session is limited to 15 players to ensure a high number of repetitions and improvement

6th to 8th grade is SOLD OUT!
9th to 12th grade is COMPLETE!

Where
Harris Park Community Center
110 SW Blue Pkwy
Lee's Summit, MO 64063
Travel and Accommodation Options
Camp attendees can get a 10-15% discount by using this link and booking any hotel owned by the Wyndham Hotel Group (Days Inn, Ramada, Baymont, Microtel, Super 8, Howard Johnson, Travelodge, Knights Inn and Wingate). Find a nearby Wyndham hotel and get the Breakthrough Basketball discount.
Price
$170
This camp has ended. To be notified of more camps in MO, fill out the form below: