Site Search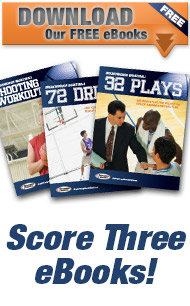 Q & A Forum
Experienced coaches are ready to answer your basketball questions! Visit our forum
Shooting & Offensive Skills Camp
Olathe, Kansas - March 28 - May 2, 2017

Elite Skills Coach Troy Slavin!
This is a 6-week shooting and offensive skills camp in Olathe, Kansas that will start Tuesday, March 28th. Our coach to player ratio will be at least 7 to 1 and as low as 4 to 1. You won't receive that type of ratio at many camps.

With this camp, your shooting percentage will go up, your mechanics will improve, and your shooting range will increase! In addition to all of this, we will focus on confidence, mental toughness, hard work, smart work, and other intangibles to develop great shooters.

Learn Advanced Shooting Techniques Used by the Pros
You will learn the keys to a quick release used by the pros such as Kevin Durant and Stephen Curry. You will learn the Michael Jordan 1-2 step used to create space and hit the open jumper.
You will learn the details required to be successful with these advanced moves. If you're not ready for the advanced moves yet, we have a system set up that will progress players at the proper rates.
Progress At The Proper Rate For Your Skill Set
Each player will advance through these modules at different speeds. One player might advance through all the modules, where a beginner might spend the entire camp on the first two modules. This allows players who advance quickly to be thoroughly challenged and the beginners will get the basics that they need. Don't get me wrong, you will still practice all of the shooting techniques that we teach, but if you are not ready, the majority of your shooting practice will be spent on the appropriate skill level. To give you a better idea, look at the schedule format below.
Shooting Workout Sheets
After every session, we will email you with workout sheets that you can do at home between the weekly sessions. This is the best way to improve your shot and other skills. We will chart your progress at the camp, but this will allow you to chart yours at home as well.
Shooting Topics Covered In Camp
Foundation of Shooting
This is the first step in becoming a great shooter. Some players will progress through this stage quickly, while others will need to spend a bit more time to correct some bad habits. You will also learn:
How your stance could actually be causing your shot to go left and right and how to fix it.
Why the parallel stance may not be the right fit for you.
How your legs and not just your follow through can actually cause a flat shot.
The proper release point and follow through.
How inflexibility in your legs can affect your shot in a negative way.
Learn the Steve Nash adjustment that allows players to shoot accurately from further distances.
Shooting Off of the Catch
After we have built a great shooting foundation, we will progress to shooting off of the catch. You will learn:
How to make your shot quicker.
The mentality to making your shot quicker.
The proper body position for every shot off of the catch.
The proper footwork for different situations during the game.
The proper hand position to create consistency and accuracy.
How to pull up out of the fast break.
Shooting Off of the Dribble
As the levels go up, it's very important to add a pull up jump shot off of the dribble. This gives you the ability to score as defenders rush out to defend the initial shot. You will learn:
The often ignored, but important progressions for the shot off of the dribble learned from legendary Hal Wissel who coached in the NBA.
Learn how to properly pick up the basketball and how doing it the wrong way could be causing your shot to miss to the left and the right.
Learn how the pace of the dribble can make your shot quicker.
Learn how to properly execute the sweep and step through to create space from your defender.
Learn the mentality needed to have a successful pull up jump shot and how the wrong mentality can be easily defended.
Who Can Participate?
This camp is for boys & girls 5th-12th grades, ages/skill levels will be separated.
Who is Troy Slavin?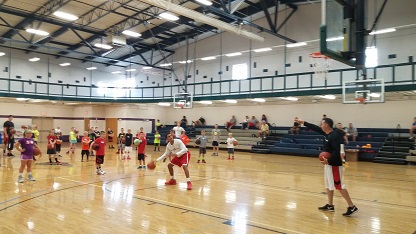 Troy Slavin graduated from Northeast High School where he was selected First Team All CNC League and All Tournament Team at the Riverton Invitational while averaging 19 points a game, with a CNC season high game of 35 pts. An athletic six foot guard known for his leaping ability, Troy once shattered a backboard and led the CNC in dunks his senior year.
Troy accepted a basketball scholarship to Fort Scott Community College but injuries soon ended his college career. He went on to graduate with a Bachelors degree in Radio and TV Production from Kent State University, and began a career in professional broadcasting for some of the nation's premiere radio stations. At 35, he was nominated for radio's highest honor, the Marconi Award, as the nation's best Large Market Personality. At 37, he was awarded the Butterfly Award, the highest honor given by the Children's Cancer Research Fund, for his work in raising over six million dollars to find a cure.
During his radio career Troy stayed connected to basketball and kids, coaching at St. John the Baptist in Minnesota and playing in exhibition games against the University of Kentucky and Deion Sanders' Dallas Cowboy All Stars. His career took him inside Minnesota Timberwolves practice with Kevin McHale and Sam Mitchell, and on the court to learn a few tricks from the legendary Harlem Globetrotters.
Troy has head coach, assistant coach and instructor experience with kids of all ages and abilities. He is ASEP certified in Coaching and First Aid. His unusual life experience and unique communication and motivational skills all come into play as he teaches the game he loves to young people.
Troy also directs Breakthrough Camps for the Kansas City region. You can view the camps at the following link:
https://www.breakthroughbasketball.com/kc/
Camp Details
When
5th to 7th grade
Tuesday, March 28, 2017 -- 6:00 PM to 7:30 PM
Tuesday, April 4, 2017 -- 6:00 PM to 7:30 PM
Tuesday, April 11, 2017 -- 6:00 PM to 7:30 PM
Tuesday, April 18, 2017 -- 6:00 PM to 7:30 PM
Tuesday, April 25, 2017 -- 6:00 PM to 7:30 PM
Tuesday, May 2, 2017 -- 6:00 PM to 7:30 PM

8th to 12th grade
Tuesday, March 28, 2017 -- 7:30 PM to 9:00 PM
Tuesday, April 4, 2017 -- 7:30 PM to 9:00 PM
Tuesday, April 11, 2017 -- 7:30 PM to 9:00 PM
Tuesday, April 18, 2017 -- 7:30 PM to 9:00 PM
Tuesday, April 25, 2017 -- 7:30 PM to 9:00 PM
Tuesday, May 2, 2017 -- 7:30 PM to 9:00 PM

Limited Availability
Each session is limited to 40 players to ensure a high number of repetitions and improvement

5th to 7th grade is COMPLETE!
8th to 12th grade is COMPLETE!

Where
Pioneer Trail Middle School
15100 West 127th Street
Olathe, KS 66062
Travel and Accommodation Options
Camp attendees can get a 10-15% discount by using this link and booking any hotel owned by the Wyndham Hotel Group (Days Inn, Ramada, Baymont, Microtel, Super 8, Howard Johnson, Travelodge, Knights Inn and Wingate). Find a nearby Wyndham hotel and get the Breakthrough Basketball discount.
Price
$195
This camp has ended. To be notified of more camps in KS, fill out the form below: