Site Search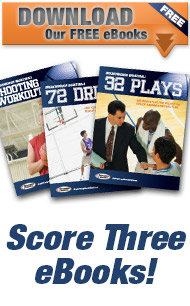 Q & A Forum
Experienced coaches are ready to answer your basketball questions! Visit our forum
Shooting & Offensive Skills Camp
Indianapolis, Indiana - April 9 - May 14, 2019
** Early bird special -- sign up before February 17th and get 20% off **

This is a 6-week shooting and offensive skills camp in Anderson, Indiana that will start Sunday, April 8th. Our coach to player ratio will be at least 7 to 1 and as low as 4 to 1. You won't receive that type of ratio at many camps.

With this camp, your shooting percentage will go up, your mechanics will improve, and your shooting range will increase! In addition to all of this, we will focus on confidence, mental toughness, hard work, smart work, and other intangibles to develop great shooters.

Learn Advanced Shooting Techniques Used by the Pros
You will learn the keys to a quick release used by the pros such as Kevin Durant and Stephen Curry. You will learn the Michael Jordan 1-2 step used to create space and hit the open jumper.
You will learn the details required to be successful with these advanced moves. If you're not ready for the advanced moves yet, we have a system set up that will progress players at the proper rates.
Progress At The Proper Rate For Your Skill Set
Each player will advance through these modules at different speeds. One player might advance through all the modules, where a beginner might spend the entire camp on the first two modules. This allows players who advance quickly to be thoroughly challenged and the beginners will get the basics that they need. Don't get me wrong, you will still practice all of the shooting techniques that we teach, but if you are not ready, the majority of your shooting practice will be spent on the appropriate skill level. To give you a better idea, look at the schedule format below.
Shooting Workout Sheets
After every session, we will email you with workout sheets that you can do at home between the weekly sessions. This is the best way to improve your shot and other skills. We will chart your progress at the camp, but this will allow you to chart yours at home as well.
Shooting Topics Covered In Camp
Foundation of Shooting
This is the first step in becoming a great shooter. Some players will progress through this stage quickly, while others will need to spend a bit more time to correct some bad habits. You will also learn:
How your stance could actually be causing your shot to go left and right and how to fix it.
Why the parallel stance may not be the right fit for you.
How your legs and not just your follow through can actually cause a flat shot.
The proper release point and follow through.
How inflexibility in your legs can affect your shot in a negative way.
Learn the Steve Nash adjustment that allows players to shoot accurately from further distances.
Shooting Off of the Catch
After we have built a great shooting foundation, we will progress to shooting off of the catch. You will learn:
How to make your shot quicker.
The mentality to making your shot quicker.
The proper body position for every shot off of the catch.
The proper footwork for different situations during the game.
The proper hand position to create consistency and accuracy.
How to pull up out of the fast break.
Shooting Off of the Dribble
As the levels go up, it's very important to add a pull up jump shot off of the dribble. This gives you the ability to score as defenders rush out to defend the initial shot. You will learn:
The often ignored, but important progressions for the shot off of the dribble learned from legendary Hal Wissel who coached in the NBA.
Learn how to properly pick up the basketball and how doing it the wrong way could be causing your shot to miss to the left and the right.
Learn how the pace of the dribble can make your shot quicker.
Learn how to properly execute the sweep and step through to create space from your defender.
Learn the mentality needed to have a successful pull up jump shot and how the wrong mentality can be easily defended.
Who Can Participate?
This camp is for boys & girls 5th-12th grades, ages/skill levels will be separated.
Bryson Davis-Johnson?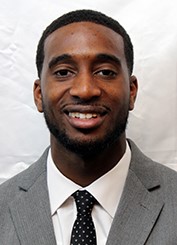 Bryson Davis-Johnson is in this third season with the UIndy menís basketball team. His responsibilities for the Greyhounds include assisting the coaching staff with on-court activities, on-campus recruiting, advanced scouting and planning for travel and meals.

In his second year as a member of the UIndy coaching staff, Davis-Johnson guided five all-conference players, including all-defensive member Ajay Lawton. Along with second-team members Eric Davidson, Jesse Kempson, and Jimmy King, Davis-Johnson also mentored freshman Tate Hall to the conference's award for top rookie. The Greyhounds went 16-12 on the season, but a 12-6 record earned the team the five-seed in the conference tournament, which led the team to the second before succumbing to Wisconsin-Parkside.


Davis-Johnson played one year of Division III basketball at Millikin University in Decatur, Illinois (2009-10). He began his coaching career as a volunteer assistant at Charleston High School in Charleston, Ill., while still in undergrad. During his student teaching he was an assistant coach at Danville High School in Danville, Illinois. He taught physical education at the elementary and middle school levels as well as coached high school basketball at The High School of St. Thomas More in Champaign, Ill., for two years following graduation.

A native of Champaign, Davis-Johnson played four years at Centennial High School. As a high school senior, Davis-Johnson was the co-captain of a Centennial team that went on to win the IHSA class 3A state championship (í09) and was named to the News-Gazette all-area honorable mention list.


Camp Details
When
5th to 7th grade
Tuesday, April 9, 2019 -- 6:00 PM to 7:30 PM
Tuesday, April 16, 2019 -- 6:00 PM to 7:30 PM
Tuesday, April 23, 2019 -- 6:00 PM to 7:30 PM
Tuesday, April 30, 2019 -- 6:00 PM to 7:30 PM
Tuesday, May 7, 2019 -- 6:00 PM to 7:30 PM
Tuesday, May 14, 2019 -- 6:00 PM to 7:30 PM

8th to 12th grade
Tuesday, April 9, 2019 -- 7:30 PM to 9:00 PM
Tuesday, April 16, 2019 -- 7:30 PM to 9:00 PM
Tuesday, April 23, 2019 -- 7:30 PM to 9:00 PM
Tuesday, April 30, 2019 -- 7:30 PM to 9:00 PM
Tuesday, May 7, 2019 -- 7:30 PM to 9:00 PM
Tuesday, May 14, 2019 -- 7:30 PM to 9:00 PM

Limited Availability
Each session is limited to 20 players to ensure a high number of repetitions and improvement

Where
Park Place Church Of God
501 College Dr
Anderson, IN 46012
Travel and Accommodation Options
Camp attendees can get a 10-15% discount by using this link and booking any hotel owned by the Wyndham Hotel Group (Days Inn, Ramada, Baymont, Microtel, Super 8, Howard Johnson, Travelodge, Knights Inn and Wingate). Find a nearby Wyndham hotel and get the Breakthrough Basketball discount.
Price
$195 $156 (Sign up before February 17th and receive 20% off!)
Players - Sign Up Now to Pre-Register:
Sign up now to pre-register which will get you on a priority list to submit final registration to guarantee your spot. Final registration and payment will be accepted on 1/6/2019
Observing Coaches
Coaches can attend for free by working the camp. Email us if you're interested in helping with the camp.
Otherwise there is a $97 fee to attend as an "observing coach". You will get to learn new drills and techniques from Bryson Davis-Johnson, just like all the players and other coaches in attendance. Visit this link to reserve your spot as an observing coach.
If you have any questions, don't hesitate to email us or request a phone call.
Sincerely,

Jeff Haefner
Joe Haefner
Breakthrough Basketball, LLC.