Site Search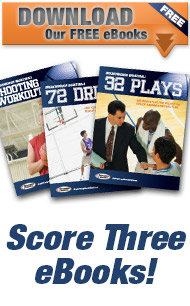 Q & A Forum
Experienced coaches are ready to answer your basketball questions! Visit our forum
Youth Ball Handling and Finishing Camp in
Springdale, Arkansas!
Elite Skills Coach Jonathan Bluitt!
** Early bird special -- sign up before February 15th and get 20% off **
This youth ball handling and finishing camp will occur on April 11-12, 2015 in Springdale, Arkansas. We have arranged for Elite Skills Coach Jonathan Bluitt to conduct a 2 day basketball camp players and coaches will learn new ball handling skills and strategies that will increase any players confidence.
Improve Your Ballhandling
During the camp you'll receive both instruction and intense training to develop exceptional ballhandling skills and dribbling moves.
The camp will help you...
Reduce turnovers and handle any game situation.
Beat your defender off the dribble.
Create your own shot and scoring opportunities with the dribble.
Create space and separation from the defense.
Improve decision making and overall ballhandling skill.
No matter what your skill level, you'll be challenged and make tremendous improvement to your game.
If you already have some skill with the ball, this camp will take your ability to the next level making you very hard to guard off the bounce.
If you're a beginner that struggles with the ball, this camp will help you improve your confidence with the ball, help you reduce turnovers, and help you quickly take your ballhandling skills to the next level.
We will provide you with drills, training, instruction, and a logical program to improve based on your skill level.
More Ballhandling and Scoring Topics Covered
Proper progressions for the dribble moves.

We will break down how to effectively progress through dribble moves. Learn these vital progressions that most trainers skip that result in poorly executed dribble moves.

6 things you need to know to be a great ball handler.

You can be an extremely effective ball handler by knowing and practicing six things. Most players and coaches make things too complicated. But dribbling effectively is simple. You don't need lots of moves. You just need EFFECTIVE moves.

How to be more effective with your dribble.

In today's game, so many players misuse the dribble. They use it and lose their advantage against the defense. We will teach them how to effectively use the dribble and cover more space with fewer dribbles at faster pace.

Develop an explosive first step.

Players usually don't work on this, but this is one of the most deadly weapons in the game of basketball. Due to our background in athletic development, we will incorporate speed drills that will make them faster and quicker with and without the ball.
Improve Your All Around Skill
The focus will be on ball handling. However, the clinic will also incorporate:
Footwork (pivoting, starting, stopping, offensive moves)
Passing skills
Coordination and gross motor skills
Strength and athleticism
Basic offensive moves that can be used in the post and the perimeter
Small sided games to practice skills in game situations
Who can attend?
Boys & girls entering the 4th-9th grades.
Coaches that want to learn and pick up new drills can also observe for a small fee (coaches can find more info below).
Who is Jonathan Bluitt?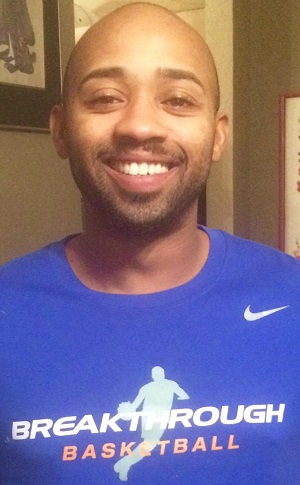 Jonathan Bluitt a 4 time high school state basketball champion from OKC McGuinness from 1998 to 2001. Bluitt also played for Athletes First and was the main catalyst for leading Athletes First to its 1st Nike Super Showcase in Orlando, Florida. From there Bluitt took his savvy skills and leadership abilities to Bridgton Academy, being one of the 1st guys out of Oklahoma City to explore the postgraduate experience.
As a collegiate player, Bluitt was a three-year starter and four-year letter winner from 2002 to 2006. Bluitt helped guide Oral Roberts University to a pair of Mid-Continent Conference regular-season Titles, a Mid-Continent Tournament Championship, NIT appearance and the 2006 NCAA Tournament.
Bluitt led the Mid- Continent in assist 3 out of the 4 seasons he played also ranks 2nd as the all time assist leader at Oral Roberts University.
Some of Coach Jonathan Bluitt's coaching credentials include:
Two years as a graduate assistant under Scott Sutton at Oral Roberts University, where he assisted the coaching staff with player development as well as helping with scouting reports for the opposing team.


Two years as a JUCO men's assistant at Western Texas College. During his two years at Western Texas College, Jonathan helped coach the team to their first conference tournament in 21 years, since the NolanRichardson era.


Bluitt has helped with the coaching duties of Athletes first; which is one of the nationís top AAU elite programs in the country. As well as assistant coaching duties with the Oklahoma Storm (home school) leading the Storm to a Gold Ball Championship and Tulsa Noah.


Bluitt has worked multiple basketball camps such as the Harlem Globetrotter camp, Kansas University, Oklahoma State University, Oral Roberts University and Oklahoma Christian University.


He has developed and trained a number of pros as well as some of the top prep basketball players throughout the country.


Jonathan is a specialist in developing basketball players and inspiring each individual to improve in dribbling, shooting, creating space from the defender and much much more!!!


Camp Details
When
4th to 6th grade
Saturday April 11, 2015 -- 9:00 AM to 12:00 PM
Sunday April 12, 2015 -- 9:00 AM to 12:00 PM

7th to 9th grade
Saturday April 11, 2015 -- 1:00 PM to 4:00 PM
Sunday April 12, 2015 -- 1:00 PM to 4:00 PM

Limited Availability
Each session is limited to 36 players to ensure a high number of repetitions and improvement

4th to 6th grade is SOLD OUT!
7th to 9th grade is SOLD OUT!

Where
The Jones Center
922 E Emma Ave
Springdale, AR 72764
Travel and Accommodation Options
Camp attendees can get a 10-15% discount by using this link and booking any hotel owned by the Wyndham Hotel Group (Days Inn, Ramada, Baymont, Microtel, Super 8, Howard Johnson, Travelodge, Knights Inn and Wingate). Find a nearby Wyndham hotel and get the Breakthrough Basketball discount.
Price
$120
This camp has ended. To be notified of more camps in AR, fill out the form below: