Site Search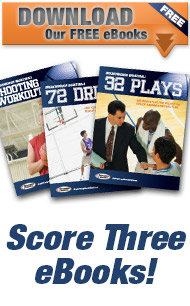 Q & A Forum
Experienced coaches are ready to answer your basketball questions! Visit our forum
Elite Athletic Development Basketball Camp in North Liberty, Iowa - June 28-29, 2014
If you want to become an exceptional basketball player, it is vital that you maximize your athleticism. In today's world, every inch you gain can be the difference between making the team, getting more playing time, getting a college scholarship, or playing at a higher level.
With the Elite Athletic Development Camp, in addition to teaching you techniques to make you more athletic, we will also give you the necessary tools to take what you learned and apply it outside the camp. That way, you can take everything home and keep improving!
You will learn the same techniques that we have used with elite NBA players and other professional athletes. The great thing is that it will help you in other sports too.
You will learn how the AthleteFit staff improved rising NBA star Jrue Holiday's vertical jump by 4 inches in just a few months. If you think it about it, this is quite amazing considering that Jrue Holiday was already one of the best athletes in the world.
What You'll Learn at the camp
Here are some of the things that you will learn at the camp...
Proper Warm Up To Reduce Injuries and Improve Athleticism
Properly warm up your body to prevent injuries.
Strengthen muscles and tendons to improve athleticism.
Mobility exercises that prevent injuries and improve athleticism.
Moving Without the Ball
How to optimally position your body to create separation from the defense.
How to use change of speeds.
Mental Training
How to improve your speed of thought.
Anticipatory skills that will teach you how to recognize situations to make your quicker without improving physical speed or quickness.
Speed, Quickness, Agility, and Anticipation Skills
How to develop an explosive first step to blow by the defense.
How to utilize first step speed to be a better defender.
Lateral quickness techniques and drills to create separation from the defense.
Become a lockdown defender with the same lateral quickness techniques.
Vertical Jump Training
How to improve your vertical with proper jumping techniques.
How to jump quicker! Who cares how high you can jump, if somebody beats you to a rebound or shoots over you because you don't jump quick enough.
Become a basketball jumper – Basketball is not a sport where you only jump straight up and down. You will learn how to jump from different angles, standing still, off the run, off of two feet, and off of one foot.
Applying Athleticism With A Basketball In Your Hands
How to be fast with the ball!
How to attack in competitive game-like situations.
High-intensity 1on1, 1on2, and 2on2 games to improve your athleticism and basketball skills.
Camp Format
The camp will be broken down into 3-hour modules with this format:
45 Minutes – Education and Video Presentation
15 Minutes – Break into Groups
45 Minutes – Skill Session
15 Minute Break
60 Minute - Application of Skill To Games
Camp Instructors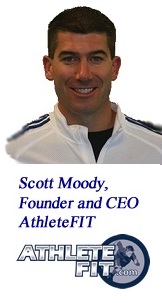 AthleteFit and Breakthrough Basketball teamed up to bring you possibly, the best athletic development camp in the world.
Scott Moody, the founder of AthleteFit, and his staff will lead the camps. They have worked with many professional athletes including...
NBA All-Stars
Olympic Gold and Silver Medalists
World Cup Champions
US National Team Soccer Players
Hundreds of College Programs
Thousands of High School Programs
Who can attend?
The camp is for male and female players from 5th to 12th grade.
Coaches can also observe for a fee (coaches can find more info below).
Camp Details
When?

Saturday, June 28, 2014
9:00 AM to 12:00 PM -- 5th to 7th grade
1:00 PM to 4:00 PM -- 8th to 12th grade
Sunday, June 29, 2014
9:00 AM to 12:00 PM -- 5th to 7th grade
1:00 PM to 4:00 PM -- 8th to 12th grade
Only 40 Spots Available Per Session
The camp is limited to a maximum of 40 players to ensure high repetitions and improvement.
Where
Buford Garner Elementary School
80 Birch St.
North Liberty, IA 52317
Travel and Accommodation Options
Camp attendees can get a 10-15% discount by using this link and booking any hotel owned by the Wyndham Hotel Group (Days Inn, Ramada, Baymont, Microtel, Super 8, Howard Johnson, Travelodge, Knights Inn and Wingate). Find a nearby Wyndham hotel and get the Breakthrough Basketball discount.
Price
$120
Players - Sign Up Now to Reserve Your Spot
Fill out this form to sign up and reserve your spot:
Observing Coaches
Coaches can attend for free by working the camp. Email us if you're interested in helping with the camp.
Otherwise there is a $97 fee to attend as an "observing coach". You will get to learn new drills and techniques from Scott Moody, just like all the players and other coaches in attendance. Visit this link to reserve your spot as an observing coach.
If you have any questions, don't hesitate to email us or request a phone call.
Sincerely,

Jeff Haefner
Joe Haefner
Breakthrough Basketball, LLC.