Site Search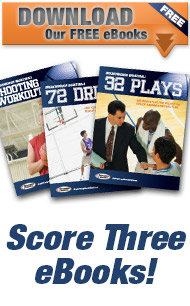 Q & A Forum
Experienced coaches are ready to answer your basketball questions! Visit our forum
Announcing July 26-28, 2013
Breakthrough Basketball Skill Development Camp in New York...
With NBA Development Coach, Don Kelbick!
Complete - Get Notified About the Next Camp
This camp has been completed. It was a big success and we plan to come back! Enter your email below to notified about our next camp in your area...
To get notified about new camps, clinics, and training opportunities in your area, enter your name and email address below:
More Camps in Other Regions
We're excited to announce that we have secured a gym in New York and have arranged for Don Kelbick to conduct a
3 day basketball camp
teaching players and coaches the same skills and strategies that he uses with pro players like Joe Johnson, Raja Bell, Bruce Bowen, Carlos Arroyo, and dozens of other NBA and European players.
This is an incredible opportunity for both players and coaches to spend 3 days with Don Kelbick learning the same strategies that the pros use.
This camp is for serious players - both boys and girls.
What will players learn?
This camp uses the
Attack & Counter Skill Development System
to help you develop the KEY skills that you need to become a great basketball player.
You will learn the same critical and universal skills that Don teaches to NBA players.
These fundamental skills are universal for all levels. They will help you no matter what defense or offense you use.
That's the great thing about fundamentals. They help you in all situations.
Here's a brief summary of the skills and topics that will be covered...
Footwork
You will learn how to improve your footwork. This is probably the most under-practiced, misunderstood, and most important skill of all. You will learn how to practice footwork in a completely new (and simpler) way. You'll also learn how footwork carries over into games and how it makes you better.
Mentality
During the camp, players will learn Don's Attack and Counter Strategy. As the name implies, this system encourages an aggressive mentality. Players will learn important mental aspects of the game including aggressiveness, building confidence, reducing the fear of failure, shooting mentality, work ethic, how to be mentally tough, more focused, and get an edge on the competition.
Post Moves and Finishing Inside
Learn the proper footwork, mentality, and strategies to score in the post and various situations near the basket. This applies to both guard and post players. There is a heavy emphasis on footwork and you'll learn how to become a more dominate scorer inside.
Perimeter Moves (The New Triple Threat)
Learn how to apply Attack and Counter Fundamentals when you catch the ball on the perimeter. You will learn how to improve your perimeter moves, footwork, and become very difficult to guard -- allowing you to easily beat your defender from triple threat, score more points, and become a more valuable player.
Guard Play
You will learn how the Attack and Counter Fundamentals allow you to easily beat defenders off the dribble, create space for your shot, and score off the dribble. This allows you to create space, make good decisions, and get your shot off when you want.
Ballhandling
Learn how to improve your ball-handling skills -- this includes dribbling, passing, decision making, and reducing turnovers.
Fast Break Skills
Learn proper footwork in fast break situations and improve your ability to score in transition. You'll improve footwork, mentality, and ability to score on the run.
Shooting
Learn how to improve your footwork and mentality to increase your shooting percentage. Through high rep shooting drills, Don will teach you how to be more consistent and effective with your feet, how to be more confident, how to be mentally tough, and how to become a better shooter.
Screening and Cutting - Getting Open
Learn how to move without the ball and get open so you can score more points. Don will teach you proper footwork and concepts when using screens and cutting. No matter what team you play for, learning how to read screens and move without the ball will help you get more easy scoring opportunities. This is an important skill for all players to learn. Don will teach you how to move without the ball, get open for easy shots, and score on the move.
As you can see, this clinic focuses heavily on
footwork and mentality
, which we believe are the two most important aspects to becoming a better player.
We promise that players and coaches will learn dozens of new tips and techniques that will make them better. Don's methods are very simple, yet unique. You just won't get this stuff in other places.
It's all about helping you develop the KEY skills that you need to become a great basketball player.
Here's What Players & Parents Said about Last Year's Camp in Chicago
Format of the Camp
You will learn these fundamental skills by participating in a "Show and Go" format...
Show - During the camp Don Kelbick (NBA development coach) will show you the key drills and the skills you need to work on. He will explain and demonstrate the key details of each specific skill to the entire group. He will teach you the skills, strategies, and concepts. He'll show the "little things" that are important.
Go - Then you'll break off into groups to work with designated coaches in your area. There will be other coaches helping you with break down drills. Don will also walk around working with players and coaches at this time. You will work hard at practicing the new skill and learning how to incorporate the skill into games.
This will be repeated throughout most of the camp as we introduce new skills and concepts.
We will run lots of drills and players will get lots of repetitions. You'll get LOTS of touches with the ball and it will be fast paced.
After skills are practiced, we will also put players in competitive break down drills. This allows players to apply and refine their newly-learned skills. Most of the competitive break downs are lots of fun, but they are different (and we believe more effective) than the standard 5-on-5 games that you see at other camps.
What Will Coaches Learn?
You will learn the same things as the players. As an "observing coach" you can view the entire camp and take notes. You'll pick up lots of new drills, fundamentals, and strategies that will give you an edge over the competition. We guarantee you will learn lots of new things from Don Kelbick.
Who is Don Kelbick?
Don Kelbick is a long time contributor to BreakthroughBasketball.com developing dozens of articles, products, and providing ongoing consultation for the site.
Don Kelbick is also an NBA development coach that works with players like Joe Johnson, Bruce Bowen, Raja Bell, and many others. You can see more pictures of Don coaching all of these NBA players
here
.
Before Don got into individual skill development with NBA players in 2004, he coached at various levels for over 25 years. He was a college head coach for 14 years, Division I assistant for 10 years, and spent 2 years as a high school coach. In 2 years as a high school coach, his teams produced 6 Division I players and was ranked #1 in Florida 28 out of a possible 34 weeks.

Don currently resides in Miami, Florida but travels world-wide teaching the game of basketball. To learn more about Don, visit his website: http:/www.donkelbickbasketball.com



Don with Rob Hite of the New Jersey Nets,
Raja Bell of the Utah Jazz, and
Guillermo Diaz of the Las Angeles Clippers.



How is This Camp Different Than Other Camps?
You'll experience 5 key differences in this camp:
You get to work with an NBA development coach. How many players get to do that?!!


99% of the camp is focused on skill development and competitive situations. Many of the camps these days play a lot of 5-on-5 games and do little skill development. Sure that can be fun and you need to get game experience... BUT do you really think most of your improvement happens during games? Of course not. You still need to play in game-like situations to apply your newly-learned skills, but most of the off-season should be spent on skill development.

Great players became great by practicing skills. We want you to get better so we focus on skills and put you in competitive situations. Most of the competitive break downs are lots of fun, but it's different than the standard 5-on-5 games that you see at other camps.


You will learn how to practice on your own! Don is a firm believer that it's important to teach you how to practice on your own. He believes that "knowledge is power". He strives to teach drills that you can use at home or in the gym on your own.


You will learn about new and unique drills, concepts, and skills that you probably won't see anywhere else. Don has a unique, out-of-the-box method to teaching basketball skills. Not to mention he understands a lot of critical concepts that few coaches, players, and parents understand. He will teach you something new, guaranteed.


You learn about footwork and mentality which is rarely taught or understood by players and coaches. You will learn a very unique and simple way to apply the same footwork to post moves, perimeter moves, dribbling moves, getting open, using screens, playing defense, and more.


Who can attend?
The camp is for both boys and girls of the age 12 and UP.
This is for SERIOUS basketball players that want to get better. You can play games anywhere, so we focus on things you can't just pick up anywhere. We focus on developing skills that will make you better!
Coaches that want to learn and pick up new drills can also observe. If you don't bring any players there is small fee (coaches can find more info below).
Where is the Camp?
The camp is located at Hooperstown in Mt. Vernon, NY -- which is 21 miles North of downtown New York.
Camp Details
When?
Friday July 26, 2013 from 6pm - 9pm
Saturday July 27, 2013 from 9am - 6pm
Sunday July 28, 2013 from 9am - 3pm
* Lunch breaks will be taken on Saturday and Sunday.
Where?
Hooperstown (21 miles North of downtown New York)
300 East Sandford Blvd.
Mt. Vernon, NY 10550
Travel and Accommodation Options
Some nearby hotels that offer discounts include the Ramada, Howard Johnson and Days Inn. Camp attendees can get a 15% discount by using
this link
or calling the numbers listed below and provide ID# 1000010225 which must be mentioned at the time of reservation (you may not call the hotels directly and need to use the numbers below for the camp discount).
Ramada 1-800-2-RAMADA
Howard Johnson 1-800-I-GO-HOJO
Days Inn 1-800-DAYS INN
Price
$225
Limited Availability
The camp is limited to 60 players.
(The camp is limited to a maximum of 5 players per basket to ensure high repetitions and improvement.)
The camp has
60
0 spots available for players.
This camp is FULL -- sign up below to get put on a waiting list and get notified about future camps.
Players - Sign Up Now to Reserve Your Spot
Fill out this form to sign up and reserve your spot:
Observing Coaches - Reserve Your Spot
If you bring your own child or at least one of your own players to the camp, you can watch for no additional charge.
Otherwise there is a $97 fee to attend as an "observing coach". You will get to learn new drills and techniques from Don Kelbick, just like all the players and other coaches in attendance. There is a limit to the number of coaches that can attend -- so sign up soon if you're interested. Visit this
link to reserve your spot as an observing coach
.
If you have any questions, don't hesitate to
email us
or request a phone call.
Sincerely,
Jeff Haefner
Joe Haefner
Breakthrough Basketball, LLC.
More Basketball Camps