Site Search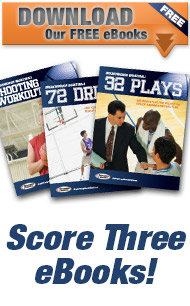 Q & A Forum
Experienced coaches are ready to answer your basketball questions! Visit our forum
Breakthrough Basketball Camps for Boys and Girls
2017 Fall Basketball Camps
Breakthrough Basketball conducts quality, high-intensity, drill based camps that focus on not only bettering a players skill set on the court but also building character and confidence off the court. These camps will strengthen your athletes mentality while boosting their confidence to become more aggressive and skilled players. Our camps will provide a focused, fun learning environment that cannot be rivaled.
Our coaches passion is reflected with an average rating of 9.1 on a 10 point scale from our 2016 satisfaction surveys. You can see what people are saying about us here on our testimonial page.
You'll find a variety of different camps for all age levels, skill levels, and positions that will help players improve shooting, ball handling, decision making, aggressiveness, footwork, leadership, and more.
93 camps sold out earlier this year, make sure to register ASAP.
Find 2017 Basketball Camps by State
Attack & Counter Basketball Camps with Don Kelbick
For serious basketball players - boys and girls from 7th grade to 12th grade.
The camp is run by NBA skills coach Don Kelbick. The focus is on footwork, aggressiveness, mentality, and all around offensive skills (including ball handling and shooting). Click the date or location below to learn more and get registered for the camp.
Ball handling, Shooting, and Decision Training Camps with Chris Oliver
An all-around skill development camp for boys and girls from 7th grade to 12th grade. This is a unique camp that utilizes music and decision training drills to help players improve their ball handling, shooting, decision making, and all around offensive skills.
The camp is challenging yet fun for all skill levels. Click the date or location below to learn more and get registered.
Elite Guard Camps
The elite guard camp is for very serious and dedicated 7th grade to 12th grade players. It's an intense 3 day camp (depending on the location) that covers ALL aspects of guard play -- mentality, leadership, ball handling, passing, scoring, shooting, play making, and much more. For dedicated and serious players that are willing to work hard - boys and girls. Click the date or location below to learn more and get registered.
Shooting Camps
Shooting Camps will help you improve shooting technique, confidence, range, speed of release, accuracy, footwork, and your overall shooting percentage! Players also learn how to work at home, develop mental toughness, practice smarter, and other intangibles to become a great shooter. Age levels are separated and players progress at different rates based on skill level.
Shooting & Ball handling Camps
This is a hybrid of our popular "Shooting" and "Ball handling & Finishing" Camps.
Your shooting mechanics will improve, and your shooting range will increase! We will work on ball handling drills to beat your defender off the dribble, and finishing moves to become crafty around the rim. In additional to all of this, we will focus on confidence, mental toughness, hard work, smart work, and other intangibles to develop great shooters & ball handlers. This camp is for for a variety of ages depending on the location below. The curriculum and drills are tailored to the age ranges that are specific to that location. Both boys & girls are welcome.
| | | | | |
| --- | --- | --- | --- | --- |
| Date | Location | Age Level | Gender | Player Limit |
| August 1-3 | Springfield, MO | 5th - 12th | Boys & Girls | Full / Sold Out |
| Sept 16-17 | Indianapolis, IN | 5th - 12th | Boys & Girls | Complete |
| Sept 29 - Oct 1 | Cape Girardeau, MO | 5th - 12th | Boys & Girls | Complete |
| Sept 29 - Oct 1 | Fargo, ND | 5th - 12th | Boys & Girls | Full / Sold Out |
| Sept 30 - Oct 1 | Orange, VA | 5th - 12th | Boys & Girls | Complete |
| October 7-8 | Lansing, MI | 5th - 12th | Boys & Girls | Full / Sold Out |
| October 7-8 | Long Island, NY | 5th - 12th | Boys & Girls | Complete |
| October 7-8 | Overland Park, KS | 5th - 12th | Boys & Girls | Complete |
| October 13-15 | Dallas, TX | 5th - 12th | Boys & Girls | Complete |
| October 14-15 | Jackson , MS | 5th - 12th | Boys & Girls | Complete |
| October 14-15 | Louisville, KY | 5th - 12th | Boys & Girls | Complete |
| October 28-29 | San Andreas, CA | 5th - 12th | Boys & Girls | 60 Players |
| December 16 | Shorewood, IL | 4th - 9th | Boys & Girls | 60 Players |
| 8-10 January | Melbourne, Victoria | 5th - 12th | Boys & Girls | 60 Players |
Small Group Academies
This is a month long ADVANCED skills camp with small groups put on by ELITE Skills Trainers. These sessions will push you out of your comfort zone and prepare you for the upcoming season. Some topics include some elite finishing moves in traffic, advanced two ball ball handling drills, and high repetition shooting drills just to name a few. These sessions will cover both perimeter and post play and will make you a well rounded player. This camp is for 3rd - 5th, 6th - 8th and 9th - 12th grades in separate sessions. Both boys & girls are welcome.
Get Notified About New Camps
To get notified about new camps, clinics, and training opportunities in your area, enter your name and email address below:
Host a Camp in Your Region
We're looking to add a few more camps across the country. If you would like your area to be considered, you need to be able to secure a gym with 10 or more baskets (high schools or colleges with multiple courts/gyms can work). Please
fill out this form
if you would like us to consider your region.
Camp Scholarships
Breakthrough Basketball offers scholarship awards to deserving boys and girls that want to attend basketball camps. The scholarships are given to children of low income families in need of financial assistance.
Help Kids and Donate to the Camp Scholarship Program
Camp Scholarship Application Form
What People Are Saying About The Breakthrough Basketball Camps
Once again, the camp you held in Ironwood was excellent! I am glad there are mentors like you out there to teach kids this game and try to break the bad habits they have acquired. Thank you for that. My son Griffin really enjoyed it and It was fun just watching the kids have a good time.
- Chris Pepin

The Breakthrough Basketball camp was one of the best sports experiences my son has had. The encouraging atmosphere set by Don in the beginning of the camp and the camaraderie among the athletes was great! The skills that the students learned are both practical and easy to recreate at home for further practice. Don is great with the kids; they immediately like and respect him! I would highly recommend this camp to any basketball player as way to improve and to learn some life lessons through sports. Our Athletic Director is interested in bringing Don to our school for some further instruction.
Thanks and blessings, Kristi Ugland

This was the most informative camp that I have ever seen! Don enjoyed teaching these kids and it showed. I learned just as much as the kids did and came away with a whole new practice routine. I wish my entire team could do the camp and my associate and I are going to try to schedule a camp in Marquette county Michigan at some point if at all possible. Don made everything seem so easy and taught the kids not to be afraid to fail. I don't want to be long winded so I will wind this up. Excellent camp and I would send my son to this again and again if they were in the right areas. Please inform me about any more upcoming camps.
- Cory Hill

I loved everything about the camp.
- Dominica Grmick

Though I was only able to see the Saturday workout, I was impressed how Coach Kelbick kept the campers engaged with demonstration and explanations to why we practice these skills. I think so many times we as coaches have our players perform drills that are meant to improve skill, but if the player doesn't understand the purpose they just go through the motions and don't get a lot out of it (Kinda like Algebra...just kidding). Each player saw and understood why these drills were going to make them better and every camper showed tremendous effort to succeed.
- Jason Wild

Just wanted to thank you guys again for the great camp in Libertyville over the weekend with Mr. Kelbick. My son's footwork became much more fluid by the end of camp that we are excited to see the benefits during the upcoming season. Excellent job with the website as well and continued success!
-Beto Elizondo

Camp was great Don did a great job with the kids. We had four kids there and the one on one drills that they picked up is priceless for a coach. We drill all the time but to here it from a guy like Don that works around the world teaching is awesome.
- Craig Hoffman

Just wanted to thank you guys for bringing in Coach Kelbick, and giving my son and myself an opportunity to become a better player and coach. The attention to foot work at the clinic has provided my son David the foundation to becoming a better all round player. The lessons learned were invaluable, A small price to pay to learn probably the most important thing in the game. Thanks again for setting this up, and thanks to Coah Kelbick for being so Passionate about the most important aspect of the game.
- Patrick Allen
We've had parents, coaches, and players come up to us after the camps and say that they learned more in the first two hours of our camp than they have in all of the other big-name camps combined and some of these camps cost as much as $800.
Camp Resources
How to Choose the Right Summer Basketball Camp
Getting the Most Out of Your Basketball Camp Experience - Tips for Players
How To Have A Great Basketball Camp Experience