Site Search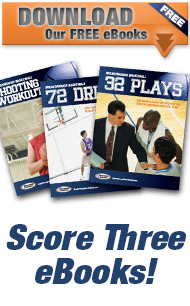 Q & A Forum
Experienced coaches are ready to answer your basketball questions! Visit our forum
NEW DVD 2-Pack & eBook -- Keith Haske's Uptempo Basketball System - Pressure Defense, Pressure Offense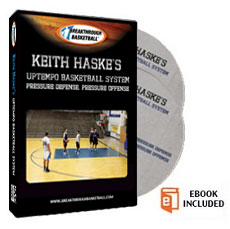 Dear Basketball Coach,
In this new DVD set, you learn Keith Haske's uptempo defensive and offensive system that has helped him win over 500 games, reach the state championship 4 times, and compile a 239-78 record (.753 win percentage) in his last 13 seasons.
It's a fun and fast-paced uptempo system that players love and wins games!
Here's What You'll Get in this DVD & eBook Package
DVD 1
Chapter 1 - Introduction to Keith Haske's Uptempo System
Coach Haske gives you an overview of his system, the philosophy behind it, and why it has worked so well for him.
Chapter 2 - Uptempo Pressure Defense
The uptempo system starts with a full court pressure defense. It's a hybrid defense combining both zone and man-to-man principles.
The press is based on "rules" that make it easy to learn and allow the defense to look different each time down the court...
This is one of the biggest benefits of the press -- opponents have trouble preparing and handling the pressure because it looks different each time down the court.
Most presses are somewhat predictable and players learn where traps will occur and what will happen. The Haske press is very unpredictable, very difficult to prepare for, and difficult to play against.
A few things you'll learn in this chapter include:
Overview of the press and whiteboard explanation
8 build up drills to teach the press
Step by step process to teach and implement the press
Trapping fundamentals
5 ways to get more deflections and create tempo
Keys to the press and mistakes to avoid
When and where to trap (timing)
Chapter 3 - 5 on 5 and Press Alignment Rules
Now that basic rules and concepts have been taught, coach Haske shows the press in a full court 5 on 5 setting.
You learn the initial press alignments and responsibilities when the ball is entered. You'll learn how to defend all types of press break entries (including 4 across, 3 up, 2 up, and 1 up).
You'll also see the press in live full court action.
Chapter 4 - Blue, White, and Gold Press
There are 3 different presses -- blue, white, and gold. They are very simple to learn because they all follow the same rules -- but the initial set up looks different. This makes your opponent think you have 3 completely different presses and also allows you to dictate the tempo.
By changing from blue, white, and gold press during the game.... you can dictate the tempo, keep the offense guessing, and cause more turnovers.
Chapter 5 - Pressure Defense - Handling Situations
In this chapter, you'll learn how to handle various situations when pressing...
How to defend "1 up" press breaker
How to defend and handle great point guards
How to defend clear outs
How to handle uptempo teams
How to handle teams that delay and slow things down
How to handle the reversal pass
You'll learn how to handle almost any situation and turn it into your advantage.
Chapter 6 - Half Court Uptempo Defense
The press falls back into half court man defense -- however the pressure and tempo remains high!
Coach Haske wants to maintain the pressure and tempo at all times. So they utilize sound man to man principles while pressuring and occasionally trapping in the half court. They try to eliminate ball reversals and force the opponent out of their comfort zone while maintaining an uptempo pace.
In this chapter, Coach Haske goes over his key teaching points and philosophy for half court man to man defense.
DVD 2
Chapter 7 - Pressure Defense - Whiteboard Review
In this chapter, Coach Haske reviews the rotations and key elements to the press on the whiteboard.
Chapter 8 - Pressure Defense Q & A
In this chapter, Coach Haske answers a few common questions about the press.
Chapter 9 - Pressure Offense: Transition
On the offensive end, Coach Haske maintains the uptempo pressure. They are in a constant attack mentality while taking good shots and playing fundamentally sound.
They use a unique fast break and half court system that gives them good looks at the basket early in the possession.
It's a high scoring system. At the varsity level, Keith Haske teams usually average 80 points per game. Their highest season average was 90 points per game!
One of the best things about the system is that it develops depth and players lacking skill can contribute. As long as players are willing to work hard, they can contribute to the team.
In this chapter, you will learn:
The keys to their transition offense
How to quickly enter the ball
How to immediately initiate the offense without delay (constant attack mode)
5 simple quick hitters to run out of transition (without delay)
How to run and attack off missed baskets
Rebounding out of transition
Chapter 10 - Transition Offense: Quick Hitters
In this chapter, you'll learn 7 quick hitters you can run out of your half court or transition offense.
Chapter 11 - Half Court Motion Offense
Coach Haske runs a simple motion offense that is based on good spacing, ball movement, and getting the ball inside via the post or dribble drive.
You will learn:
How to improve players' decision making
How to improve ball movement and get more reversals
How to get post players open
Keys to good offense
The basic rules for their motion offense
Chapter 12 - Offense Drills
This section gives you 7 breakdown drills for teaching motion offense and skills. This includes post drills, guard drills, and screening drills.
Chapter 13 - Zone Offense
Learn how Coach Haske attacks all types of zones including the 2-3, 1-2-2, and 1-3-1. He demonstrates their zone offense and gives you a few quick hitters for attacking the zone.
Chapter 14 - Final Thoughts
32 Page Supplemental eBook
For your convenience, we have documented the rules, responsibilities, philosophy and drills included in the DVDs. We also documented a step-by-step process for you to implement the defense.
You can access the PDF eBook from your computer's DVD-ROM drive
Benefits of Coach Haske's Uptempo System
Here are a few benefits of the Keith Haske Uptempo System...
1) Develops Depth
Coach Haske believes their system develops depth. After running the system for more than 15 years at 3 different schools, he always has deep teams. He believes that is because of "the system" and the way they practice.
2) Fun for Coaches, Players and Fans
Players and fans love the uptempo pace and intensity. The system draws large crowds and excitement. Lots of kids get to play. And parents rarely complain.
It's an intense and exciting style of play!
3) Unique - Difficult for Opponents to Prepare for
The system is unique. You don't see a lot of other teams run this and it requires other teams to use different preparation against you.
One of the biggest benefits to the pressure defense is that it looks different to the opponent each time down the floor, yet it's simple. The rules allow for this.
4) Wears Opponents Down
The constant tempo and pressure wears teams down. It's difficult for any team (good or bad) to stay disciplined for the entire game.
Keith Haske team's are usually their best toward the end of game. They almost always make a big run in the 2nd half.
5) Flexible - Works Regardless of Your Personnel
As long as you have 10 players that will work hard... you can succeed with this system.
You don't need size, speed, athleticism, or a great amount of skill. Of course all those things help! But it's a flexible system that works with small teams, tall teams, or almost any talent level.
6) Easy to Teach
The rules makes the system easy to learn. Middle school teams can easily learn the system and succeed.
7) High Scoring
The system creates pace, tempo, and gets you easy high percentage baskets. Coach Haske's teams usually average 80 points per game. Their highest season average was 90 points per game!
8) It Wins Games
Bottom line is the system gets results. It has worked with boys and girls and at 3 different schools.
It works against bad teams and good teams. Good teams might not turn it over as much, but they take quick shots and go faster than they want to. As a result, their shooting percentage suffers. Opponents get gassed and wear down.
It's fun, exciting, players love it, practices are fun, and it wins games! What more could you want?
About Coach Haske
Some of Coach Haske's accomplishments include:
29 seasons as a basketball coaching experience, both boys and girls
Over 500 career wins
4 State Championship appearances
Regarded as one of the most successful basketball coaches in Northern Michigan history
Took his Traverse City St. Francis High School team to the Michigan State Finals in just his second season
Compiled a 239-78 record (a .753 win percentage) in 13 seasons at Charlevoix
Who Should Consider the System?
Middle school, high school, and college coaches can take something from this system. A high level travel team could also use this system.
Coach Haske has successfully implemented the system at the middle school and high school level for both boys and girls.
In fact, the first time Keith Haske coached a girls team, he implemented the system with the freshman, JV, and varsity. The program went 60-0 for the year!!! They didn't lose a game until reaching the state championship where they lost to a very talented team out of Detroit.
Watch This Preview from the DVD
How Much Does it Cost?
The price for the 240 minute 2-DVD set and 32 page eBook is $59.95.
60 Day Money Back Guarantee
Just like any reputable bookstore or retail business, we have a 100% money back guarantee too.
If for any reason, your purchase is not what you expected, just send us a message and we'll give you a full refund. No questions asked.
"Claim Your Copy Now"
If you'd like to order by telephone, call us at 1-866-846-7892 (toll free).
If you have any questions, don't hesitate to contact us.
Sincerely,
Jeff Haefner
Joe Haefner
Breakthrough Basketball, LLC.
Customer Reviews
---

Bruce Determann from Glidden, IA says:


3/2/2014

at 5:45:11 PM


This dvd set was very well put together. The instruction is thorough and works with a progression of drills that will make this much easier to implement at any age level.
---

Tyler Whitcomb from Grandville, MI says:


3/7/2014

at 8:14:36 PM


What a great DVD! Very detailed and easy to follow. I live in Michigan and have heard about Coach Haske and his system of basketball for a while now and when I saw this video it was a no-brainer to buy. I was again very impressed with this video and impressed with another Breakthrough Basketball video.
---

Justin Quarles from Gilbert, AZ says:


3/8/2014

at 9:01:24 PM


Very impressed with this video this is one of the first system my girls got the hang of right away. Practices are a lot more competitive now because of this whole system I can't wait to use this is some games this season
---

Colton St. Peter from Dillon, CO says:


3/9/2014

at 1:39:10 PM


As the newly appointed head-coach for the high school girls program, my assistant and I were looking to implement a high-intensity, up-tempo type of playing style on both the offensive and defensive ends where the players essentially run the game.

We very much like the full court press and the variations that force the opponents to prepare for different looks, while our players can continue to practice the same defensive rules.

The DVD is very detailed with a nice progression through the drills and a great explanation by Coach Haske. Considering he uses 12-14 players in his games, it gives the players great incentive to work hard through the practices, even if they are end of the bench players as they are almost guaranteed playing time. I was able to by the set on sale for $34, though in hindsight, even the regular price of $59 is a great deal.
---

Daniel Freeman from Charlotte, NC says:


3/9/2014

at 2:14:09 PM


I wish that he had gone over his defensive stances and the reasons for his particular stances and did he have different stances for certain ares of the court.. i really enjoyed his demeanor and his way of explaining the reasons for doing what he did. Well worth the money. Thanks for putting the dvd on sale.
---

SCRnRCoach says:


3/9/2014

at 4:42:34 PM


This is a great DVD pack. Coach Haske does a great job of breaking down his entire system. The defensive package alone has more than enough information to make it a worthwhile purchase. I would have bought the offensive package separately if they were sold that way. There is tons of info here, and if any coach is considering make a move to an uptempo system, look no further than this set. It is geared for the high school level where many other types of systems that are similar are built around having several shooters in the line-up, Coach Haske utilizes a slightly different approach that focuses on getting the ball to the basket.
---

Dustin Sullivan says:


3/10/2014

at 9:44:01 AM


Very well done and very much worth the money. I would have like more on the half court defense as their was very little there and I would have like more on the movements of their guards in their half court motion. This is being picky though as the dvd is about transition and pressing and those areas are full of content and very good content at that!
---

JJ Stiles says:


3/10/2014

at 5:16:51 PM


I loved it! It makes me think that all of my other coaching DVDs are nothing compared to this one! If you are going to become a rookie coach, like myself, this is an easy system to start with. I think you will win a lot of games. For high school coaches, I would recommend telling your feeder schools to use this system. Even though this is a girls system, I think it will work for boys too.

From an up and coming coach
---

Jimmy S says:


3/11/2014

at 12:37:37 PM


The DVD set was put together very well. I love this complete system and what it brings to the table. I appreciate the rules that are within the system and everything/everybody has a purpose. Every player can contribute to the team's success!! If you are looking for an uptempo system this is it!
---

Heath H from Cherokee, IA says:


10/21/2014

at 2:38:43 PM


Very well put together DVD set!

Has anyone implemented this system fully?
---

Bill Darroca from Fishers, IN says:


10/22/2014

at 3:42:41 PM


The first basketball DVD that greatly exceeded my expectations. Coach Haske answers all the nagging questions that are usually omitted in other DVDs when explaining a system. Breakthough really nailed this one.

---