Site Search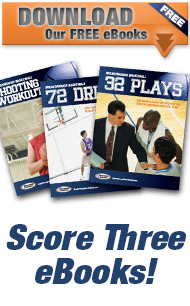 Q & A Forum
Experienced coaches are ready to answer your basketball questions! Visit our forum
Paul Westhead's Loyola Maramount Fast Break and Transition Offense System
- By Don Kelbick
The "Loyola Marymount" break was developed by Paul Westhead. Coach Westhead developed a reputation as a free thinker throughout his coaching career. While at LaSalle College in the 70s and 80s, his "0" defense gained widespread notoriety when it was learned that the defense was named because one defender was asked to play no (zero) defense. All he was expected to do was anticipate a steal or a shot and take off down the floor to the offensive end and look for the ball.
In the early 80s, he moved to Loyola Marymount University, where he developed a transition offense system that led to his teams being the highest scoring team in NCAA history.
As I mentioned before, it's not the pattern that makes the play, it is the philosophy. Coach Westhead's philosophy was that he wanted to get a shot up in less than 7 seconds. He tried to create such a frenetic pace, that the other team would just give up. Often they did, out of utter exhaustion.
I am not going to recommend to you that you adapt a similar philosophy. But, to enact that philosophy, Coach Westhead developed a break where its beauty was its simplicity. It featured numbered lanes and specific early cuts to follow ball reversal. By the time the ball was reversed, it had to be up at the basket. It is that simplicity that allows it to fit in with the half court offenses in this transition offense system.
The LMU break, like the Carolina Break, is a numbered break.

2 runs to the right corner.

3 runs to the left corner.

5 runs to the right block.

4 trails and goes to the left elbow.

1 advances the ball on the dribble as quickly as he can and tests the drive to the middle.

The first option all players have when they receive a pass is to shoot.








1 can headman the ball to either 2, 3, or 4.

The player's first option is to shoot.




| | | |
| --- | --- | --- |
| If the ball is headmanned to the corner and he does not take a shot, he can look in to 5 in the low post or to 4 as the trailer. | | |




If the pass goes to 4, it has changed sides of the court. Anytime the ball changes sides, the 5 man cuts block to block.

1 fills the wing.

4 looks to pass into 5 as he cuts.








4 can swing the ball to 3.

5 cuts block to block.




| | | |
| --- | --- | --- |
| If 3 does not shoot, he looks into 5 on the block. | | |
Related Pages & Helpful Resources
Fast Break Basketball Offense - Carolina Secondary Break
Fast Break Basketball Offense - Phoenix Suns
Competitive One on One Fast Break Drills - 1v1 Attack
5 on 3 + 2 - Fast Break Drills
Want to learn how to build your fast break and transition offense step by step?


Don Kelbick's Transition Offense and the Four-Second Fast Break
This DVD shows you how to build your fast break and transition offense step-by-step, so you can easily teach it during practice. It will also show you how to seamlessly transition into your half court offense to keep the defense scrambling. As every great defensive coach will tell you, they play their best defense when they have their 5 players back. This DVD will show you how to take advantage of the defense when they're not set and currently in transition. It also includes many fast break and transition drills that build mentality, aggressiveness, decision-making, and basketball skills. This DVD is 110 minutes long and neatly organized ... (more info)
What do you think? Let us know by leaving your comments, suggestions, and questions...
Comments
---
Coach BP says:
12/12/2012 at 10:08:01 AM


Does this numbered break remain consistant on makes and misses? Does it matter what side the ball is rebounded on?
---
Coach V says:
12/12/2012 at 1:00:50 PM


No, you can run this break off of a make or a miss. I coach JV boys and our whole program runs it, we get a ton of layups if you can get your big to sprint the floor, also great if you have a stretch four man who can hit the walk up three or attack from the top. You can also add sets out of this like a flex, lop, or double staggered for a shooter. Great and easy break, teach your point guard to look weak side as it is usually open, even at the high school level.
---
Dane G says:
1/30/2013 at 12:35:31 PM


I find it a great way to spread the floor and what I do as well from the Loyola break is to interchange players to different positions.. I have shooters and pretty much the same size kids so I go on first come, first served to corners, top of key etc.. defense can''''t find my leading scorer in just one postion.. kids love sprinting down to get to a favorite spot thus beating the defense down the floor!
---
Gerard Fusaro says:
6/13/2013 at 7:15:42 AM


My son is the fastest guy in AAU. He is a center and the rule is never pass to a center if he doesnt get the rebound.
He will in the block long before the other players and ready for a pass or a shot



---
Gerard Fusaro says:
6/13/2013 at 7:16:10 AM


My son is the fastest guy in AAU. He is a center and the rule is never pass to a center if he doesnt get the rebound.
He will in the block long before the other players and ready for a pass or a shot



---
Ken Sartini says:
6/13/2013 at 8:10:57 AM


Most coaches don't want to pass the ball to their centers running the floor..... not all are like this but they are afraid that they don't have very good handles.

Let them get to the block and get them the ball there .... or im my mind, at least from the free throw line in. JMO
---
Coach O says:
6/13/2013 at 12:06:18 PM


We break a lot but the key I have found is that if you use a PG run break you will miss a lot of opportunities because unless the PG is in the perfect outlet position on the rebound it takes a second or two for him to get to that position get the pass and head up the court and you lose valuable time that gives the other team time to get back on defense. We have the rebounder outlet to whoever is on the wing and with essentially 4 guards they are all capable of handling the ball. Whichever player(s) are up top leak out on the rebound rather than on the outlet (they don't quite cherrypick and have to stay home until we secure the rebound) and the outlet receiver tosses the ball up the wing or cross court and we either get the finish on that pass or one pass later. We haven't perfected it but still manage to get a lot of points this way even against teams that are faster than us.
---
Coach H says:
1/4/2014 at 6:59:00 AM


Love the Westhead system; however, I have found two defenses that have caused it trouble:

1- A zone press

2- A halfcourt trap (ex: 2-2-1)

Any ideas to counter these?
---
Coach Mike says:
2/15/2014 at 10:23:49 AM


Coach H if you bring your 5 to the top of the key first it will eliminate the zone press and the half court trap.
---
Dave says:
6/10/2014 at 3:14:25 PM


Good Stuff, as long as your players can make the shot they are taking at least 10 out of 13 times. The players need to chart there shooting during practice all over the court, to see where they can make shot's and where they can't make the shot. They should have to make 10 out of 13 at any given spot on the floor at practice, to be able to shot that same shot in a game.

---
Ken Sartini says:
6/10/2014 at 4:39:16 PM


Dave -

10 out of 13?? 77%? I don't think any pro can give you those numbers on a regular basis.
---