Site Search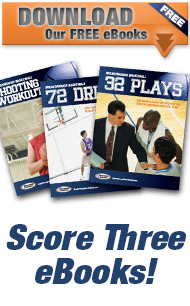 Q & A Forum
Experienced coaches are ready to answer your basketball questions! Visit our forum
Video and Tips: How to Move without the Ball and Get Open Shots
To score more points, your goal is simple... You want to use a variety of movements to get enough space for a wide open uncontested shot.
To get open, you'll want to use a variety of cuts and screens. You can learn about the dozens of different screens and cuts, by reviewing these
offensive diagrams
.
Once you have a basic understanding of different cuts and screens, you should learn some basic guidelines and tips that apply to all screens and cuts.
Here are some universal tips to help you move without the ball and score more points:
Set your man up before using the screen. In other words, before rubbing off a screen, take a step away from the screen and fake like you're going the other direction. Then you can rub off the screen. This will get your defender off balance and give you more space.


Run off screens shoulder to shoulder. There should be no space between you and the person setting the screen. This makes it difficult for the defense to "slip" through and take away your shot.


Read the defense! One of the best skills you can learn as a player is how to read the defense. If your defender cheats over the screen, then you can flare the other direction so the defender gets stuck behind the screen. If the defender denies you the ball and overplays the passing lane, then back door them cutting hard to the basket. These are just a few examples. Learn the different ways you can read the defense. This will make you a better player!


When cutting, vary your speed. In other words, you might want to take a few steps one direction at half speed, then quickly change direction sprinting off a screen. This keeps the defense guessing and off balance.


Know where your teammates are at. This comes with experience and game awareness. The better you know your teammates and your offense, the easier it will be for you to find them and use their screens.


Never stand still for more than two seconds. If you're a great shooter, keep moving. Don't stand in one spot for more than two seconds.


We suggest that you check out this excellent video by Rip Hamilton that shows you how to move without the ball. He also shows a few simple drills:
What do you think? Let us know by leaving your comments, suggestions, and questions...
Comments
---
Sheryl says:
2/12/2008 at 10:29:42 AM


Awesome, I have to work with a couple of perimeter/wing players (gr. 9 girls) and this video and basic tips are perfect to reinforce to the players.

Thank you!
---
Tiffany Tucker says:
2/12/2008 at 11:31:44 AM


Thanks for that demostration! This will be awesome to show my team because it feels like that only believe in what the pros tell them to do.
---
dondi says:
2/12/2008 at 5:10:35 PM


Hi! I would just like to commend and praise you for a wonderful newsletter you have been sending me. It has been of great help to my coaching profession. The drills and videos give me added knowledge for my team. Thank you very much!!!
---
marc says:
2/14/2008 at 2:45:46 AM


it very good,
i hope they will be more video drill to follow..
it really helps me in training my basketball team..
---
Jay D. says:
10/26/2008 at 12:21:42 PM


thanx this was my biggest problem thanx so much for the help
---
Kevin says:
1/18/2009 at 11:14:58 PM


i played last year in my school team gr 8
i move alot and bcoz i was bigger than other players was made to play forward
most of my teamates stood still watching the ball and the handler
tht was long ago tho
never got the ball much
---
Charlie says:
4/16/2009 at 12:12:20 PM


I love this video with Rip Hamilton. When I first started playing B-Ball, I had no idea how to play without the ball. You play 80% of the time without the ball. So it is critical to learn how to use screens. This video is awesome.
Show me more!!!!
---
King says:
6/25/2009 at 3:19:35 PM


This video is great. I got a house league game today and i have been struguling getting the ball and getting the ball open. Im going to try this today and ill write back how i did.
---
Steve W says:
12/2/2009 at 4:28:07 PM


The video link on moving without the ball is gone. It says the video has been removed.
---
Joe Haefner says:
12/2/2009 at 5:29:09 PM


Thanks for the heads up, Steve. The video is fixed.
---
Mike says:
1/17/2010 at 10:41:37 AM


Thanks, I am a wing position player on my 9th grade team and this should help me a lot.
---
joseph barker says:
1/26/2010 at 8:08:48 PM


This video is awesome, it really helped me as a player understand how to get open without the ball. I plan in incorperating it in a game and hopefully be like Reggie Miller.
---
Justin says:
7/12/2010 at 3:32:31 PM


Hey,

I'm going into 9th grade and I played my first year of competitive basketball with real teams and coaches last season. Because of this I have trouble knowing where to be and what to do when I dont have the ball. Is there anything that I can do to help this?

Thanks

Justin
---
Joe Haefner says:
7/12/2010 at 3:41:34 PM


Justin,

My advice would be to talk to your coaches. Some coaches have different philosophies and ways of doing things, so I would ask them what they want you to do in certain situations. If a player came up to me and asked those questions, I would hold that player in a high regard. It will make a good impression on your coaches.



---
Ron says:
1/13/2011 at 2:44:04 PM


Joe/Jeff,

Could you post the link to the video again?

Thanks!

Ron
---
Joe Haefner says:
1/14/2011 at 8:36:11 AM


Ron, you can view the video here: http://www.youtube.com/watch?v=PzLA78Qb3fg&feature=player_embedded

---
Michael Nunes says:
2/20/2011 at 3:41:49 AM


Great article. I have a site and included this article in my latest blog entry. It complements the content perfectly. Thanks. You can view blog entry at: http://onestrong.com/profiles/blogs/become-a-better-basketball-1.

Michael Nunes
Team Onestrong
www.onestrong.com
---
Zach says:
6/5/2011 at 2:22:52 PM


Thats a great way to get rid of your man, get to the basket, and get open shots. I'm going to try some of these.
---
Austin says:
10/17/2011 at 7:36:25 PM


Hey coach,
Thanks for the tips they are really helpful. I have a question for you; as a coach what impresses you the most in a player, as well as the least?
THANKS
---
Ken says:
1/18/2012 at 7:57:02 AM


Austin -
The least is easy - a player who is lazy and doesn't stay focused in practice and games.

There are a lot of things that impress me as a coach.... a kid who will dive on the floor after loose balls, take charges and plays great defense.
Someone who can shoot the ball from anywhere on the floor, inside and outside the arc, someone who is quick and can handle the ball / read defenses and make good decisions. Is money from the free throw line and makes his teammates better - is a team player, not SELFISH. All those are tangibles.

The intangibles are kids that have great character, are coachable and reliable and every team needs a leader.

---
Navid says:
5/24/2012 at 10:57:48 AM


How can i practice moving w/ball and set and use screen on my own?
---
Ken says:
5/24/2012 at 1:19:33 PM


Navid -

You can use a chair to practice moving without the ball, make good V cuts and come off the chair - you can do the same with the ball.

As for setting screens without someone to set it on.... not sure about that. Come up to the chair and set a good screen, imagine your player coming off your screen and then You open up to the ball. They say the player that sets the best screen is the one who comes open the most.
---
gabriel-uv says:
9/21/2012 at 9:01:50 PM


hello everyone!

Waching the drill of moving w/o the ball it a high level skills but still it gives a big help to my personal skills,ive realized how important to move time to time when playing basketball it will create so many options to score and it will develop a good habits of decieving the defender......

tyvm & God bless!

cp3-phils
---
35weekspreg&stillcoaching says:
7/25/2013 at 11:59:53 PM


Fantastic video, reinforces all I say to my u14 boys, keep moving, move to space, watch for your teammates screen & follow your shots! Many thanks for your fantastic site - it has provided countless invaluable drills, excellent tips on coaching & thought provoking player/coach philosophy.

---