Site Search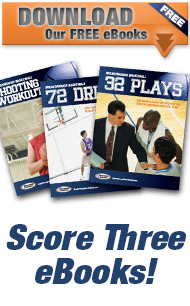 Q & A Forum
Experienced coaches are ready to answer your basketball questions! Visit our forum
End of Game Drill

A Great Way To Get Your Players To
Perform In The Clutch
This is an excerpt from our Man to Man Defense System.
In order to get your players adjusted to end of game situations, here is a suggestion made to us by Don Kelbick (www.DonKelbickBasketball.com).
Split your players into two teams.


If you only have one assistant, you can have him coach one team while you coach the other. If you have two assistants, you can supervise or referee.

Decide what kind of situation to work on, whether it's a close game, last minute scenario, last three minutes, or some other scenario.


Next, pick a situation with time and score. Let's say it's a regular game, "6 & 3."

The game starts with the score 0-0 and 3 minutes on the clock. You start the game like a normal scrimmage by jump ball, out of bounds, etc. As soon as a team gets to 6, the clock starts. During the scrimmage, you can emphasize zone offense and defense, man-to-man offense and defense, full-court pressure, etc. Referee the game as if it were an actual game.

If the score is 6-0, a team is down 6 points with 3 minutes left. If the score is 6-5, a team is down 1 point with 3 minutes left. Do not stop play once the team gets to 6 points; just let them know that "the clock is running."


During the clock period, the game is played as if it were a regular game. Each team has 1 time out, and both teams are in the bonus (1-and-1 or Two Shots, that's up to your preference).


As soon as the clock starts, the "scrimmage emphasis" changes to a "winning emphasis." For example, during the scrimmage portion you are working on half-court, man-to-man pressure defense; but once the clock starts, you change to a "game winning strategy." If you're up 6 with 3 minutes left, you may want to hold the ball. If you're down 6 with 3 minutes left, you may want to apply pressure.


You can alter the situations to suit your needs. Play 2 and 1 for a close end of game situation. Play 10 and 2 for a longer scrimmage time to work on something.


Treat this exactly like a game by:
- Stopping the clock
- Calling ALL violations
- Calling fouls
- Calling timeouts, etc.

We highly recommend this technique because it'll put the team in many situations that they may not have experienced. Your players' comfort level will be so much higher during a real game if they've already been put in this situation before.
We also recommend running this at the end of practice for a couple of more reasons.
Players love competition and usually look forward to doing this. It's a great way to keep them motivated throughout practice.


Players will be tired at the end of practice, and that is exactly what will happen at the end of a game. It makes the situation more realistic.
If you have not listened to Don's one-hour free interview with us about coaching, we highly suggest that you do. Click
here

What do you think? Let us know by leaving your comments, suggestions, and questions...
Comments
---
Joe Laperle says:
11/18/2008 at 5:30:22 PM


I resly enjoy your web site as a high school

coach I''''m all ways looking for new things to

keep my team having fun and learning all the

time. Thanks

Joe Laperle
---
Alan Lambiase says:
12/4/2008 at 8:23:41 AM


I coach 11 years olds. Any suggestions for "boxing out / rebounding drills" leading into a fast break.

P.S. great web site.
---
eric says:
12/4/2008 at 3:54:23 PM


this is a great drill for game situations and it keeps your team with that competitive edge
---
Joe Haefner says:
12/4/2008 at 6:54:06 PM


Hi Alan,

We have some rebounding drills in our free ebook and also on our website at this link: http://www.breakthroughbasketball.com/drills/basketballdrills.html#reboundingdrills

If you are interested in the fundamentals of rebounding, check out this article: http://www.breakthroughbasketball.com/fundamentals/rebounding-fundamentals-and-tips.html

And if you figure out how to get 11 year olds to consistently block out, please tell me! :)
---
aussie david says:
12/4/2008 at 8:51:55 PM


my 12yr old daughter is a tall post player with size on her side being very athletic she often gets into foul trouble going one on one at the basket in defence with silly last minute reaching against usually smaller players any ideas guys
---
Joe Haefner says:
12/5/2008 at 1:22:59 PM


It's hard for me to tell what her problems are, because I have not seen her play, but my two guesses would have to be positioning and staying vertical.

She needs to beat people with her feet rather than bumping them or reaching in to take the ball. At the youth level, if you maintain good positioning, most of the time the player will make an errant pass or turn the ball over without you trying to reach in and take it from them.

When people get the ball inside, she needs to stay vertical rather than swiping at the ball. She should have her hands straight up, not hovering over the opponent.
---
Matt says:
12/6/2008 at 1:53:54 AM


Alan,

Not an expert here but a great drill that Marquette does as well as Michigan State is called "war". It's not best for transition but have two kids on block and two others on the elbow. When a shot goes up those on the block, block out and it's the first team to score wins. So your shooting at the same basket. Both Marquette and Michigan State have no fould rules I tend to make obvious calls, but nothing touchy, also play on makes and if it goes out of bounds. Honestly at the 5th to 8th grade level this is good for 2-5 wins on a twenty game schedule.

Matt
---
Stephane Labourie says:
5/6/2009 at 7:55:48 AM


Great idea relating to realism and relevance to the game, not to mention motivation as stated.

Will use it in Phys Ed for sure! thanks
---
Richard Horsham says:
6/24/2009 at 7:16:41 AM


I just recently tripped onto you website and it has already being paying off alot. I started implementing some stuff just to change up the routine drill and practices in training and it's met by the players with a new gust of energy. We are preparing for our national league compitition to begin in my country, and we have been promoted to division 1 so we are pretty happy about that. Thanks for the tips and keep sending them,Coach.

---
chris arceo says:
6/24/2009 at 5:07:12 PM


hello, i am a new coach, i have a team of high school soph for a summer league. .i want my practices to be competitive and intense, im familiar with the basics but i was wondering if you could help me out with a few fun drills i could run
---
Joe Haefner says:
6/25/2009 at 9:41:37 AM


Hi Chris,

Here are some fun drills: Pivot 21 - http://www.breakthroughbasketball.com/drills/pivot21.html

Defensive Challenge - http://www.breakthroughbasketball.com/drills/defensivechallenge.html

Top 1 on 1 - http://www.breakthroughbasketball.com/drills/top1on1.html

No Dribble Keep Away - http://www.breakthroughbasketball.com/drills/nodribblekeepaway.html

You can find more drills in our drills section: http://www.breakthroughbasketball.com/drills/basketballdrills.html

We also have 60 Fun Drills & Games which will give your more drills and games while helping you create your own drills: http://www.breakthroughbasketball.com/pr/fun-youth-drills.html


---
Martin Jacobson says:
8/6/2009 at 9:28:33 PM


Great idea I will use, will spice up the training and really give the team the intesive edge.
---
Eddie says:
9/25/2009 at 10:14:31 PM


Hi, i found the drill effective. Though, youth sometimes cannot immediately comprehend, but it's worth trying. My youth team started to realized that drills are important.

I am looking forward to a video drills that i can show to them so they can actually see the drills.

Can you provide me?

Thank you very much

Eddie
---
Kevin Marks says:
10/8/2009 at 4:56:54 PM


I am getting quite a bit out of your materials. I am a first year high school boys varsity coach. Any suggestions on this dilemma: Tryouts are 2Nov, but the football team has their last regular season game 6Nov. There is always the chance of the playoffs, which means any student/athlete playing football in unable to be on the basketball court due to the chance of injury. First game of the season is 20Nov. During "open gym", I''ve had six upper classmen (two lower classmen who look strong) coming out. Not quite enough to make a team and/or to get them game time ready.

There is no doubt there are numerous kids on the football team that will end up playing basketball. Can you tell me how others have handled this issue?
---
DG says:
12/3/2009 at 7:04:16 AM


Being new at basketball coaching but not at coaching (hockey), I was given your site by another coach and I have found it a tremendous help. Even though I played the sport many years ago, it is always good to have a refresher. Always looking forward to reading more of your info. This may make me decide to keep coaching one of our high school teams from year to year. I volunteered to take on the Jr Boys team because no other teacher wanted to take it and the school was going to cancel the team. Some of these young individuals need this to keep them out of trouble, and to learn team spirit, and alot more. Thanks again for your great web site and help.
---
William Soraine says:
1/12/2010 at 8:38:45 AM


Hi Jeff and Joe,
Thank you for making this site available, and free; it is indeed informative.
I'm a school teacher, and I'm coaching 13 and 14 year olds. I've not been quite in touch with the game for some time, and I was wondering if you could provide information on the rules they call in the NBA games, namely:
"illegal defence"
"3 second defence violation" etc.
Much appreciated.
William
---
Pempho Kanjadza says:
1/13/2010 at 2:13:00 AM


i enjoy your website, it has opened to me more about basketball and i hope to learn a lot more..........
---
Joe Haefner says:
1/26/2010 at 6:26:23 PM


Hi William,

You can read an explanation here: http://en.wikipedia.org/wiki/Defensive_Three-Second_Violation

---
Sherman says:
4/23/2010 at 11:50:58 AM


Your site is FANTASTIC!
---
Jim Morgan says:
5/11/2010 at 10:38:37 AM


Great drill, we do this periodically throughout the season. We make common fouls 1x1 siuatiuons, add timeouts, etc...
---
Darren Brown says:
5/25/2010 at 4:39:11 AM


Just wanted to say thanks for the site. I''m working on gaining my Level 2 coach award after starting to coach at Secondary (High School) level and it is an invaluable resource. I recommend it to everyone!
I Love this drill especially. Our local interschool tournament consists of 10 minute games (awful) so Every single game is a clutch game. This is improving their confidence already after just one session!
---
Kevin L. Scarbrough says:
9/8/2010 at 10:45:26 AM




Thanks for the work you are doing on your site. As a Head Coach of 23 years I can tell you that it is very impressive. I am enjoying some of the new drill ideas and hope that all the young coaches start building their files from your wonderful site.

Kevin
---
Eric Henry says:
8/4/2011 at 12:26:52 PM


this is a great drill to use during the season and a couple times before games start...1 problem i have had in the past...i coach at 1A school in iowa and we usually get 15-20 kids out grades 9-12. and for the drill to be competitive you have to split up the best players and then they are not getting the best out of the drill because they are not doing it together like in a real game. any suggestions?
thanks

---
Joe Haefner says:
8/4/2011 at 7:47:52 PM


Hi Eric,

When you have your top players (A team) scrimmage against your weaker players (B team), you can always manipulate the scoring rules to make it harder. For example, your B team gets a point when they:
- make a pass into the post.
- get the ball in the lane via dribble penetration.
- offensive rebound.
- defensive stop.


---
MG says:
1/6/2012 at 5:34:26 AM


I've coached on every level from fourth graders to college and you guys never cease to amaze me or help me. Love it.......Just saying.
---
Ken says:
2/23/2012 at 8:35:56 AM


I found something similar to this in an old coaching book in my ADs office one day while I was waiting for him to get off the phone..
From that day on I ran "situations" at the end of every practice.

Make them up as you go along to fit any situation that you believe needs to be addressed.

Another thing I used to do all the time was to look back at the last game and ask myself... what situations in the game didn't we handle well?

I would put them into the next day ( maybe 2 ) practice at the end... the kids knew why without me ragging them about messing this up.... I let them do it again without saying anything... and IF they weren't on the same page I was... I would "suggest" that they do it this way and give them the reasons why, then we would run it again.

What you are looking for is that your kids know what to do in certain situations in the game... that you don't always have to hand feed them... Of course you will probably call a time out and go over it or call out a play, whatever you feel comfortable with.

Its a great teaching tool, the kids love the competition and everybody goes home happy.

---
Chantelle says:
10/11/2012 at 6:39:00 AM


I find your website fantastic and extremely helpful, I am using this for my Under 10s and the kids are already saying it is the best training ever, thank you :-) !!!!!!
---
jeffrey says:
2/5/2013 at 9:07:06 PM


this is a great idea,when it comes to crucial situation,thank''''s a lot. :-)......


---
Quebec Coach says:
5/3/2013 at 10:23:25 AM


aussie david@

your major problem is tagging a 12 yrs old a POST player.

that is a mistake.

I was 6'1" at 12 yrs old. Everybody was telling my parents that I would be a huge center player.

So we didnt emphase enough on my shooting.

at 17 yrs yrs old I was only 6'3" and Ive been cut from College.
---
Chad says:
8/1/2013 at 12:19:34 PM


We do what we call time and situation at the end of each practice. We decide on the situation from time, score, total fouls, individual fouls. and so on. Sometimes it is just a quick 5 second end of the game and sometimes it is 3 minutes. Just depends. This drill has made us better at the end of each quarter of our games. The kids will even yell out" time and situation"
---
Ken Sartini says:
8/1/2013 at 1:00:20 PM


There is an old saying.... " The center of today could be the point guard of tomorrow."

Coaches should be teaching fundamentals of the game to every player... kids grow at different times of their lives.

You can never be too good a shooter, ball handler or defender. JMO
---
Randy Graves says:
8/29/2013 at 2:34:20 PM


I have really enjoyed the Breakthrough Basketball Drills and Plays.

I am sixty-five years old and have recently retired from a long career in IT. However my first love has always been Basketball as I played in both HS and College.

I have given thoughts to coaching in the AAU system now that I have time and plan to use these very valuable tools you have provided.

Thanks so much and please keep up the good work.

---