About the Coaches
Jeff Haefner

Jeff Haefner is a basketball trainer and coach in the Cedar Rapids / Marion area. He is also the co-founder of BreakthroughBasketball.com, which is currently the most visited basketball coaching website in the world (with over 1.2 million unique visitors in 2011).
Jeff has written and developed hundreds of articles, books, videos, and instructional resources about coaching basketball. Over 100,000 coaches around the world subscribe to and read the Breakthrough Basketball Newsletter that Jeff and his brother Joe publish.
Jeff has also been fortunate to learn from some of the best basketball trainers in the world over the last several years...
Jeff's job over the last 6 years has been to study the game of basketball and develop content for Breakthrough Basketball. He has viewed and studied thousands of articles, books, DVDs, and resources about player development.
He has also been very lucky to become friends with and get mentoring from some top college and PRO coaches in the country...
One of the biggest influences on Jeff's training program has been professional player development coach Don Kelbick. Many of Jeff's teaching methods come from Don Kelbick, a pro coach that works with NBA players like Raja Bell, Carlos Boozer, Guillermo Diaz, Rasual Butler, Carlos Arroyo, Tim Hardaway, Bruce Bowen, and others. Don also works with younger players and gives training camps all over the world. Jeff has been fortunate enough to become good friends with Don and learn his training techniques. Don has probably been the most influential person on Jeff's training program.
In addition, Jeff has learned from dozens of player development coaches around the country. BreakthroughBasketball.com has allowed him to meet and become friends with player development coaches from all over.
Because of Jeff's unique experience he is able to offer a very distinctive training program that is very precise, efficient, and effective.
But what Jeff enjoys the most is teaching young players the fundamentals of basketball, how to gain confidence, and how to be successful in life. That is his passion! To him, practice is more fun than the games because that's where he gets the opportunity to teach and have a positive impact on young player's lives.
Jeff graduated from the University of Northern Iowa with his Coaching Certificate and a Degree in Computer Science. Jeff grew up in Iowa and currently lives there today with his wife and two kids. In his spare time Jeff enjoys boating, water skiing, wakeboarding, traveling to sunny places, working out, and playing with his kids as much he can!
You can email Jeff or call him at 319-360-0314.
Nate Sanderson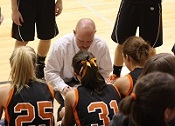 Nate Sanderson is entering his second season as the head girls' basketball coach at Springville High School. Prior to taking over at Springville, Nate was the Varsity Girls' Basketball Coach at Louisa-Muscatine where, in 2003, he took over a program in the midst of a 33-game losing streak. Six years later, the program set the school record for wins in three consecutive seasons. His 2008-2009 team won 16 games and set over 20 school records. His 2009-2010 team reached the Regional Semi-Finals for the first time in school history while winning a school-record 18 games.
Sanderson graduated from the University of Northern Iowa in 2002 with a degree in Social Studies Education, and a minor in Leadership Studies. He taught junior high and high school social studies, and various leadership courses at Lousia-Muscatine for seven years. He has coached numerous sports including basketball, volleyball, and track. Nate has facilitated a number of basketball & leadership experiences for youth through a variety of organizations (Franklin Covey, The Fellowship of Christian Athletes, Point Guard College, as well as his own summer sports camps). Nate is currently working on a masters degree in organizational leadership through Gonzaga University. In addition to coaching, he works closely with The Adventure Project, a non-profit organization working to combat global poverty by increasing investments in projects that create jobs, and increase educational opportunities for children around the world. He has been married for six years, and is the proud owner of three very energetic dogs.
Local Clinics and Training Information