Site Search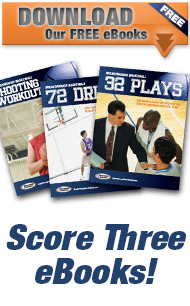 Q & A Forum
Experienced coaches are ready to answer your basketball questions! Visit our forum
A Little Known Secret to Improve Team Passing and Dramatically Reduce Turnovers
- By Jeff Haefner
Oddly enough, I've found that very few basketball coaches use this extremely effective tactic. In fact, I didn't use this tactic for many years myself, until I had one of those "LIGHT BULB" moments.
Here's how it works...
I actually had the "light bulb" moment a year or so after listening to Bo Ryan, one of the best college coaches in basketball. So, ultimately, I have to give him credit for the concept. His idea was right on, but it just didn't hit home with me for several years.
In order to cut down on those bad passes and
turnovers
, you need to get your players on the same page, right?
Do you ever have players cut to the basket just when the ball is passed to them? And the ball flies out of bounds?
If you're like most coaches, you probably just grit your teeth and think to yourself, "Oh well, that's just one of those things, and there's not much you can do about it!"
Well, now you can do something about it...
You simply establish some team rules and drill the following concepts in ALL your practices:
Rule 1 - If you want the ball, give a hand target. If you are going to change direction, drop the hand target and give a new target.

Rule 2 - No hand target, no pass!!


It's as simple as that. This is a subtle way to establish non-verbal cues with your basketball team.
If you drill these rules long enough, you'll find that players make more accurate passes and reduce turnovers.
To take thing a step further, I also suggest emphasizing a couple of other related passing concepts:
Your hand targets should be away from the body.


Always pass away from the defense.


Use pass fakes, and make them believable!


Always catch the ball with two hands.


Every time you catch the ball in the front court, chin the ball and get in triple threat position.


Comments
---
Johnny Robinson says:
8/13/2007 at 6:11:17 PM


Very interesting tactics. I Plan to use it in the training for the women team that I coach here in the Netherlands.
---
Ricardo Xufre says:
8/13/2007 at 10:38:39 PM


Nice idea/detail. i will also use that with my girls team here in Portugal. Timming of pass still is one of the most difficult things to teach but its so very important for sucess.
---
bryony says:
8/14/2007 at 3:24:49 AM


im only in high school coaching a team for school.....i found your skills very helpfull as i dont no much about basketball
---
Miquel Ballester Ferrer says:
8/14/2007 at 7:24:39 AM


Very interesting tactics.
---
zach says:
8/14/2007 at 8:25:15 AM


this is something that i over looked because i thought it would take care of it self. This tool i will start working on the first week of practice,but today i will talk with the players about it.
---
Ariel Rabe says:
8/15/2007 at 1:42:50 AM


Everything is important. Communication in whatever way unique and subtle is a must indeed. Thank you very much.
---
Jason NO FEAR says:
8/15/2007 at 8:10:16 AM


I been using this tactic for quite some time coaching my son's teams. I call it "Lead the passer". Up high and down low away from the defender.
---
evansomondi says:
8/20/2007 at 6:07:05 AM


i am a b-ball fun and player from kenya,thanks for the great tips esp about reducing turn overs anyway wish you could send me visual tips on ball handling,dribbling and shooting.i play center or big man as we call it back here.
---
gary townsend says:
8/30/2007 at 4:39:54 PM


keep sending the drill rationales w/ each new drill; these coach "hints" (eg., show hands target or do not pass ball) are cryptic & the kids can immediately adopt it practise.

our website is, www.communitycoaches-nochildleftbehind.us.
---
Mo says:
9/13/2007 at 6:22:42 AM


I will definitely use these tips on friday's (sept 14) practice ! Thanks Jeff !
---
Robert Villaranda says:
9/13/2007 at 9:21:36 PM


That's really a simple but very effective strategy, most players and coaches tend to forget about this simple things
---
mashallah says:
9/16/2007 at 2:56:54 AM


WOW;Exceptionally wonderful Tactics!
I'm a coach from IRAN.

---
david Gibraltar says:
9/20/2007 at 7:55:22 AM


great drill to improve passing skills are know part of my master plan for all seasons

---
Raymond stennett says:
10/21/2007 at 6:45:55 AM


THE ARTICLE WAS VERY INTERESTING WITH SOME GOOD POINTS. I SHALL BE USING IN THEM IN MY NEXT PRACTICE SESSION.
---
Lisa Black says:
12/5/2007 at 11:19:31 AM


The target hand is something I've focused on with my teams for the past 20+ years, and it works! I've used it with girls and boys of all ages and skill levels. Not only does it become habit, it focuses on teamwork quite a bit as well!
---
Chris says:
11/18/2008 at 9:31:57 PM


Thanks for the tip. I will try it out with my 13 year olds and see how it works. The other passing rule I am enforcing is to use bounce passes for maximum security. I find chest passes get intercepted too frequently. Bounce passes are much safer.
(Melbourne, Australia)
---
Playthepoint says:
1/5/2009 at 7:54:11 PM


Coach i am a freshman and i made JV this year and i have good ball handling but i am a shorter guard and when i pass my passes get blocked by my defender what is a way i can improve my passing on defenders that are bigger than me
---
Joe Haefner says:
1/6/2009 at 7:46:57 AM


My guess would be that you need to use more ball fakes. If you want to throw a pass into the post, fake high and go low. If you want to throw an overhead pass, fake low and go high.

If the pass isn't there, don't throw it.
---
Cory Dougan says:
1/15/2009 at 12:03:44 PM


I am a young 22 year old coach, coaching JV girls basketball. Our biggest issue has been turnovers and I hope these tactics will become of good use. This is one area that needs to become of point of emphasis and these seem to be some good tips. I have a team of athletes so they should be able to catch on quickly. Thanks for the tips.

Coach Cory Dougan
---
Mike Mansfield says:
2/4/2009 at 4:57:18 PM


I coach Middle School non-competition boys
basketball (6th graders) here in MO.
I like this tip and will use it starting tomorrow night.
Thanks,
-Mike-
---
smitty says:
3/4/2009 at 1:43:59 PM


Will this work with the 3rd and 4th grade level?
---
Joe Haefner says:
3/5/2009 at 12:06:24 PM


Hi Smitty,

I would think so, but I have never tested it out with 3rd & 4th graders. It's probably not a major concern at tha age, but you can try it.
---
Jorge Carrasquillo says:
9/21/2009 at 11:24:30 AM


Does anyone know of a drill(s) to teach youths (9-10 yr olds) how to move without the ball to locations where they can receive a pass? I see alot of youths not in places to receive a pass (in reference to where is the ball and the defense) and the result is a lot of "one-on-one" by the dribbler, most of the time resulting in a turnover.
---
Jeff Haefner says:
9/22/2009 at 7:39:25 AM


Jorge,

Here's an excellent drill provided by Ray Lokar. It teaches players how to move and get open.
http://www.breakthroughbasketball.com/playcreator/view.asp?id=69&type=drill

---
FaToo says:
10/19/2009 at 4:07:11 PM


Im really liking this and I will probably emphasize it. If you cut and want the ball, let them know where you want it. If they dont let you know, dont throw the ball. Nice, Bo Ryan is a great coach and thank you also Jeff!
---
evans omondi oduor says:
11/2/2009 at 9:13:51 AM


hey great tips on team passing,am sure it will work for my teams that i play for. am requesting for cash in kind support of b-balls from well wishers of balls and sport shoes for my team at Donholm catholic church Nairobi thanks for the tips keep them coming cheers every b-ball fans keep the fire burning.
---
Mike L says:
11/29/2009 at 10:21:07 PM


Thanks, It will be usefull and used in Practice on Mon
---
shannon vinson says:
12/7/2009 at 11:26:34 AM


I will be sure to incorparate this drill in practice, thanks.
---
guy says:
12/10/2009 at 1:35:44 PM


hi. i coach 2nd to 6th grades basketball in israel. i loved this tip, we use it in our club as a major rule. for the younger ages we recommend to applay those rules (2-3 grades) doring the "games" but use a "joker" in the offence game (the coach), which helps the kids to understand the meaning of moving around the court well.

keep-up with the good work.

another thing, if i've something to suggest (drills or plays), how can i offer it?
---
Dominic says:
1/8/2010 at 7:23:24 AM


Great Tip, My 6th grade boys AAU team is very active so we do turn the ball over more then we should... guess who is using this drill in practice TONIGHT!
Thanks
---
ronald williams says:
1/14/2010 at 7:02:26 AM


Thanks, that is what i needed to know. I coach 9-10 year olds and they have problems passing. I will use this in my sunday pactice.
---
Coach David says:
1/18/2010 at 5:33:17 PM


Interesting. I'm going to try this out. I am coaching two age levels 7-9 and 10-12, so I will try it on both levels. It could also be a good way for them to work on making cuts to the basket and signaling for the ball.
---
rafael says:
1/21/2010 at 8:26:05 AM


Great tip. I was taught this in high school many moons ago and have tried to pass it down to the kids but they don't grasp the concept and it is not done regularly. Setting the "rules" is a great concept and i'm putting it in practice tonight.
---
Giant G says:
2/25/2010 at 7:57:30 AM


I always stress the importance of communication amoung players. I teach post moves and require all players to do post drills. First rule, show a target. I do however teach a one handed catch when appropriate.
---
Giant G says:
2/25/2010 at 8:01:34 AM


One additional comment, I also teach players to MAKE EYE CONTACT, raise or drop the defense, cut, then show a target hand/hands.
---
Javier L says:
3/12/2010 at 10:02:59 AM


I`m fairly new to coaching so all tips are interesting to me. I will apply them to the girls team I`m coaching. Thanks
---
jason hays says:
3/25/2010 at 11:45:02 AM


I usually make them call for the ball. pretty much the same concept. you dont call for the ball you dont get the ball. i will have to give this a try.
---
Edgar Allan Pabiania says:
3/26/2010 at 12:25:55 AM


Excellent tip, sir. My players are so used to clapping if they want the ball that they also get the attention of the defense team. I'll inject that on the next set of practices. Thanks!
---
JJ FLORES says:
6/1/2010 at 9:06:14 AM


good tip... it was great, i apply it and it works... im in the highschool team in the philliphines.. hope you do more good tips..
---
Richard Smith says:
6/17/2010 at 6:11:02 AM


It is good tip that i was taught many years ago, i now use it when coaching my group of 50 recriut soldiers. they are keen and fit, it just requires some basic tips and drills to get a large inprovement.
Many thanks
---
Wathum Brian says:
8/9/2010 at 3:18:29 PM


I think its one of the biggest passin tips yet! thanks for the heads up,m goin to start enforcing those rules and tactics
---
Gretchen says:
9/4/2010 at 4:41:25 PM


I read this because I want to learn more about the game of basketball. Can someone give me a brief explanation of a "hand target"? Thank-you.
---
Joe Haefner says:
9/7/2010 at 12:22:36 PM


Gretchen,

The player without the ball lifts a hand to show the passer where the player would like to receive the pass.
---
Scott says:
12/5/2011 at 10:45:57 PM


Great drill. I have 10 year olds who wait too long to throw the pass. They don't lead the player they're throwing to, resulting in an interception. Do you have any drills for this? We just were destroyed by a team playing aggressive deny defense. We couldn't even get a shot off in the first half! Help!
---
Ken Sartini says:
12/6/2011 at 7:37:16 AM


Passing can be difficult, especially for younger players... it is something that has to be worked on constantly.

There are some great tips here, I would just add one thing ..... pass the ball to the person on his way to the spot, not 2-3 seconds afterwards - IF you wait to long, the defender has a chance to recover. I see this in a lot of youth games. That could be from a few things -- not being able to handle the ball very well without looking at it -- lack of strength to make that pass -- lack of confidence.

Scott, break down your offense and the first step could be the entry pass... do it shell at first.... have the passer make that pass when the other player is on the way to his spot... showing a hand target.. then add a soft defense, from there you can go full speed.

One tip I got from Jeff Bzdelik, head coach at Wake Forest... how do you know when the person with the ball is going to pass? "When he brings his other hand up to the ball" - that can help the person receiving the pass - and of course, the hand target letting the passer know he is ready to receive it.
---
Mack says:
1/14/2013 at 10:10:57 AM


Good suggestions, we will implement in our next practices.
---
Michael J says:
3/3/2014 at 6:40:51 PM


Thank you very much everything is most helpful.
---
Bill Formella says:
7/3/2014 at 8:55:27 AM


This is one reason why Ryan''s team averaged only 8 turnovers per game. That statistic is almost unbelievable.
---