Site Search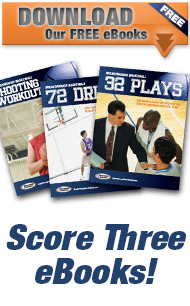 Q & A Forum
Experienced coaches are ready to answer your basketball questions! Visit our forum
5 Tips to Help Basketball Coach's Run Their Drills More Effectively
- By Jeff Haefner
Tip #1 - Add a competitive aspect to the drill.
Adding a competitive flavor to a basketball drill can make it much more effective because kids will generally work harder and get more focused to master the drill.
Without the competitive aspect, players will quickly get bored and simply go through the motions. We all know you need to be focused and work on the little things to get better.
Use your imagination when adding competition. The possibilities are endless...
If the drill requires shooting, you can keep track of made baskets and award the winner.


You can add special rules like: 2 points for charges, 1 point for ball deflections, and 2 points for steals.


You can award "permissions" every time you notice a kid really doing a good job with the drill. Award the 3 kids with the most "permissions" at the end of practice.


You can award teams that don't drop a single pass during the entire drill.


These are just a few examples but I'm sure you can come up with more.
Tip #2 - Developing good habits.
It's common for coaches to make the mistake of showing a drill and then walking away trying to get ready for the next drill. Or coaches just aren't watching close enough to notice some bad habits forming.
You need to watch your players very closely and make sure they do the little things.
For example, when running a
shooting drill
, make sure each player has their knees bent when they catch the ball, pivots correctly, squares their feet to the basket, holds their follow through, and so on.
For a defensive drill you need to make sure they always see man and ball, keep their hands out, keep a wide base, and so on.
Your players will no doubt slide if you don't watch them closely and correct their slippage at all times.
You run drills to develop good basketball habits. And it's impossible to develop good habits unless you watch closely.
Tip #3 -Write down your "points of emphasis".
To avoid forgetting important points, you should have a cheat sheet for everyone single drill that you run. I personally have a "points of emphasis" section on every practice plan.
These are the things you want to watch closely during the drill to make sure your players are performing this aspect properly.
For example, on a
rebounding drill
you might put something like:
Keep elbows out after grabbing the ball.

Always grab the ball with two hands.

Use your feet to get under the ball and then go get it.

Block out.

Anticipate the rebound and get good position. It's all about positioning.


If you don't write down the important points, it's just too easy to forget them.
Tip #4 - Break things up.
Split drills up through out practice to break up the monotony. Players generally lose focus after working on the same thing.
The more variety the better.
For example, you could do 10 minutes of defensive drills and then change things up to a competitive shooting drill that they enjoy.
Tip #5 - Don't overlook the simple drills.
Often times the simple drills that have been around forever are the best ones.
Don't forget those drills or overlook them just because they are simple. They are often the most effective.
If you'd like 70 of our favorite basketball drills, be sure check out our free basketball drills eBook.
Comments
---
ahmed hany says:
1/24/2007 at 2:21:08 PM


my dear thanks for this information and we want alot of my country
---
ahmed says:
5/19/2007 at 4:18:33 AM


please i want photo drills in basket ball
---
saeed says:
8/4/2007 at 1:19:08 AM


thank you
---
burim says:
8/16/2007 at 11:01:17 AM


i need some photo for drills, and thank you so much
---
peter marino says:
10/2/2007 at 10:44:24 AM


i need defense basketball drills
---
salah a.karim says:
10/4/2007 at 3:14:26 AM


thankyou verymuch for all information
I need more and more
---
alaa14j says:
10/25/2007 at 1:20:56 PM


thankyou verymuch for all information
I need more and more
i need defense basketball drills



---
Peter says:
11/23/2007 at 9:15:35 AM


Can you give me some ideas/plays on how to attack a zone defence. 2-1-2 or 2-3 or 1-2-2.

Thanks/


---
Don Kelbick says:
11/29/2007 at 2:36:56 PM


Peter

Attacking zones is not as complex as it might appear. Effective zones attacks rely on ball movement and player placement and spacing that patterns or cutting.

I addition, once you make a pass off the top, all zones are the same.

When playing against a zone you need:

Ball reversal option near the top
A strongside option
A weakside option
A post option
A baseline option

Players should be spaced far enough apart that the defense has to make a decision as to who to play and create some indecision. How you get there and what cuts they make is up to you. The cuts should be short enough that the player can beat the ball to the spot.

The next thing is ball movement. The more the ball changes side of the floor and the more it goes to the middle the more difficult you are to defend.

I hope this helps. Feel free to contact me if you need more information.

Don Kelbick
Contributing Editior, BreakthroughBasketball
www.DonKelbickBasketball.com


---
Mahmoud says:
11/30/2007 at 4:57:08 PM


thank you
---
Coach R says:
12/1/2007 at 9:11:08 AM


nice drills in your section here. A helpful tip for any age is having your players wear "Dribble gloves" during some drills. These are simply very tight jersey gloves with tips cut out. It teaches your players to dribble with thier finger tips, and will make them better ball handlers.
---
ehab says:
12/20/2007 at 10:16:18 AM


thank you for all information about e_book

pleas, i need some :

. photo basket ball tools
. drills for shotting
. drills for dribbling
. drills for passing
. drills for defens
. zone defens
. trab halfcourt & fullcourt
. man to man zone defens
---
kimmy_pr says:
1/18/2008 at 7:04:08 AM


great page!!!! thanks a lot for worring about teaching the right way and provide these great tools...
---
mohamed elsayed(6) says:
2/24/2008 at 3:41:09 PM


thank you but i need photo basketball drills
---
marcon says:
4/1/2008 at 8:40:30 PM


I need photo drills
---
JORGE ENRIQUE says:
7/16/2008 at 6:29:08 PM


ME GUSTARIA SABER EL SIGNIFICADO A LO QUE USTEDES LLAMAN TALDRO Y SURCOS TERMINOS QUE NO ME SON FAMILIARES

GRACIAS
---
tom messich says:
10/18/2008 at 3:09:06 PM


i need simple beginner drills for shooting, dribbling and passing, my team consist of 3rd and 4 grade beginners.
---
Joe Haefner says:
10/18/2008 at 3:52:17 PM


Hi Tom,

We have beginner drills in our FREE drills ebook. If you have not signed up for it yet, you can do so here: http://www.breakthroughbasketball.com/freebooks.html

We also have youth basketball drills at this link: http://www.breakthroughbasketball.com/coaching/youthbasketball.html

---
Karyn Barnes says:
12/1/2008 at 3:11:13 PM


thank you so much, this is going to help me a lot
---
peter marino says:
9/27/2009 at 1:43:53 PM


i need a basketball conditioning program for kids for 35 weeks
---
Greg Haynes says:
11/4/2009 at 12:21:11 PM


Thank you very much!!!
---
rafik Youssef says:
4/11/2010 at 6:30:19 AM


thank you for your effort that in my point of view as FIBA instructor is helping all young coaches to take there basketball knowledge into a more modern and organize which will help there players to master there basketball

---
del says:
7/19/2012 at 5:42:11 AM


thanks for the tip, i can curely use these on my training
---
kate says:
9/12/2012 at 7:54:54 AM


Hello, do you have any ideas on how to award players? For example if a player wins a shooting drill etc.
---
Ken says:
9/12/2012 at 12:21:44 PM


Kate -

When I ran summer camps and had contests, we gave simple things... mostly like those frozen pops. Kids loved them, always wanted to win and get their "pop" at the end of the session.

Its not so much what, its getting something,
---
Namaswa says:
9/18/2012 at 4:22:36 AM


thank for the information. i to adhere to what i have learned from you and also ask for more, so that we may uplift the game in the country
---